Rox blanked for second straight game by Wainwright
Rookie Arenado breaks up no-hitter with a single in the eighth inning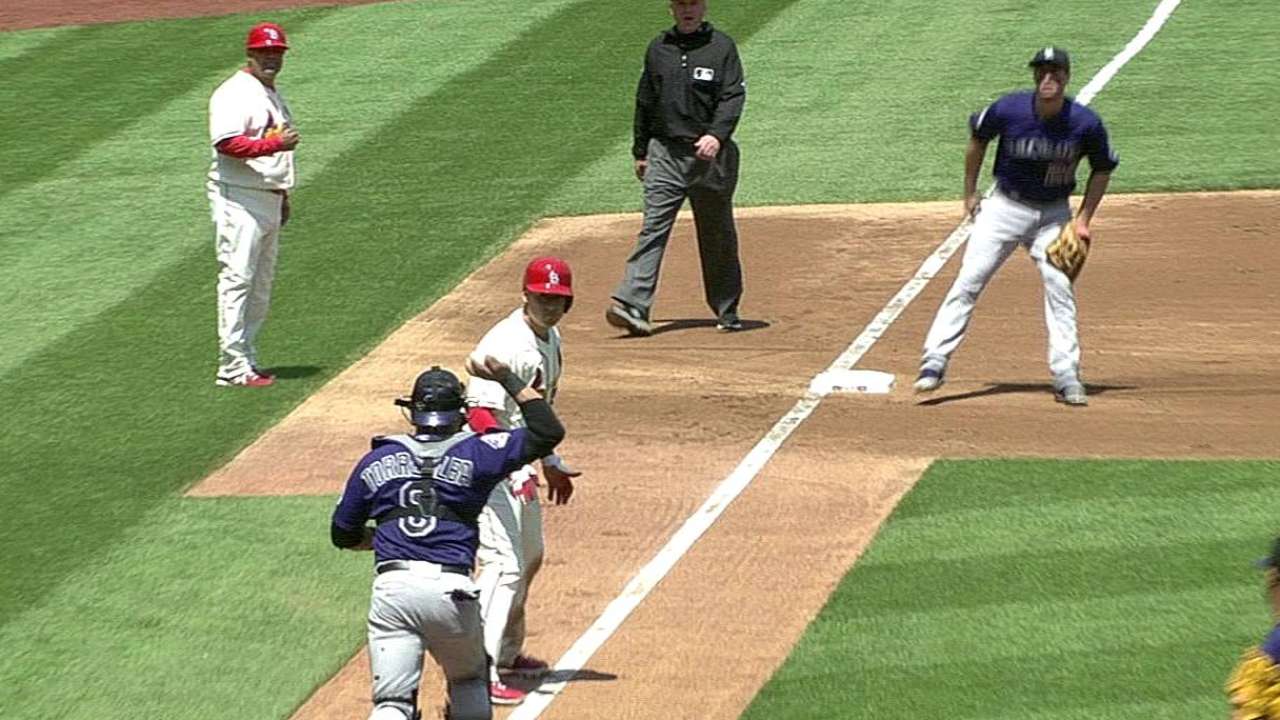 ST. LOUIS -- Rockies rookie Nolan Arenado said he wasn't thinking at all about history -- not the history that Adam Wainwright was seeking nor the dubious place in the record books that the Rockies seemed headed.
Wainwright was bidding for his first career no-hitter until Arenado lined a single to center field in the eighth inning of the Cardinals' 3-0 victory over the Rockies at Busch Stadium.
The Rockies managed two hits -- the other a Dexter Fowler ninth-inning single, which ended his 0-for-20 streak -- but lost for the fourth straight time, and served as foils for Cards pitchers flirting with history on both Friday and Saturday.
Wainwright was pushing for a perfect game until Helton's one-out walk in the fifth. The first 13 batters Wainwright retired combined with the 27 that Shelby Miller put down the previous night tied a Major League record -- 40 -- for hitters retired by one team against another, set by the 1996 Rangers against the Tigers.
Arenado's single ended a team run of 49 hitless at-bats. The next hurdle is scoring, something the Rockies haven't done in 26 innings. As the Rockies have lost five of their last six, Carlos Gonzalez is 3-for-22 with 10 strikeouts, Helton is 3-for-16, Arenado is 3-for-21, Fowler is 1-for-21, and the Rockies are 1-for-24 with runners in scoring position.
Wainwright's domination came a day after Cardinals rookie Miller gave up a first-inning leadoff single to the Rockies' Eric Young, then retired 27 straight while striking out 13 in a 3-0 victory. Had Wainwright completed the no-no, the Rockies would have joined the Astros of Sept. 14-15, 2008 -- the only team in history to manage just one hit over two games, when they were stymied by the Cubs.
"I was just trying to hit the ball hard," Arenado said. "We know he's pitching a great game, and we haven't been getting a lot of hits lately. We try not to think about, 'Let's get a hit here.'"
The Rockies risk slipping into the mindset of hoping for hits instead of figuring out how to win. With right-hander Jhoulys Chacin (3-2) loading the bases three times in five innings, but only allowing two runs, the Rockies were technically within reach, even though they didn't seem to have a chance against Wainwright.
The Rox insist their goal goes deeper than getting a measly hit here or there.
"Imagine if we're hitting, and we're in close games," Fowler said. "Imagine when we hit. We've got to be optimistic about that whole thing."
Say this about the Cardinals: they're good, especially on the mound. They lead the National League Central with the Majors' best record at 23-12. Miller lowered his ERA to 1.58 against the Rockies on Friday, and the Cards have another starter (whom the Rockies thankfully won't see) with a sub 2.00 in Jake Westbrook. The other three starters -- Wainwright, Jaime Garcia -- with whom the Rockies must contend Sunday in an attempt to avoid being swept -- and Lance Lynn are all below 3.00.
The Rockies demonstrated offensive talent during their 13-5 start. However, the hitting has been almost non-existent lately. They've won just one of their last six series, although the pitching has been decent for much of that time.
Maybe it's just a bad time to be in a funk. Wainwright is 5-1 with a 1.17 ERA in 10 appearances, including six starts, against the Rockies.
"Wainwright commanded everything," Rockies manager Walt Weiss said. "It's a combination of things, us going a little cold and at the same time running into a couple of pitchers that weren't missing."
A savvy power pitcher, Wainwright used his cut fastball and didn't miss with his curveball. After watching Miller dominate with his fastball on Friday night, Wainwright had a standard to meet.
"I felt good. You follow Roger Clemens a couple times like I have been, it makes you focus a little bit more." Wainwright said, referring to Miller. "Those young guys are pushing me. I appreciate it."
The Cardinals also scored a run on three hits in 1 2/3 innings against Rockies lefty reliever Josh Outman.
Arenado's single came on a 1-0 pitch one batter after Cardinals second baseman Matt Carpenter slid on the outfield grass to rob Todd Helton of a hit.
"It's hard," Arenado said. "Obviously, it starts to get deflating. But this team is very resistant. This team is all about winning. Every inning, it was, 'Let's go and win this game.' It wasn't, 'Let's get a hit.'"
Thomas Harding is a reporter for MLB.com. Read his blog, Hardball in the Rockies, and follow him on Twitter @harding_at_mlb. This story was not subject to the approval of Major League Baseball or its clubs.