Stras struggles; Desmond's stellar day can't lift Nats
Sizzling shortstop falls a triple shy of cycle for second day in a row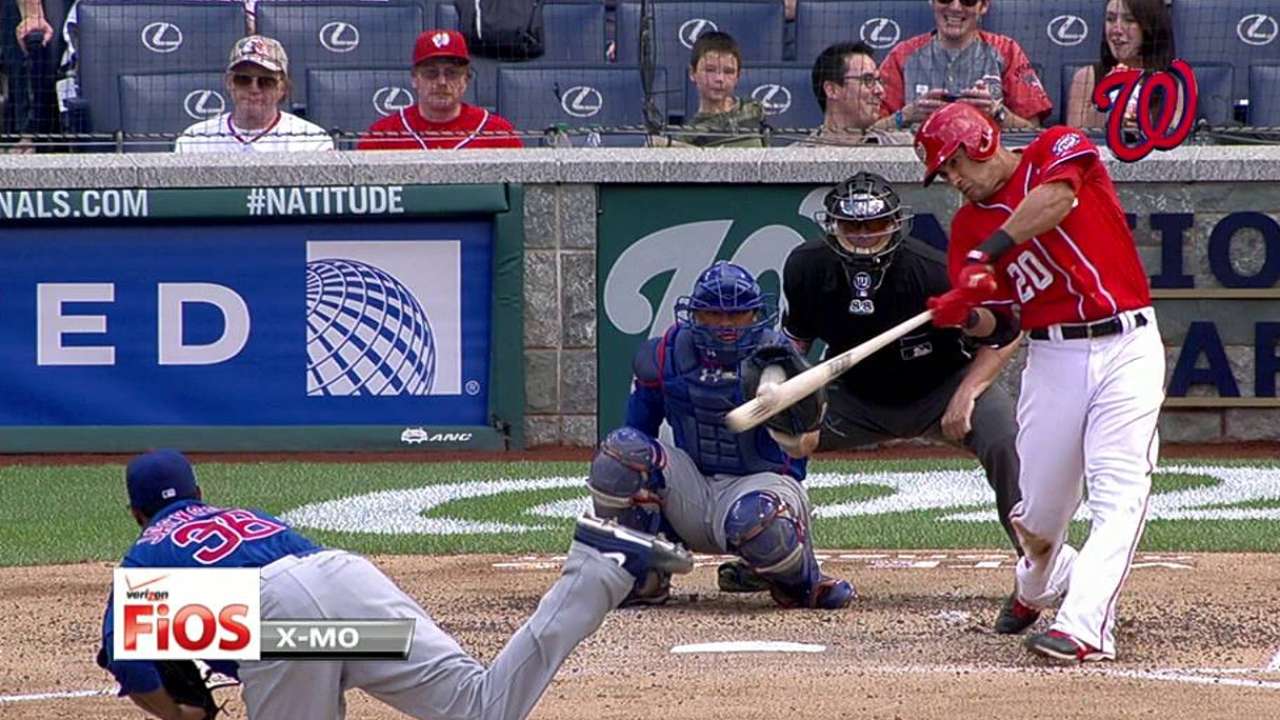 WASHINGTON -- With a five-game winning streak entering Saturday's game against the National League Central's last place Chicago Cubs, and with ace Stephen Strasburg on the mound, there was an air of anticipation that the Nationals would extend their recent success to six.
And, indeed, Strasburg was cruising through four innings with seven strikeouts, just 53 pitches and one hit allowed. Then things changed in the top of the fifth, which ultimately led to an 8-2 defeat before a crowd of 37,116 at Nationals Park, and spoiled another big day at the plate from Ian Desmond.
"I felt pretty good coming out of there. I was trying to execute pitches and I felt pretty good," Strasburg said.
However, Strasburg needed 42 pitches to get out of the fifth inning.
Strasburg (1-5) was able to get two quick outs, which included right fielder Roger Bernadina and second baseman Danny Espinosa teaming up to throw out Luis Valbuena after he tried to stretch a double into a triple. But suddenly, it got worse for Washington.
Welington Castillo reached base on a throwing error by third baseman Ryan Zimmerman. It was Zimmerman's sixth error of the season. He would make another two innings later.
"It's frustrating. Stevie is throwing the ball well, he has a heck of a game going and it changed the momentum a little bit," Zimmerman said. "You feel bad. You don't want that to ever happen. But it did, unfortunately a big play of the game."
Once again, Zimmerman had to deal with the obvious questions about his surgically repaired right shoulder. It obvious the shoulder is not as strong as it was in the past. Zimmerman said all along the shoulder wouldn't be 100 percent until around May or June.
"My arm is fine," Zimmerman said. "I think it's just working on coming back and [getting] back to where I was before all this stuff happened last year. You will feel good for a week or so at a time and then you have a day you do something like this.
"I wish I knew what to tell you. I wish I knew why it happened or it doesn't happen. Obviously I haven't able to figure that out yet. It's happening. You have to keep working and keep going. "
It took Strasburg quite a while to get that third out. After Darwin Barney reached base on a walk, Cubs starter Edwin Jackson doubled over the head of Denard Span in center field to make it a 2-0 game.
"That was probably the difference in the whole ballgame," Cubs manager Dale Sveum said. "If Strasburg punches him out there, it's a whole different ballgame. Those kind of guys settle in and it's a shutout, and you're battling the rest of the game."
Jackson, a member of the Nationals last year, had joked with Strasburg on Friday that he was looking forward to facing his 98-mph fastball. Jackson was behind 0-2 and then worked the count full.
"It was 3-2, I was looking for something I could hit hard," Jackson said. "He's throwing 96, 97, 98 [mph], and I'd been missing the whole game, and I told myself to relax and find something I could make contact with."
According to Nationals catcher Wilson Ramos, Strasburg lost focus after allowing the double to Jackson. More than a week ago, Ramos told Strasburg to keep his head up.
"I tried to tell him the other day after the situations like that, you have to keep your head up," Ramos said. "You can never put your head down. Every time you put your head down, he lost the focus. You need to fight all game. He has to fight 27 outs. You have to fight all game."
After David DeJesus reached base on a walk and Starlin Castro singled to load the bases, Anthony Rizzo singled up the middle, scoring two more runs to make it a 4-0 game. The four runs were all unearned because of the Zimmerman error.
"It was unfortunate. That inning, he threw [over 40 pitches]," manager Davey Johnson said. "It's hard to explain. [Strasburg] was throwing good, good stuff, hitting his spots. Where we needed him to pick us up, the air went out."
Washington was able score a run off Jackson in bottom of the fifth inning when Desmond hit his sixth home run of the season, a solo shot over the center-field wall.
Strasburg was done after five innings and in came left-hander Zach Duke, who had one of his roughest outings of the season. Duke pitched two-thirds of an inning and allowed four runs on four hits. DeJesus highlighted the scoring with a two-run single.
In the sixth, Jackson was able to get the first out of the inning. By the time he left a few minutes later, however, the Nationals had the bases loaded with one out. Shawn Camp entered the game and allowed an RBI single to Desmond to cut the deficit to six runs.
"We lost. I don't think we let it get away. [The Cubs] played a good game," Desmond said. "They swung the bat. E.J. [Jackson] pitched a good game. They beat us.
"Any time you get a veteran pitcher a lead like that, he is going to be effective. He did his job. Playing with a guy, you kind of learn about his character. You give him a lead, he is going to be in the zone. He is going to pitch effectively. He is going to try and go as far along in the game as he can. That's exactly what he did today."
Bill Ladson is a reporter for MLB.com and writes an MLBlog, All Nats All the time. He also could be found on Twitter @WashingNats. This story was not subject to the approval of Major League Baseball or its clubs.