Jenkins recalled to start Sunday; Davis placed on DL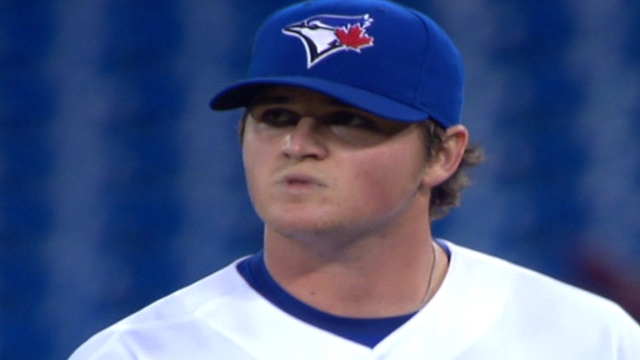 BOSTON -- Blue Jays right-hander Brandon Morrow has been scratched from Sunday afternoon's start against Boston and will be replaced by Chad Jenkins.
Jenkins was recalled from Double-A New Hampshire on Saturday morning after outfielder Rajai Davis was placed on the 15-day disabled list with a strained left oblique muscle.
The move was somewhat expected, after Morrow was listed as questionable for his scheduled outing because of soreness in his upper back and neck. He originally was slated to start Friday night, but had been pushed back a couple of days in an effort to give the injury more time to heal.
"Originally, it was in my normal side session -- and I just felt the tiniest little twinge, like a click," said Morrow, whose symptoms worsened during a recent bullpen. "[I] threw another pitch after that and didn't feel great, so I walked off the mound and went up -- and as I was walking up, the tightness started spreading.
"It was OK at that point. We were optimistic that I would make my start [on Friday], actually, at that point. Later that night, I stretched a little bit -- and that's when my neck locked up, and that's actually been worse than my back throughout this process."
Morrow remained in Florida to undergo further tests while the rest of his teammates traveled to Boston on Thursday night. His MRI came back clean and serious damage has been ruled out, but he is not yet ready to go.
The tentative plan is now for Morrow to start on Wednesday night against the Giants. That will give him an additional four days of rest and should help him avoid a stint on the disabled list.
Jenkins got the call despite having made just one Minor League start this year. He missed the beginning of the season because of a right shoulder injury, but made his return on May 6 and allowed just two runs on three hits in five innings of work.
The native of Tennessee will have his workload closely monitored, as he threw 75 pitches in that outing and has yet to be fully stretched out. Jenkins appeared in 13 games for the Blue Jays last season and posted a 4.50 ERA in 32 innings.
"I made three or four starts in extended [spring training] and then I made one start in Double-A, and the manager called me in the office last night and was like, 'Hey, you're going back up,'" Jenkins said. "To be honest, I was pretty surprised."
Davis has been dealing with soreness in his left oblique for the past few days, but further aggravated the injury during a fifth-inning at-bat versus Boston on Friday night.
The Blue Jays are expected to make another roster move prior to Sunday afternoon's game to add another position player. Right-handers Mickey Storey or Ramon Ortiz would be the likely candidates to be either sent down or designated for assignment.
Gregor Chisholm is a reporter for MLB.com. Read his blog, North of the Border, and follow him on Twitter @gregorMLB. This story was not subject to the approval of Major League Baseball or its clubs.