Niese's struggles prolonged in loss to Pirates
Unable to last five innings, southpaw gives up career-high eight runs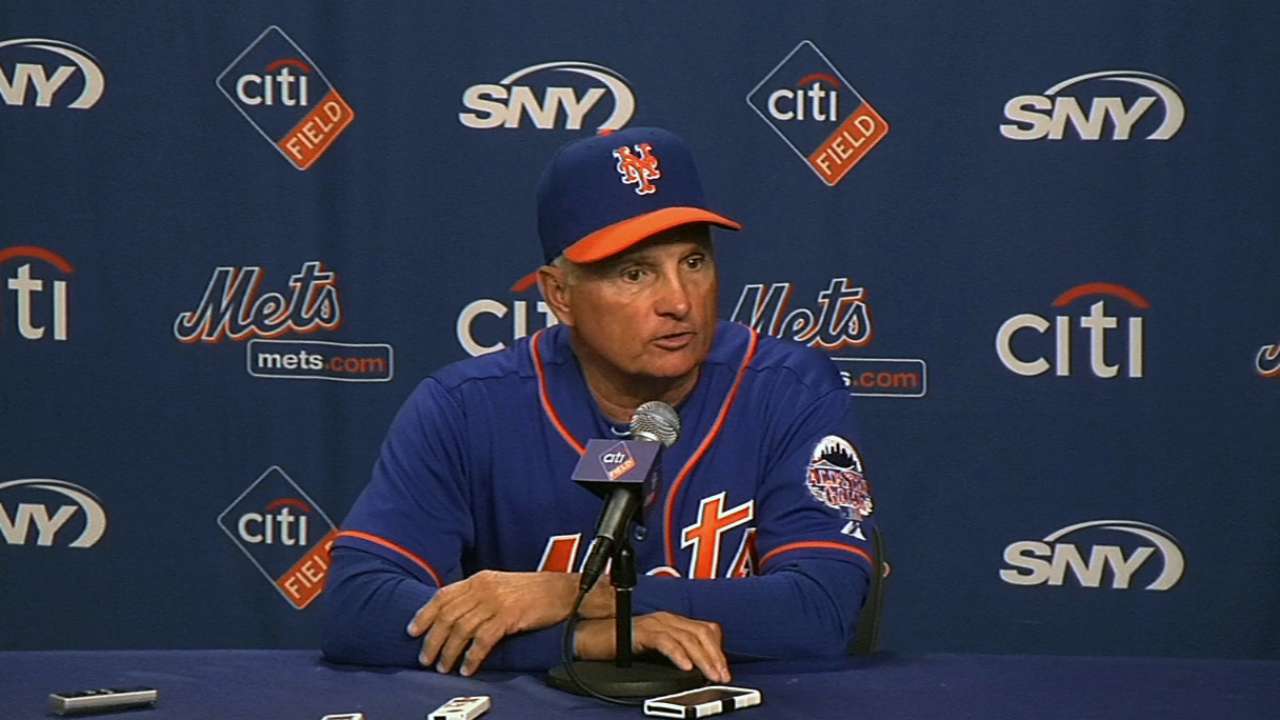 NEW YORK -- Jon Niese's Opening Day assignment technically came about by default, after Johan Santana's latest surgery forced the Mets to shuffle their rotation. But do not be mistaken: Niese earned that assignment on merit, just as he earned the five-year, $25.5-million extension his team gave him last April. The left-hander's career seemed to be arcing only upward.
Yet suddenly and inexplicably, he has turned a darker corner. Under dreary skies Saturday at Citi Field, Niese gave up a career-high eight runs to the Pirates in an 11-2 loss, which included a 47-minute delay in the ninth inning as heavy rains soaked the field.
Consider that a metaphor for the game itself. Niese was already coming off one of the worst starts of his career in Atlanta -- a four-inning, six-walk, seven-run drenching that he classified as "embarrassing" and "one of those outings I just want to forget." But it must have been difficult for him to do so Saturday, when his rebound attempt turned out so similar.
As in Atlanta, Niese cruised through the first inning without issue. But after a leadoff single in the second led to a run, the Pirates began piling on offense in the third. Andrew McCutchen's RBI hit gave the Bucs a two-run lead, and Jose Tabata doubled the margin with a two-run homer to center.
Niese temporarily settled down to pitch a perfect fourth inning, but trouble found him again when Jordy Mercer homered with one out in the fifth. Niese then walked back-to-back batters before delivering an 85-mph fastball on his final pitch of the day, which Tabata smashed to center field for an RBI double.
Niese said that his recent back trouble, which bothered him between starts, affected his arm angle to a debilitating degree. He plans to practice his windup in front of a mirror this week, hoping to correct the flaw.
"I'm not really deceiving anybody right now," Niese said. "With my arm angle being down, I think they can pick the ball up a lot sooner, and that's why I think they're not chasing some of the pitches that they normally have chased. Hopefully I can get it back."
Scott Atchison, who was supposed to be unavailable after giving the Mets two innings of relief the night before, replaced Niese and allowed both inherited runners to score, as well as one of his own. With that, the Mets found themselves in an inescapable nine-run hole, which later grew larger on Mercer's second homer of the day.
It hardly mattered that the Mets struggled offensively for the fifth straight game, making a winner out of Francisco Liriano in his season debut. Returning from an injury to his non-throwing arm, Liriano allowed his only run on Marlon Byrd's RBI infield single in the sixth. Otherwise he was brilliant, retiring seven in a row to open the game and finishing with nine strikeouts.
Manager Terry Collins said afterward that he will shake up the lineup for Sunday's finale, moving David Wright, Ike Davis and Lucas Duda all to run-producing slots.
"Hopefully we get going," Wright said.
An intriguing subplot developed in the seventh, when Collins used Jordany Valdespin as a pinch-hitter, one day after Valdespin showboated his solo home run in a five-run game. Pirates reliever Bryan Morris proceeded to plunk him in the right forearm with his second pitch, inciting the second-year player's ire.
"We all knew coming into today that the Pirates could have taken it one way," Wright said. "I think Jordany understands that."
The Mets could not concern themselves too much with Valdespin, however, considering how much of their worry was already reserved for Niese. Though Matt Harvey may be the new ace in Flushing and Zack Wheeler could soon pass Niese on the depth chart as well, the Mets view their lone left-handed starter as a 200-innings horse for years to come. In today's game, that is a rare commodity.
The Mets understood that locking up Niese long term was a risk, considering he had never submitted a full, healthy season at the time of his signing last April. But the lefty quickly quelled any concern, setting career highs last summer in innings, wins, strikeouts and ERA. His whiff rate was up and his walk rate was down.
Not so this season, which has seen Niese walk more batters than he has struck out. No qualified National League pitcher sports a lower strikeout-to-walk ratio than Niese, while only one has submitted a higher walk rate.
"It's tough," Niese said. "No pitcher wants to go through it, but it's reality right now. I've got to change it."
Anthony DiComo is a reporter for MLB.com. Follow him on Twitter @AnthonyDicomo. This story was not subject to the approval of Major League Baseball or its clubs.