Red Sox fall to Jays despite late rally
Fill-in closer Tazawa gives up decisive homer to Toronto's Lind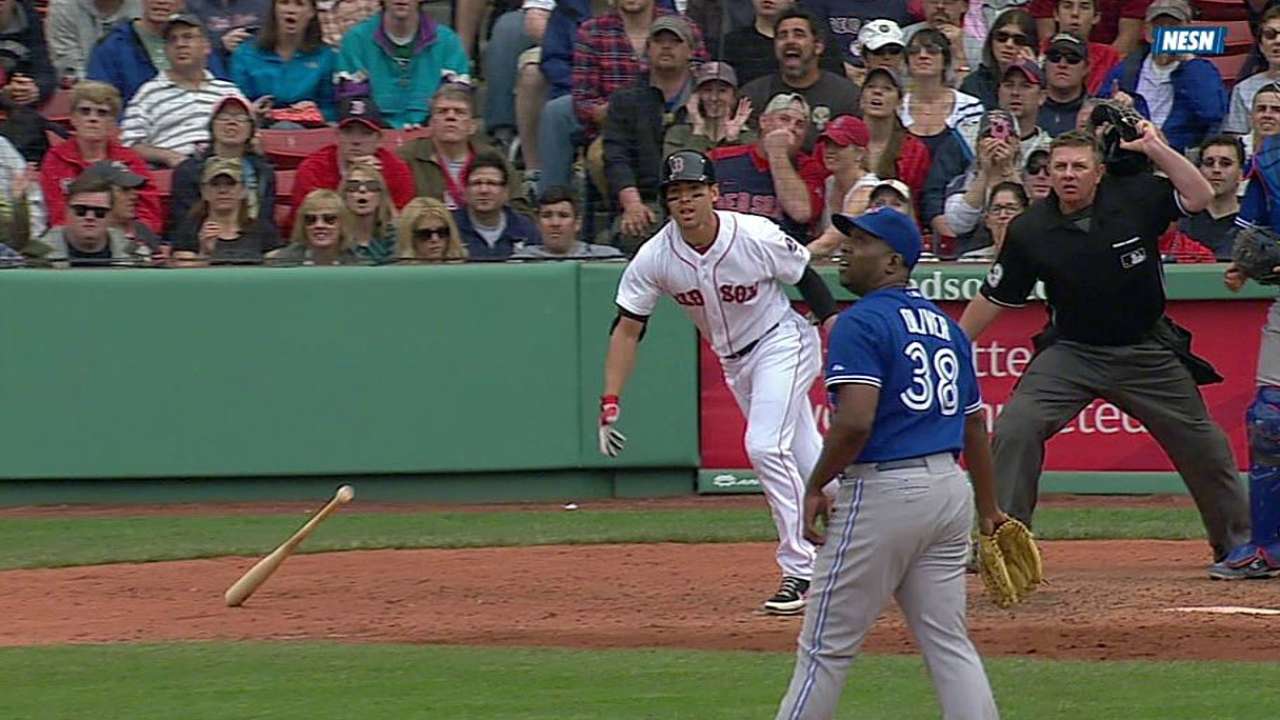 BOSTON -- Not more than six hours had passed since Red Sox closer Joel Hanrahan announced he would be having season-ending surgery and fill-in closer Junichi Tazawa came running out of the Fenway Park bullpen with the game tied in the ninth inning.
The powerful right-hander threw a few mid-90s fastballs that Blue Jays first baseman Adam Lind couldn't get a handle on. Then, Tazawa threw a slider, missed his spot, and left it on a tee for Lind to crush over the center-field wall.
The home run was the difference on Saturday, as struggling 34-year-old righty Mark Buehrle bounced back from three straight starts in which he allowed at least five runs and limited the Red Sox to one run over seven-plus innings, as the Blue Jays claimed the 3-2 win.
The Red Sox absorbed their seventh loss in nine games.
"I think there is some additional pressure to perform well," Tazawa said about his new role through a translator. "But just trying to concentrate on each pitch, I think I'll be able to perform fine."
While it's easy to point to the closer this time, that's one area that may not be an issue -- even without Hanrahan. Tazawa has struck out 19 batters in 15 1/3 innings with a 3.31 ERA, and the team continues to show faith in him. Flame-throwing righty Andrew Bailey also continues to make progress in his return from a right biceps strain. He threw pain-free the last two days and should return soon.
"[Tazawa] has been doing a great job for us," catcher David Ross said. "He's a really good pitcher. He's one of our best. That's why they chose to put him in the closer role while the [other] guys are out."
It would be hard to blame Red Sox starter Clay Buchholz for this one. Against the free-swinging Blue Jays offense, which lives and dies by the home run ball, he pounded the strike zone and was frequently rewarded with quick outs. He needed 10 pitches or fewer in three of his eight innings, while throwing 101 total pitches.
Buchholz allowed just a pair of runs.
Following two straight impressive starts by Buchholz and Jon Lester, the Red Sox rotation has continued to impress, though there's still a question mark at the back end with Felix Doubront, who has mysteriously lost a few ticks off his fastball.
The main culprit in Boston's sudden streak of poor play has actually been the offense. For the seventh time in 10 days, the Red Sox were held to three runs or fewer.
"Every time I was throwing a pitch," said Buehrle, "it was almost like, 'Hey, you guys aren't going to hit this.' I was that confident today."
Blue Jays left-hander Darren Oliver took over for Buehrle after a leadoff walk to Ross in the eighth inning, and Jacoby Ellsbury promptly smoked a triple into the center-field triangle. Ellsbury scored two batters later when Dustin Pedroia reached on an error by Blue Jays shortstop Munenori Kawasaki to tie the game at 2.
Pedroia stole second to put the go-ahead run in scoring position with just one out, but David Ortiz and Jonny Gomes each struck out to end the rally.
The Red Sox went 0-for-11 with runners in scoring position, leaving eight men on base -- none bigger than Will Middlebrooks, who was stranded at second in the bottom of the ninth after smacking a leadoff double.
Over the last 10 games, the Red Sox are hitting .179 (15-for-84) with runners in scoring position. They've left 77 men on base.
"We create and continually create opportunities for ourselves," manager John Farrell said. "Multiple times, multiple innings. Yeah, there's a little frustration there, but I can't say it's causing the guys to come out of their approach. You have to give credit where is due. Buehrle made a number of quality pitches with runners in scoring position."
The good news for the struggling Sox batters: Less than two weeks ago they were one of the most dangerous offenses in the Majors.
At the time they began their losing streak, they sat at 20-8, with the best record in the Majors and an offense that scored 148 runs -- more than all but one team, the Oakland A's.
They were hot for 28 games. Cold streaks happen, too.
"It's part of baseball," said Mike Napoli, who went 0-for-3 and is 6-for-37 over his last 10 games. "You're not going to be hot all year -- just trying to minimize the little rough times you have. But we feel fine. We're all confident here, and we're going to go out there, be out there tomorrow and try to win a series."
Jason Mastrodonato is a reporter for MLB.com. Follow him on Twitter @jmastrodonato. This story was not subject to the approval of Major League Baseball or its clubs.