Cain overcomes pain to fire eight strong frames
Offense breaks trend vs. Hudson with six-run fourth inning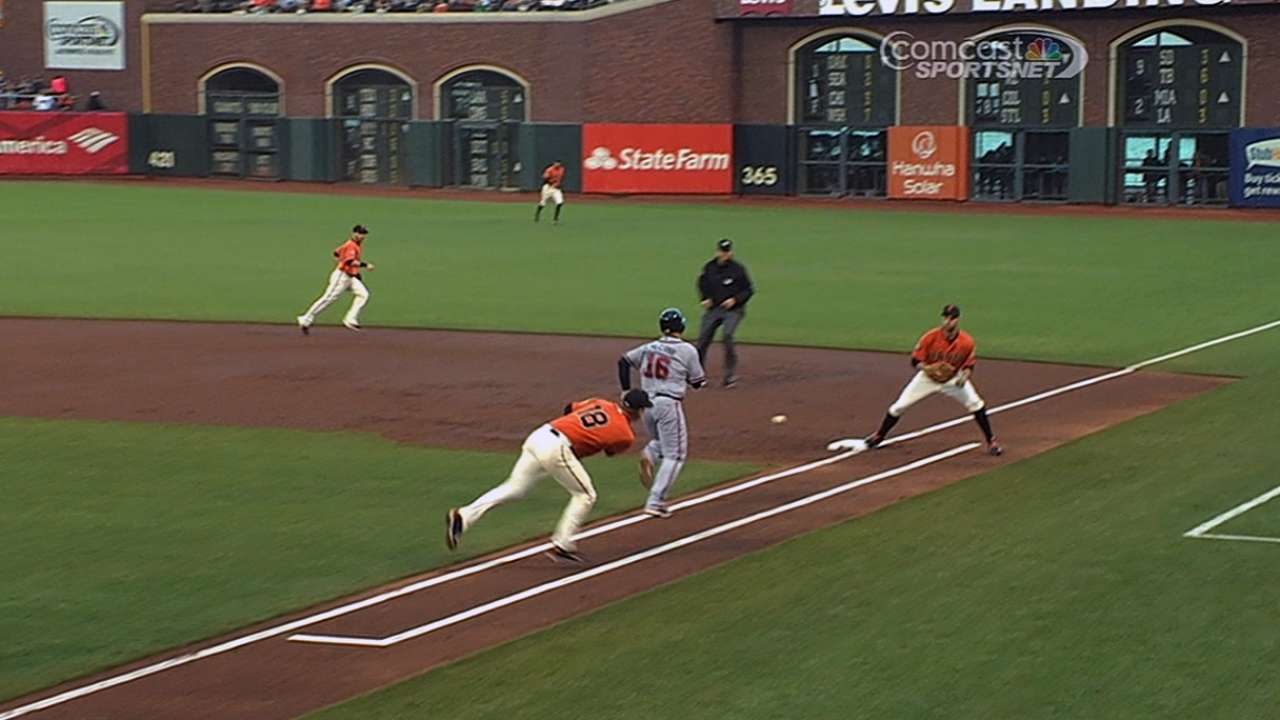 SAN FRANCISCO -- Matt Cain deserved to be rewarded for the toughness he demonstrated when he played a line drive off his right hip.
The Giants soothed Cain's pain in definitive fashion.
They chased Atlanta Braves ace Tim Hudson, who has made a habit of dominating them, with a six-run fourth inning Friday that generated an 8-2 victory.
The Giants hadn't beaten Hudson since they cruised to another rout, 12-6, on April 8, 2006. It was essentially a different era. Barry Bonds still roamed left field for the Giants, and No. 28 was worn by Lance Niekro, not Buster Posey. Edgar Renteria played shortstop for the Braves, four years from becoming a World Series hero for the Giants.
Since then, Hudson went 6-0 with a 2.48 ERA in nine starts against the Giants. To put the Giants' fourth-inning outburst in perspective, he allowed them as many as six runs only twice in 17 outings. San Francisco's splurge featured five consecutive hits; Hudson's unbeaten streak against the Giants included four games in which he yielded five hits or fewer.
The beneficiary of San Francisco's offensive windfall was Cain, who won his second start in a row and improved to 4-1 with a 1.82 ERA in his last five appearances against Atlanta. Giving San Francisco's bullpen some much-needed rest, Cain struck out seven in eight innings and surrendered three hits, including Brian McCann's two-run, fifth-inning homer.
McCann created more of a fuss with his previous at-bat in the second inning. The ball he scorched off Cain's hip caromed toward first-base foul territory. But Cain hustled after the ball, plucked it off the ground just as it crossed the chalkline halfway toward first base and sidearmed a throw that retired McCann.
Manager Bruce Bochy and head athletic trainer Dave Groeschner raced toward Cain to check on him. Asked later how squarely the ball hit him, Cain responded, "Pretty good," but he remained in the game.
"He showed just how tough he was," Bochy said.
Cain dismissed the mishap. "It should be just a good bruise," he said.
His pitching made more of an impact than the line drive. Continuing to rebound from his rocky April, Cain is 2-0 with a 1.76 ERA in his past two starts.
"His ball was coming out hot tonight," McCann said. "He was real deceptive. His 92 looks 94. That's why he is so good."
Marco Scutaro bookended the big fourth with singles. The first, a grounder up the middle, led off the inning and extended his hitting streak to 10 games. Pablo Sandoval's single set up three run-scoring hits in a row: Posey's double, Hunter Pence's infield single and Brandon Belt's double.
Was luck involved? Certainly. Sandoval's hit wasn't particularly well-struck; Pence's was a swinging bunt between the mound and third base; and Belt's ball bounced over leaping first baseman Freddie Freeman. It was as if the baseball gods were smiling upon the Giants after Hudson's years of tormenting them.
"It was a nightmare inning, obviously," Hudson said. "I didn't make very good pitches to get the inning going. Then when I needed a break here or there, the balls found some holes and some balls made for tough plays. I just had a tough time stopping the bleeding."
Hudson intentionally walked Brandon Crawford with one out to set up a potential double play. Cain hit the ground ball that the Braves sought, but it scooted untouched into right field for another RBI single. Hudson struck out Angel Pagan before Scutaro lined his second single sharply to left, delivering Belt and Crawford.
The Giants knew they had accomplished something rare against Hudson. "When you get an opportunity like we did tonight against a guy who's done what he's done over his career, that's always nice," Cain said. "Because it's always a battle with him."
Pagan's sixth-inning, two-run homer offset McCann's long ball -- the first homer Cain has ever allowed to reach McCovey Cove on the fly.
Chris Haft is a reporter for MLB.com. This story was not subject to the approval of Major League Baseball or its clubs.