Hudson derailed by Giants' six-run fourth inning
McCann provides spark with home run in second straight game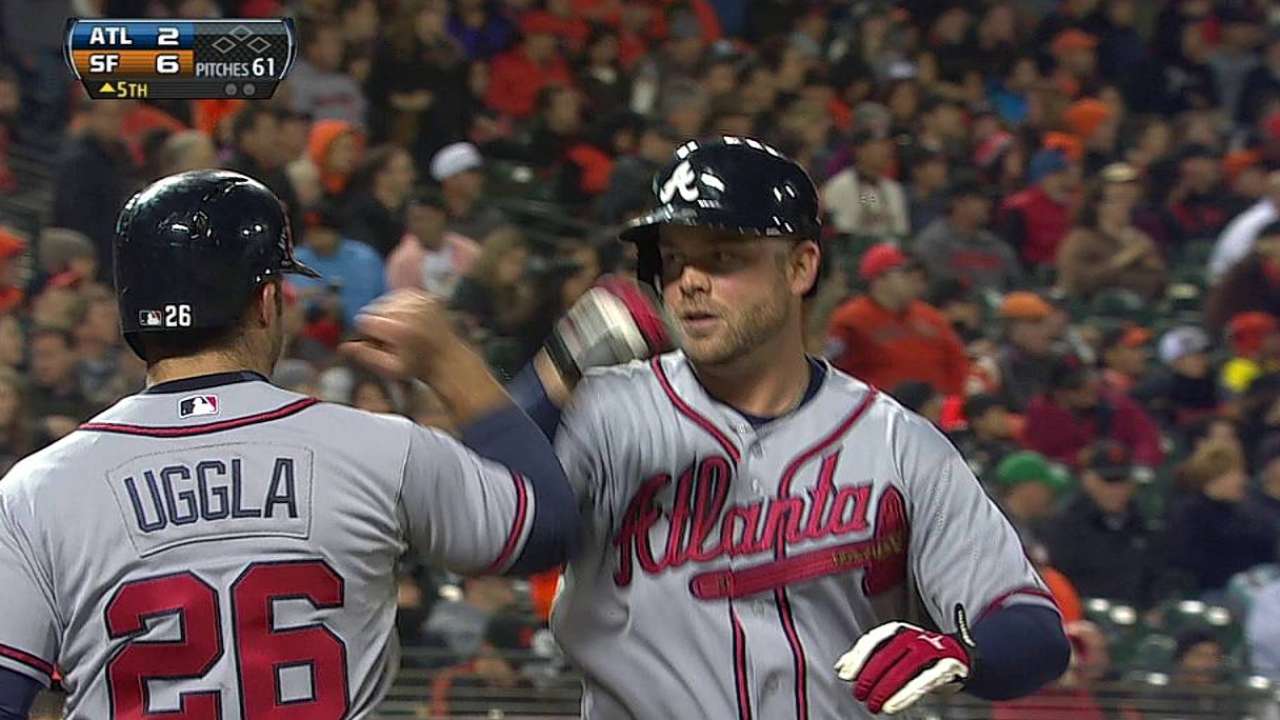 SAN FRANCISCO -- Ten days after seemingly doing nothing wrong on the way to notching his 200th career win, Tim Hudson experienced an inning during which it seemed nothing went right.
Hudson displayed his frustration as the Giants chased him during a fortune-filled six-run fourth inning that backed Matt Cain's best start of the season and doomed the Braves in Friday night's 8-2 loss at AT&T Park.
"It was a nightmare inning, obviously," Hudson said. "I didn't make very good pitches to get the inning going. Then when I needed a break here or there, the balls found some holes and some balls made for tough plays. I just had a tough time stopping the bleeding."
Brian McCann's two-run, fifth-inning home run off Cain served as one of the few highlights for the Braves, who had scored at least six runs in five of their previous six games.
Cain surrendered two runs and three hits while completing eight innings for the first time since Sept. 19. This marked the fourth time this season that the Braves were limited to three hits or fewer.
"You've got two great pitchers out there and they're throwing up zeros and that's what you're hoping for is to have them duel it out amongst themselves," Braves bench coach Carlos Tosca said. "Then all of the sudden, it just kind of unraveled for us."
Hudson was charged with eight hits and six runs in just 3 2/3 innings. This marked just the fourth time in his career that he allowed at least eight hits and at least six runs while completing fewer than four innings. But this pitching line did not provide a clear picture of the misfortune Hudson encountered in the process of the forgettable fourth inning.
"It's one of those things, like what else can you do?" Hudson said. "I felt like I made some pitches to get out of the inning. They just had some breaks go their way and it just happened to be all in a row."
Hudson retired the first seven batters he faced and had surrendered just one hit before the Giants began the decisive fourth with five consecutive hits. Marco Scutaro and Pablo Sandoval opened the inning with singles and Buster Posey followed with an RBI double. Those would account for the only balls that were hit hard, until Scutaro chased Hudson with a two-out, two-run single.
After Posey laced his double to the left-center-field wall, Sandoval scored the game's second run when third baseman Juan Francisco could not get Hunter Pence's infield single out of his glove. Brandon Belt followed with a chopper that bounced over Freddie Freeman's head and traveled down the right-field line for an RBI double.
"At any moment, I was just a pitch or two away from getting out of the inning with just giving up two or three runs," Hudson said. "They just had some breaks go their way right there late in that inning."
Hudson's miseries were intensified when he intentionally walked Brandon Crawford with one out and then saw Cain sneak an RBI single through the right side. Two batters later, the veteran pitcher saw his night end with Scutaro finishing what he started with a two-run single to left.
"It was just one of those games where in one inning they got a couple pitches to hit and got me in a jam," Hudson said. "Then a couple of breaks go their way. Then a couple more pitches to hit that got me out of the game. It was just one of those nights where one inning cost us the game."
Hudson has now lasted fewer than five innings in three of his first eight starts. But in each of his other five outings this year, the 37-year-old has allowed three runs or less. He had allowed two runs or fewer in five of his previous seven career starts at AT&T Park.
"He's tough," Scutaro said. "He can throw you any pitch at any count and his ball moves a lot -- sinkers, cutters, splits -- and everybody knows what a great pitcher he is. So for us to have a big inning was huge for Matt."
Cain's only costly mistake came when McCann drilled a 3-2 fastball into the water located beyond the tall right-field wall. The only other Braves player to hit a ball into McCovey Cove was Rick Ankiel, who did so with his decisive 11th-inning home run in Game 2 of the 2010 National League Division Series.
More importantly, the Braves are already seeing encouraging signs from McCann, who returned from offseason shoulder surgery on Monday. He has hit his first two home runs of the season in the first two games of this series and shown signs he is capable of being the offensive force he was while winning five Silver Slugger Awards.
"His swing looks really, really good," Tosca said. "He's really confident up there."
Mark Bowman is a reporter for MLB.com. This story was not subject to the approval of Major League Baseball or its clubs.