Straily struggles as A's drop their fifth straight
Righty allows six runs in five innings; Offense stifled by Mariners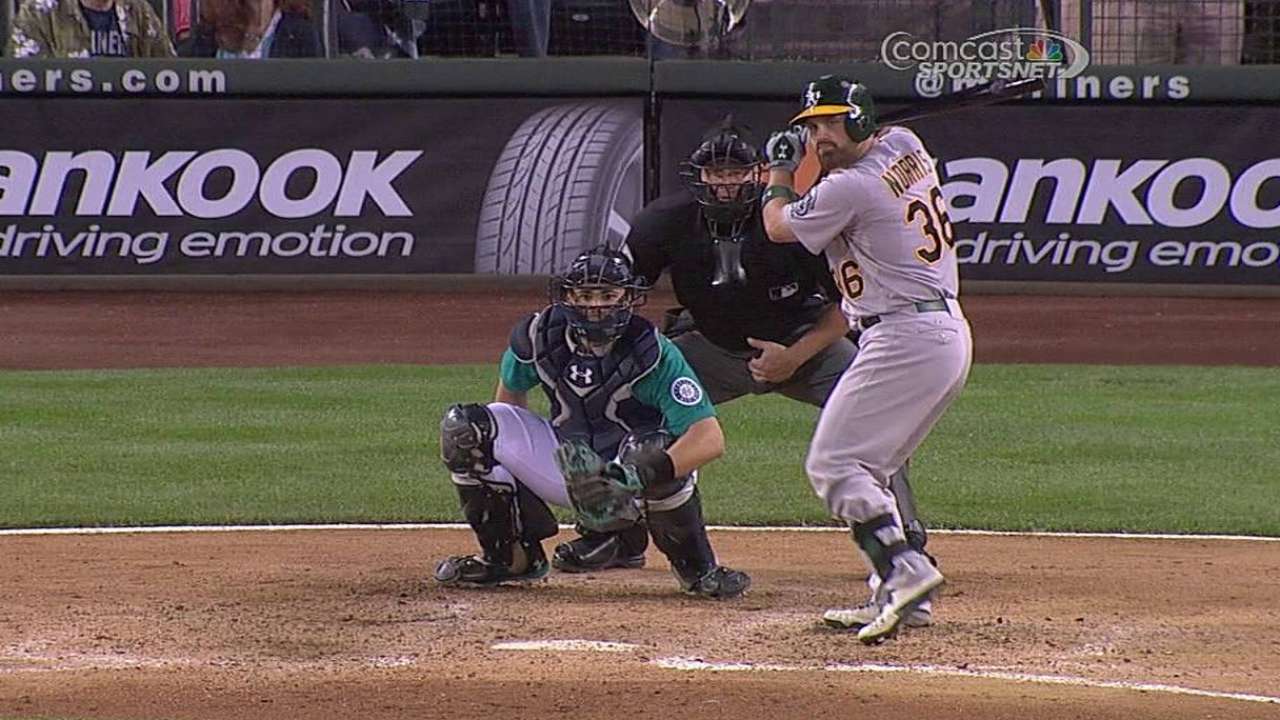 SEATTLE -- The same team that put together a nine-game winning streak just a month ago has suddenly fallen below .500.
Yes, there's concern in the A's clubhouse, where players were left lamenting their fifth straight loss, a 6-3 defeat at the hands of the Mariners on Friday evening.
And when asked what's affecting his club's consistency, or lack thereof, manager Bob Melvin replied, "Everything."
"Offensively," he said, "we're not as good as we were early. We're getting behind, putting our team in a hole. Defensively, we didn't have any errors today, but we had some plays early on that affected us. Everybody has to pick everybody up, and we're not doing that right now. We're struggling."
For much of the season, the A's have been at their best when playing in the West. Even after Friday's loss in Seattle, they still carried a 13-4 ledger against their division foes. Upon closer review, though, these numbers aren't as telling as they might seem.
Twelve have been played against the Astros and Angels, who have combined to go 23-48 on the season. A 17-19 Mariners' club accounts for the other five games. The first-place Rangers, at 22-13, haven't even entered the equation yet, which poses alarm for an A's team that is 5-15 against everyone outside their division.
The A's are below .500 for the first time since the third day of the season. That was 37 days ago, the same day they started a nine-game winning streak. Since, they're 9-17.
"It's a strange one," said John Jaso. "We were off to such a hot start and it seemed like no pitcher had a chance against us. … It's all about getting that feeling back and keeping it alive.
"I'm not worried. I don't think anyone in here should be worried. I don't think any of the fans should be worried. I've been playing this game long enough to know how long this season is and how many ups and downs can happen."
The reeling A's still lead the Majors with 182 runs -- 140 came in their 18 wins, with just 42 scored in their 19 losses -- but their .243 team average ranks 22nd, and their 294 strikeouts, after 12 were compiled Friday, are fourth highest.
As for the starting pitchers, the same group that carried this club during last year's postseason run has looked out of character from the start. The rotation's ERA is at 5.10 following a six-run outing by right-hander Dan Straily on Friday.
"I just think we're playing bad in all areas of the game," said Josh Donaldson. "We gotta get our fight back, our confidence. It seems like, to me, we're going out there, and they jump on us somewhat early, and we're not waking back up until the seventh, eighth inning."
The A's trailed by six after five innings, but Straily's mediocre performance may have looked better on paper had he received more help from his defense.
Donaldson understands this, and he takes full responsibility for a botched play on a potential inning-ending double-play ball in the first that preceded two runs, as he crossed in front of shortstop Jed Lowrie to grab it before realizing he couldn't. Lowrie didn't have enough time to react and knock down the high hop.
"I don't know that it's a double play, but it's certainly an out," Melvin said. "If he goes to get it, he should just keep going to get it. Your instincts take over right there, and he's a guy that has some range to get those balls. He knows he should just keep going. The last thing he wants to do is block the shortstop out on a play like that."
Said Donaldson: "I kept going and I saw him in the corner of my left eye, and I knew it was going to be a play for me where I was going to have to reach pretty far to get it. Once I saw him, I tried to stop and let him take over. … It's definitely on me."
Lowrie was at the center of another defensive miscue in the third. He misplayed a ground ball, though it was deemed a hit, then two outs later Justin Smoak drew a walk from Straily and Raul Ibanez followed with a three-run homer.
Straily walked four batters on the night, and three of them scored.
"I thought the whole outing was based off of one changeup I left up that Ibanez took out," said Straily, who has a 7.06 ERA after four starts. "That changed the whole game. I make that pitch, and he rolls over it, and it changes everything. You can't make that one mistake."
Aside from a two-run double off the bat of Lowrie in the sixth, A's hitters were silenced by Seattle righty Hisashi Iwakuma, who surrendered a leadoff hit to Jaso before retiring 16 straight. He allowed just four hits total over seven impressive innings.
Oakland's only other run came in the eighth, when Derek Norris collected his first homer of the season off lefty Oliver Perez. After that, the A's were put down in order, their confidence dropping all the while.
"I think we've been beaten pretty badly, and it's easy to lose confidence," Lowrie said. "But I think it would be better to say we just need to play better baseball."
Jane Lee is a reporter for MLB.com. Read her blog, Major Lee-ague, and follow her on Twitter @JaneMLB. This story was not subject to the approval of Major League Baseball or its clubs.