Iwakuma in fine form as Mariners top Athletics
Righty retires 16 straight after leadoff single; Ibanez homers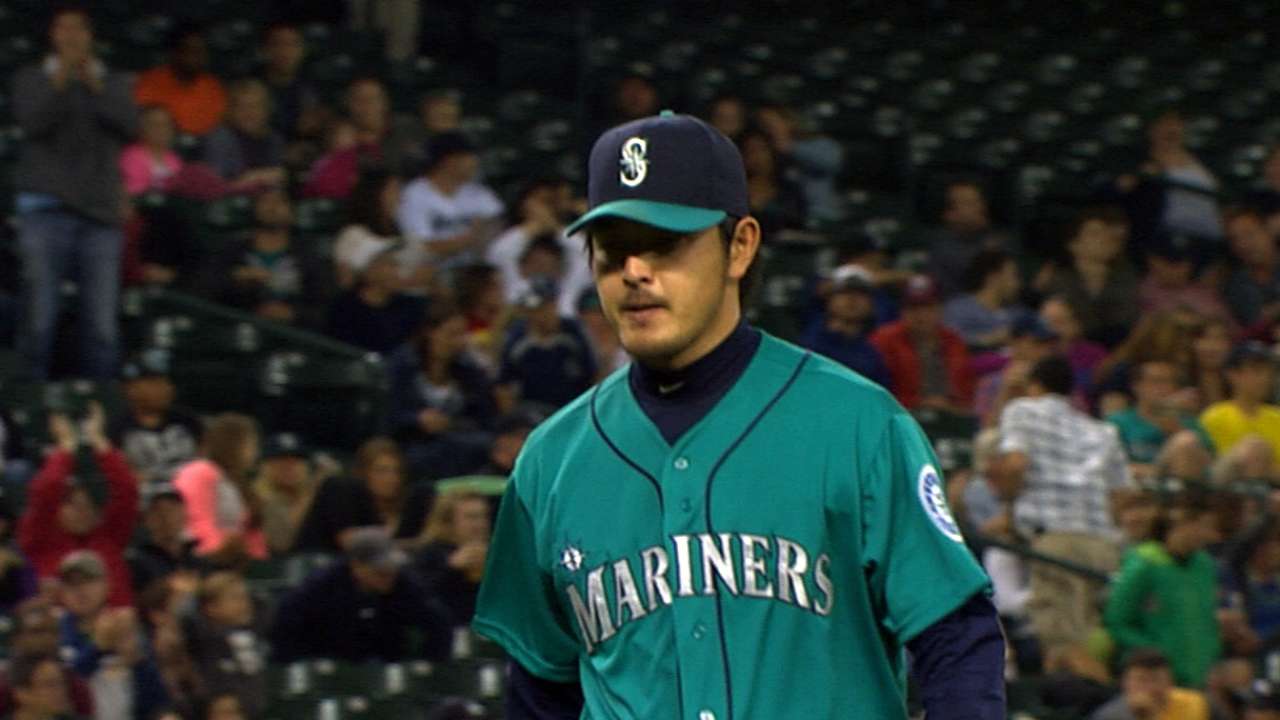 SEATTLE -- As well as Hisashi Iwakuma has pitched this season, all he's needed is a little offensive help. And the Mariners' right-hander got plenty of that from Raul Ibanez and others on Friday as Seattle rolled to a 6-3 win over the A's to open a three-game series at Safeco Field.
Ibanez, making just his third start over the past two weeks, blasted a three-run home run in the third inning to pace a Mariners offense that scored more runs than it had in its three previous games combined.
Iwakuma extended his early season mastery with seven innings of two-run ball, improving to 4-1 with a 1.74 ERA and continuing to give the Mariners a tremendous one-two punch alongside ace Felix Hernandez. That duo has gone 9-3 on the season for a Mariners club that now stands 17-19 overall.
"It's special," third baseman Kyle Seager said of the top of the Mariners' rotation. "Our starters are going real well, and those two have been on a different level. Everybody knows Felix, obviously. Kuma is kind of flying under the radar a little bit, but he's been just as impressive. It's been pretty fun to play behind those two."
Iwakuma allowed just four hits with no walks and nine strikeouts before being replaced after throwing 95 pitches.
The Mariners have won eight of their last 11 games to crawl back from a slow start and are now just a half-game behind second-place Oakland in the American League West.
"We're doing it together," Ibanez said of the recent surge. "It's a collective effort, it always is. Guys are contributing, guys are having good at-bats. There's definitely a good feeling in here, but we're doing it as a group, as a team, and it's a great environment."
The A's are headed in the other direction, having lost five straight and 16 of their last 22 to fall to 18-19 after a promising start.
The Mariners jumped to a 2-0 lead in the first with an RBI single by Michael Morse followed by a run-scoring double by Justin Smoak. Ibanez then gave Iwakuma some welcome cushion with a three-run shot, his third homer of the season, in the third.
"I thought the whole outing was based off of one changeup I left up that Ibanez took out," said A's starter Dan Straily. "That changed the whole game. I make that pitch, and he rolls over it, and it changes everything. You can't make that one mistake."
"That was big," said Mariners manager Eric Wedge. "Good for Raul, good for us. That was a big shot in the arm for us. The guy has been working so hard and you know he'll continue to get better, but that was a big boost for us today."
Ibanez has hit 69 home runs at Safeco Field, the most of any player, but he'd gotten off to a slow start this season and is now batting .188 after his 1-for-3 night.
"You just keep working and fighting," Ibanez said. "It's more a mindset than anything else, staying positive and expecting good things to happen, and fortunately it worked out tonight."
Kendrys Morales added an RBI double in the fifth to make it 6-0. Morales went 2-for-3, while Seager was 2-for-2 with two walks, three runs scored and his first stolen base.
Seager didn't exactly sting the ball, but wound up raising his team-leading average to .293 with his two base hits.
"They all count, that's the beautiful thing," he said. "I hit kind of a cue ball to short and it had so much spin on it, it was kind of a lucky break on that one. Then I blooped one down the line. It's beautiful. I'll take as many as I can get."
Iwakuma, 32, has been outstanding since moving into the Mariners' rotation at midseason last year. Since the All-Star break in 2012, he has the lowest ERA among AL starters at 2.22 in 23 starts.
The former Japanese standout is 2-0 with a 1.05 ERA in four starts at Safeco Field this year.
After a leadoff single by catcher John Jaso, Iwakuma retired 16 straight before Eric Sogard reached on an infield hit with one out in the sixth. Jaso then followed with his second hit of the game, and Jed Lowrie delivered a two-run double to make it 6-2.
That was the only trouble Iwakuma had all night. He said a season-long problem with a blister on his middle finger has finally gone away, and he enjoyed a healthy hand as well as a healthy lead in this one.
"I pitched with composure," Iwakuma said through translator Antony Suzuki. "I just stayed patient because we had the lead, so I was able to go with the flow and pitch my own game."
Oliver Perez replaced Iwakuma in the eighth and immediately surrendered a leadoff home run to Derek Norris before striking out the side.
Tom Wilhelmsen recorded a 1-2-3 ninth for his 10th consecutive save.
Greg Johns is a reporter for MLB.com. Follow him on Twitter @GregJohnsMLB as well as his Mariners Musings blog. This story was not subject to the approval of Major League Baseball or its clubs.