Tribe outslugged by Tigers in Kluber's rough night
Indians drop series opener as lineup unable to match Detroit's homers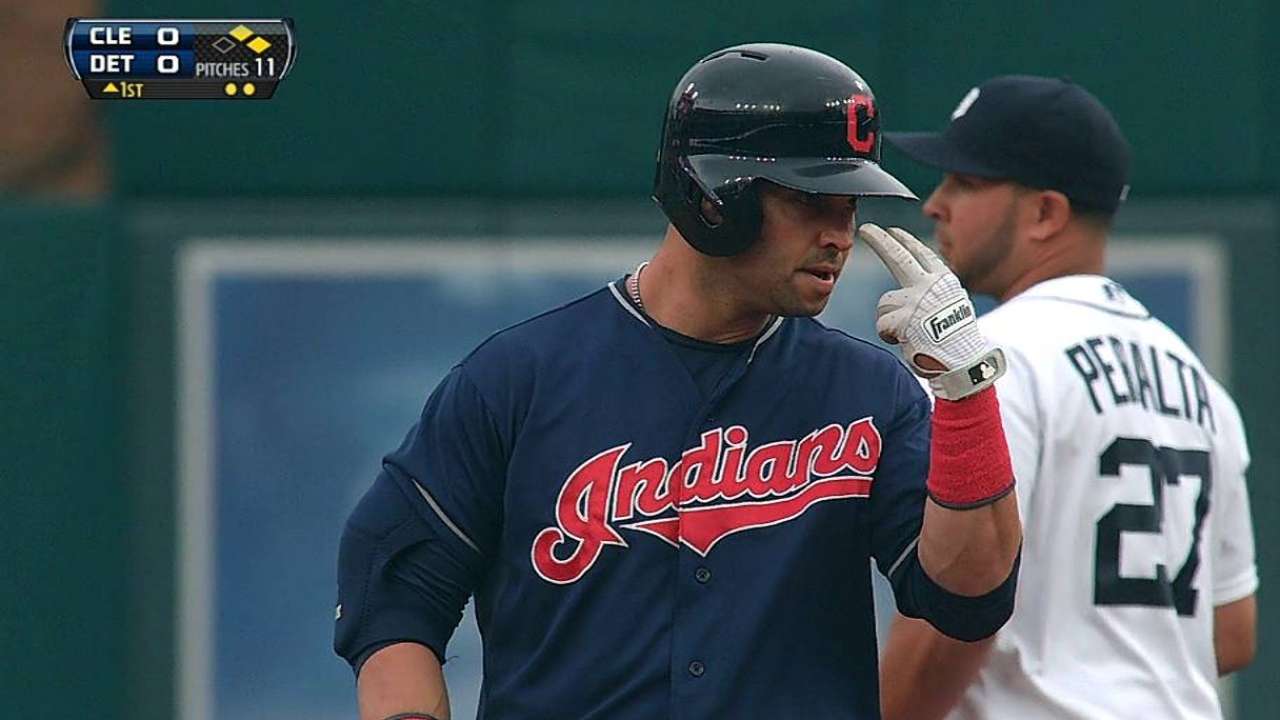 DETROIT -- The Indians know that the road to the American League Central title runs through the Motor City. The Tigers have claimed the division crown two years running, advanced to last fall's World Series and returned this season as the overwhelming favorites to again take the Central.
Cleveland wants to change the script.
On Friday night, the Indians rolled into Comerica Park as baseball's hottest team, ready to show off its revamped lineup in their first clash with their rivals from Detroit. The Tigers went ahead and showed why they are the reigning AL champions, pounding Tribe starter Corey Kluber in a 10-4 loss in the opener of the three-game set.
"Tough loss for us," Indians first baseman Nick Swisher said. "Obviously, coming into their ballpark, you want to make a statement early. But they put it on us pretty good."
Swisher is one of the Cleveland's newcomers, along with leadoff man Michael Bourn, slugger Mark Reynolds and fleet-footed right fielder Drew Stubbs. Combined with the players already in the fold, that foursome has helped transform the Tribe's offense into a potent group built around a mix of power and speed.
For one night, Detroit right-hander Max Scherzer -- one of the league's top strikeout artists -- contained Cleveland's lineup enough. Of course, Detroit's eight-run outpouring against Kluber, who surrendered a pair of tape-measure home runs to Prince Fielder and Miguel Cabrera -- provided more than enough support to send the Tribe to the loss column for just the second time in 12 games.
"Obviously, I respect them," Scherzer said of the Indians. "What they've been able to do offensively this year, obviously they can run, they can definitely steal bases and they've hit a lot of home runs. So they've got a speed and power combination that's very good. That's always a difficult matchup when you face a team like that."
The Indians (18-17) had just one error in its past dozen games, but made two in the loss to the AL Central-leading Tigers (20-13). Cleveland's rotation had the most wins and the lowest ERA in the American League over the past 11 games, but Kluber surrendered eight runs on 11 hits in just 4 2/3 innings of work. Lefty Rich Hill had not given up a home run since 2009, until Andy Dirks' solo shot in the seventh.
"You just chalk it up as a bad one," Kluber said. "Everybody has their days."
Since taking over as the Indians manager, Terry Francona has constantly preached the importance of focusing on one at-bat, one inning and one game at a time. What happened a month or a week or even a day ago does not matter. Whether the Indians have won or lost, there is a game coming tomorrow and that is the most important game of the season.
Francona hopes that mindset and message has found its way to the locker room.
"We better be [thinking that way]," Francona said. "There's a lot more games. When you make mistakes, learn from them and move on to the next day. When you win, you keep it going. When you lose, you play better."
Stubbs echoed that sentiment.
"That's what you've got to do," he said. "Fortunately, we've been on a winning streak lately. But you realize, at some point, you're going to lose some games. I think we've done a good job of [turning the page]."
That is good, because the Indians are best served wiping Friday's game from their memory.
Fielder connected for a first-pitch home run off Kluber in the third inning, sending the baseball ricocheting off the brick wall behind the stands in right-center field for a 460-foot shot. Cabrera followed suit in the fourth, drilling the first pitch he received from the right-hander deep to left-center for a three-run home run.
"That hurt," Swisher said of Cabrera's homer. "That kind of blew the doors open a little bit. But for us, we were right in that game until that point."
Detroit also scored three runs in the second inning, when Jhonny Peralta, Alex Avila and Omar Infante turned in three consecutive doubles off Kluber. Avila's double down the right-field line plated two runs and Torii Hunter later added an RBI single.
Hunter sent his two-out base hit to right field, where Stubbs gloved the roller and sent the relay to Reynolds at first base. On the play, Hunter overran first base and was promptly tagged by Reynolds for the frame's final out. Two runs could have scored on the play, but the tag was applied shortly before the trailing runner (Infante) crossed the plate.
Kluber said the Tigers pounded his fastball in hitter's counts early on and then, once he found the strike zone more often, Detroit's hitters feasted on misplaced cutters and breaking balls.
"I lost my delivery," Kluber said. "They're obviously a very good hitting team. The mistakes I did make, they didn't miss them. They put good swings on them."
Kluber's struggles created an uphill battle for the Tribe's offense.
In eight innings against Scherzer (5-0), who struck out seven, the Indians managed four runs on five hits. Swisher -- a home run shy of a cycle -- doubled home one run in the first inning and tripled and scored in the fourth. He opened a two-run seventh with a single and later scored on a groundout from Reynolds.
That was hardly sufficient in keeping up with Detroit.
The Tigers want to keep it that way.
"We see them a lot," Cabrera said. "If we want to win the division, we have to beat our division."
Jordan Bastian is a reporter for MLB.com. Read his blog, Major League Bastian, and follow him on Twitter @MLBastian. This story was not subject to the approval of Major League Baseball or its clubs.