Offense pours in runs to back Scherzer's fifth win
Prince, Miggy hit long homers, all starters notch hits in onslaught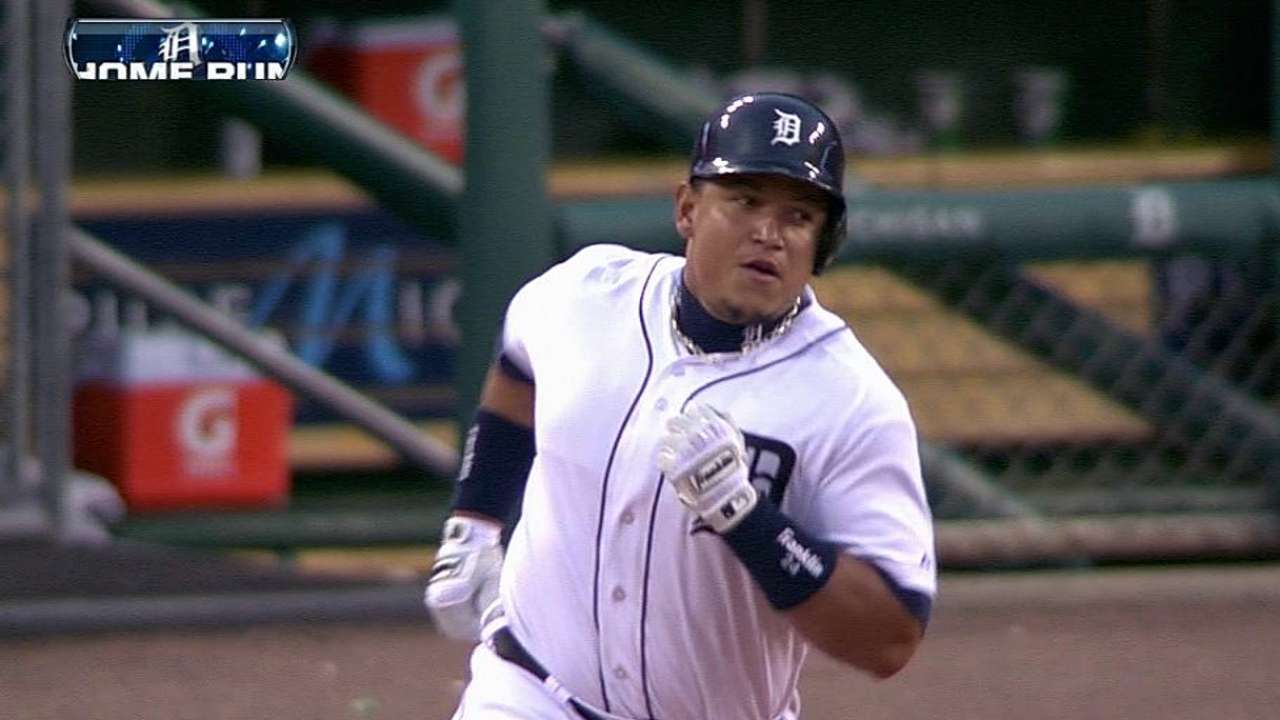 DETROIT -- The brick wall behind the outfield seats used to be the standard for tape-measure home runs at Comerica Park. Just a handful of players hit it in the stadium's early years. On Friday night, the Tigers came within a few feet of doing it twice in as many innings.
With the offensive outburst that Prince Fielder and Miguel Cabrera helped put together with their home runs, powering a 10-4 win over the Indians, Detroit's standing in its division was easier to measure.
"We see them a lot," Cabrera said. "If we want to win the division, we have to beat our division."
The Tigers returned home from their potential World Series preview and provided a reminder of the hitting that many believe can get them back there. After back-to-back days of National League-style ball in Washington, trying to string together rallies, the Tigers opened an American League Central showdown by simply outslugging a Cleveland team that came to town having won 10 of its previous 11 and swept Oakland in a four-game set.
Nine of Detroit's 15 hits went for extra bases, including Andy Dirks' solo homer and Alex Avila's two-run double. Seven hits came with runners in scoring position, building an scoring line that read like Detroit's area code from the second through fourth innings: 3-1-3. Every Tiger in the lineup had a base hit, and eight of them reached base at least twice.
Yet for many in the crowd of 37,547, the number they'll remember is 42. It sits on the right-most portion of the brick wall beyond the outfield, honoring Jackie Robinson, just to the right of where Fielder hit his ninth home run of the year.
He jumped a first-pitch fastball from Indians starter Corey Kluber, who had just retired Cabrera, and clubbed it.
"I lost my delivery tonight," Kluber said. "I was doing some stuff out there and getting a little ahead of myself, getting jerky. The result of it was, early on, I didn't throw enough strikes and fell behind guys. And then I had to come at them with fastballs, and they hit them."
ESPN Stats and Information, which has handled home-run distance estimates at Comerica Park for the past two seasons, approximated it at 460 feet, slightly shorter than the home run Cabrera hit off the center-field camera well last June.
"It was unbelievable," Cabrera said. "Every time he goes to the plate, it's like we expect him to hit a ball so far because we know what kind of power he has."
It was one add-on run, building Detroit's lead to 4-1 in the third inning after Alex Avila hit a 3-0 pitch for a two-run double in the second. Nick Swisher's second extra-base hit in as many at-bats, this one a triple just past Fielder at first base and down the right-field line, cut the gap to 4-2 in the top of the fourth.
From the Indians' view, Cabrera's ensuing drive put it away. With runners at the corners and two outs, he jumped Kluber's first-pitch slider and pulled it to the back rows of seats underneath Hank Greenberg's name and number on the brick wall in left-center field.
"We brought the score to 4-2 and then Miggy hit that three-run jack. That hurt," Swisher said. "That kind of blew the doors open a little bit. But for us, we were right in that game until that point."
The three RBIs boosted Cabrera's total on the season to 40, the highest for a Tiger at the 33-game mark since Hank Greenberg had 41 in 1937. The Hall of Famer finished that season with 183, third-highest in Major League history.
Cabrera is now on pace for 196. It's a small sample size, but his career averages are not, and they suggest his most productive months for home runs and RBIs are still to come.
"When you get RBIs, that means people are on base, obviously," manager Jim Leyland said. "We've done a good job of that for him, and he's taken advantage of that. I just let him and Prince go up there and do their thing. It's the best three-four combination I've ever had."
Leyland, mind you, had Barry Bonds batting cleanup in Pittsburgh in 1992.
Avila's fifth-inning RBI single chased Kluber (2-2) with eight runs on 11 hits over 4 2/3 innings. Dirks' third homer of the year came off former University of Michigan standout Rich Hill.
It wasn't quite the 17 runs of support Scherzer received last Saturday in Houston, but it was more than enough for his eight innings to earn him a 5-0 record for the second time in three seasons.
Twice in April, Scherzer struggled to resume pitching after big rallies behind him. He now seems to have gotten the hang of it. His best innings Friday seemed to be the innings when the Tigers were building his lead. He retired eight in a row after Swisher's fourth-inning triple, sending him on his way to eight innings on five hits with seven strikeouts.
"When the big innings happened, I was able to throw up a zero or allow them a run, keep it to minimal damage at best," Scherzer said. "And typically they're quick innings."
Jason Beck is a reporter for MLB.com. Read Beck's Blog and follow him on Twitter @beckjason. This story was not subject to the approval of Major League Baseball or its clubs.