Bats connect early but not often against Rays
Padres homer twice but go on to strike out 18 times in defeat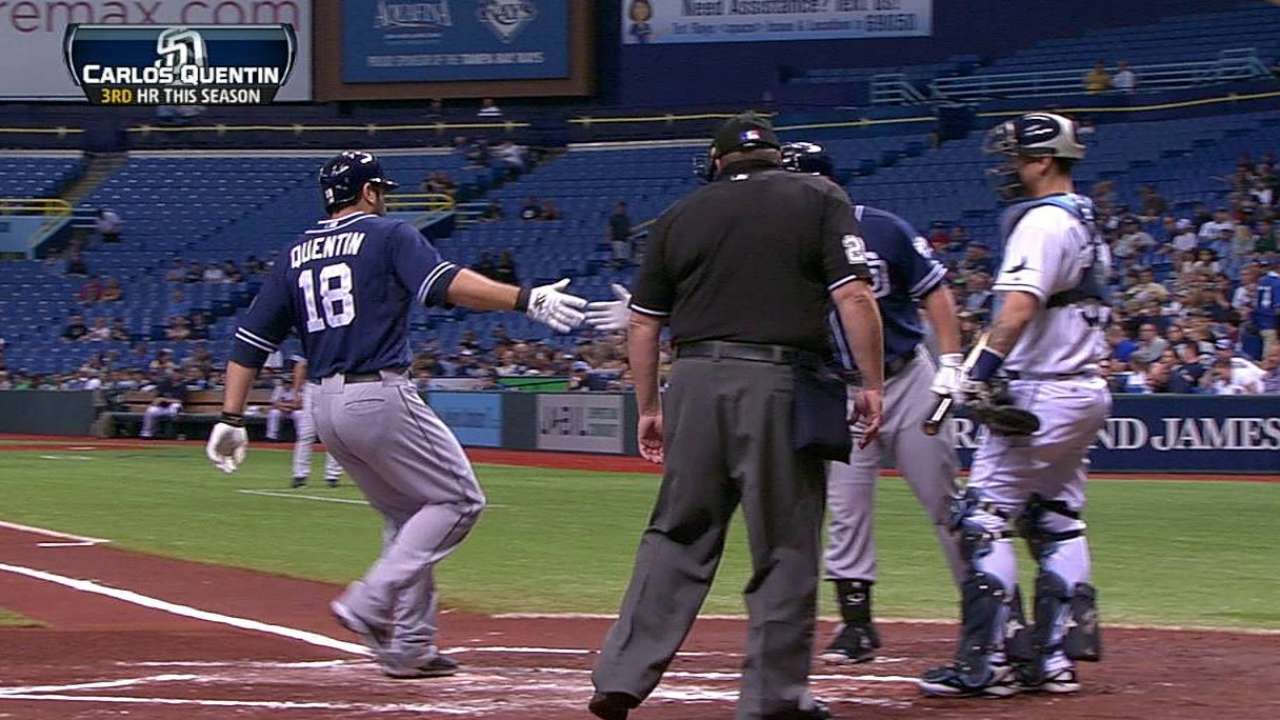 ST. PETERSBURG -- It was not one specific inning that did in the Padres on Friday, although an argument can be made for the ugly seventh that transpired at Tropicana Field.
Clinging to a one-run lead, the Padres ran through three pitchers who combined to allow four runs, five hits, one critical throwing error, a wild pitch and a walk to round out the misery.
"We didn't play well that inning," Padres manager Bud Black said flatly.
When the dust settled, the Rays had a 6-3 victory over the Padres in the first of three Interleague games, though the Padres certainly felt this one could have easily gone the other way before a crowd of 12,424.
While the seventh inning ultimately proved to be the Padres' undoing, Rays pitcher Alex Cobb made it a rough night for San Diego's hitters long before the Rays erupted for a four-run seventh inning.
Cobb did not factor in the decision because he was too busy making history, as the right-hander, using a dazzling array of pitches, including a split-finger fastball and changeup, ran up a high pitch count while striking out 13 over 4 2/3 innings.
Cobb became the first pitcher in Major League history to strike out 13 or more batters in fewer than five innings. The Padres struck out 18 times, the most in a game since April 13, 2012, against the Dodgers.
"Obviously that's not my goal," Cobb said. "You're never going into a game trying to strike everybody out. I was trying to put balls over the plate and have them make weak contact, and they were swinging and missing."
And to think the night sounded so promising, as Cobb allowed home runs to Will Venable and Carlos Quentin in the first inning before settling into a dominant groove.
"He was striking out everyone, mostly on the split-finger," said Padres second baseman Jedd Gyorko, who struck out twice facing Cobb. He added of the pitch: "It's firm, and it doesn't have the normal split-finger spin. And he was keeping it down. When you're doing that, it's going to be tough."
Cobb had four strikeouts in the third inning and actually allowed a run, as Venable struck out but reached on a wild pitch.
"He was on us all night," Venable said.
Venable stole two bases and scored on a Cobb balk, which, at the time, loomed big as the game got into the late innings and the Padres -- who were 13-0 when leading after six innings -- lost the lead and then the game.
Lost in Cobb's dominant start and the late Rays' comeback was another good start by Padres starter Edinson Volquez, who was in line for his fourth consecutive victory after allowing two earned runs on three hits in six innings with four walks and three strikeouts.
"Volky hung in there ... it was a little maddening in that he was behind in the count a lot," Black said. "They didn't get many hits off him. They didn't hit many balls hard off him."
Volquez allowed two baserunners in the first inning. He then worked a 1-2-3 second before he ran into trouble in the third, walking two and allowing an RBI bloop single to center to Evan Longoria, as the ball fell in front of a hard-charging Venable.
"A blooper ... he hit it 130 feet," Black said.
Volquez then uncorked a wild pitch that allowed another run to score, making it a 3-2 game.
But Volquez, who entered the game having won his last three starts, regrouped. He struck out Longoria with a 94-mph fastball to finish the fifth with a runner on second base. Volquez then worked a 1-2-3 sixth inning before handing the ball and lead to the bullpen.
Dale Thayer (0-2) began the seventh for the Padres and allowed a single to Jose Lobaton to start the inning. Yunel Escobar then dropped down a sacrifice bunt that Thayer fielded and spiked into the ground in front of Yonder Alonso at first base for an error. A single by Matt Joyce loaded the bases.
"Bases loaded, that's tough," Black said. "We couldn't make that pitch then stem the tide."
Thayer quickly got ahead of Ryan Roberts but left a 1-2 fastball up that Roberts spanked into left field to score two runs. Reliever Anthony Bass came in from the bullpen and promptly allowed a two-run single of his own, this one to Ben Zobrist. All told, 10 Rays batters came to the plate in the inning.
"I got ahead of everyone, but I just didn't make a pitch," Thayer said. "It's just as frustrating as not making an out [on a throw]."
All in all, it made for one miserable inning and a fitful finish, something the Padres have not seen much of during a blissful stretch where they had won 11 of their previous 14 games before Friday.
"All I can remember is the bunt; they found some holes and did a good job taking advantage," San Diego third baseman Chase Headley said. "We didn't necessarily throw it away. It just wasn't as clean as we have been playing."
Corey Brock is a reporter for MLB.com. Keep track of @FollowThePadres on Twitter. This story was not subject to the approval of Major League Baseball or its clubs.