Cobb dominant early, and Rays' bats heat up late
Pitcher has 13 K's, four in one inning, as Tampa Bay rallies to victory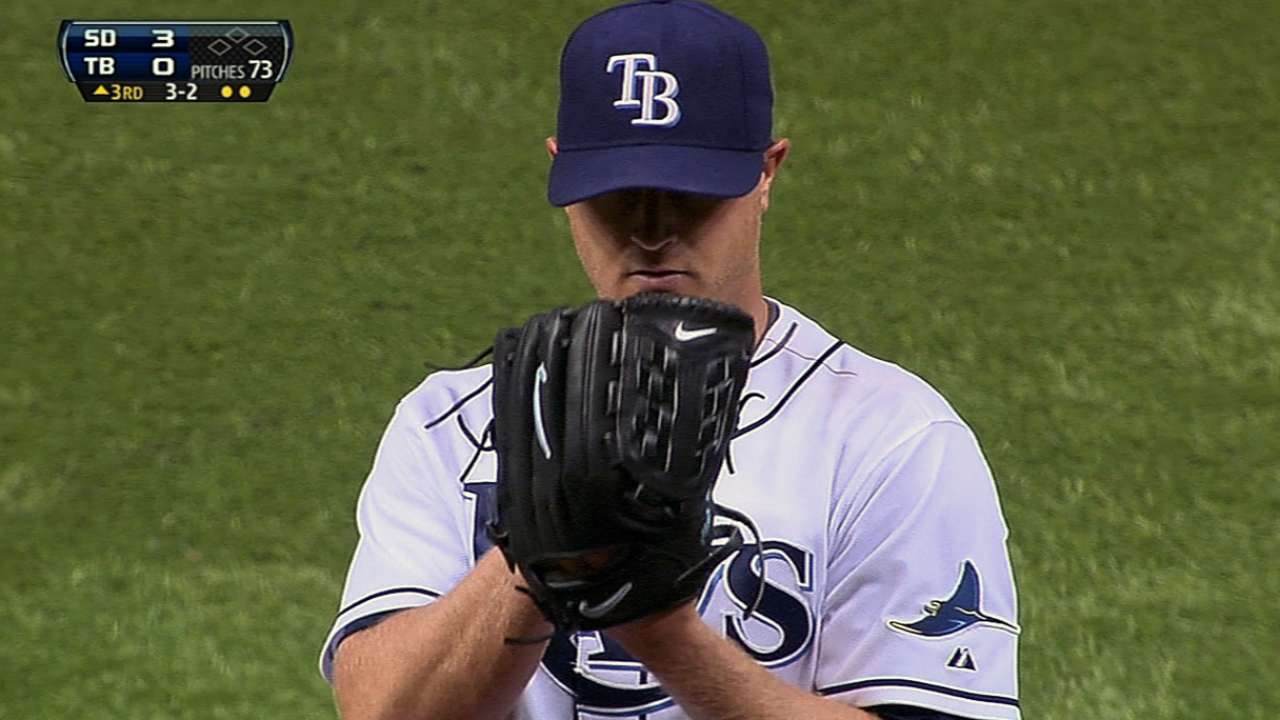 ST. PETERSBURG -- The Rays made contact. The Padres did not -- striking out 18 times Friday night. Eventually, that combination led to a 6-3 Rays win at Tropicana Field with 12,424 attending.
By winning their third consecutive game, the Rays moved to 17-18 on the season and 3-2 on the current homestand.
"It was an awkward game; it was a bizarre kind of game the way it played out, but I'll take the win," Rays manager Joe Maddon said.
Tampa Bay trailed, 3-2, heading into the bottom of the seventh, but two-run singles by Ryan Roberts and Ben Zobrist fueled a four-run rally that gave the Rays a lead they would not surrender.
Roberts had the go-ahead hit after falling behind, 0-2, to former Rays right-hander Dale Thayer.
"After getting down 0-2, the main thing is to just try to make contact," Roberts said. "Bases loaded, nobody out. All you want to do is put the ball in play, at least tie the game if you can. That's basically it. I'm not trying to do too much."
San Diego struck early when Will Venable and Carlos Quentin hit solo homers in the first off Rays starter Alex Cobb, and they pushed the lead to 3-0 in the third without hitting a ball into play.
Venable struck out to start the quirky inning but reached on a wild pitch. He then stole second and third and scored on a balk. By the time the inning was complete, Cobb had become the second pitcher in Rays history to strike out four in one inning; Jeremy Hellickson turned the trick Aug. 25, 2011, against the Tigers.
"I was mad at myself for half that inning," Cobb said. "I gave up two stolen bases, which I've been working hard not to do. After that balk, I don't know if I've been any angrier when I've been pitching."
Tampa Bay got two back in the third on Evan Longoria's RBI single and Roberts' scoring on a wild pitch by Edinson Volquez to make it 3-2 Padres.
Cobb had an early exit after 4 2/3 innings and 117 pitches, but oh what an intriguing outing. The 25-year-old right-hander managed to strike out 13, which was the first time in Major League history that a pitcher struck out 13 in an appearance lasting fewer than five innings.
"It was weird; obviously that's not my goal," Cobb said. "Never go into a game trying to strike everybody out. But I was trying to put balls over the plate and have them make weak contact, and they were swinging and missing. So, you know, the first and second strike I'm just trying to have them put the ball into play. Once I get to that point I'm trying to finish them off. I can't really explain why or how that happened; it was just one of those weird days."
Padres manager Bud Black was impressed by Cobb's splitter.
"It was located; out of his hand it looked like a strike," Black said. "It was diving. It had great action to it. It was one of those things where we knew it was coming, and we couldn't hit it. That's how good it was."
Cobb's departure prior to the fifth inning ended a streak of 34 games in which the Rays' starter pitched at least five innings. That streak ranks as the second longest to begin a season behind the 1981 Pirates, who managed to do so in their first 45 games.
A good sign for the Rays came in the way the bullpen covered the final 4 1/3 innings. The Rays entered the game having lost a Major League-high 13 games in which they gave up a lead. That was not the case Friday night. Josh Lueke, Jake McGee, Joel Peralta and Fernando Rodney did not allow a run to seal the win.
"We've been telling you guys, bad stretch, like somebody having a bad slump," Peralta said. "You're going to come out of it. That's what we're doing; we're coming out of it. It was good tonight. McGee was great. Lueke was awesome. Everybody's trying to get better, so I think we're going to be all right."
In the Rays' last 22 games, they lead Major League Baseball with 124 runs scored while hitting .282. Prior to that, the offense ranked last in the American League in runs and slugging. They have scored four or more runs in six straight games, their longest such streak since April 18-24, 2012.
"I've seen it all year with this team; it's very contagious," Roberts said. "One guy gets a hit, the next guy walks, the next guy gets a double, the next guy walks. Then we make an out, and the next guy homers. It's been like that all year long. And with this team, it's that way. It's a very contagious offense."
Bill Chastain is a reporter for MLB.com. This story was not subject to the approval of Major League Baseball or its clubs.