Dodgers fall to Marlins despite promising start
Adrian's early homer goes for naught as LA drops eighth straight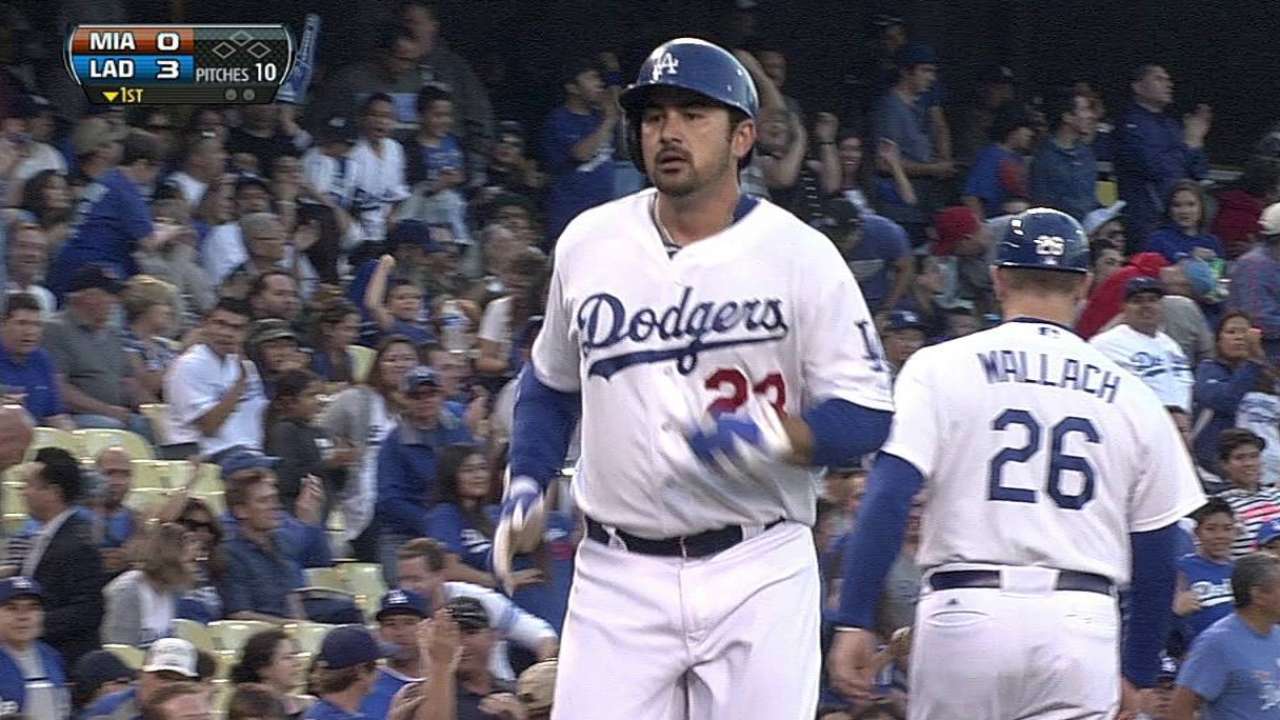 LOS ANGELES -- Friday night started well for the Dodgers, but the result was still the same as their losing streak increased to eight games.
The Dodgers combined for 10 hits, including Adrian Gonzalez's three-run homer in the first inning, but they couldn't get the big one when they needed it down the stretch and fell to the Marlins, 5-4, in the opener of a three-game series at Dodger Stadium.
Ronald Belisario lost his fourth game in relief, allowing two runs on three hits in the seventh to break a 3-3 tie. It was the third straight game a Dodgers reliever took the loss.
"That formula, like everything else right now, doesn't seem to be working," manager Don Mattingly said of the back end of his bullpen, which includes Belisario, setup man Kenley Jansen and closer Brandon League.
The Dodgers rallied in the eighth but came up just short. Matt Kemp began the charge with a single to extend his hitting streak to nine games, and he scored on a single up the middle by A.J. Ellis. But with two out and Ellis on third, Dee Gordon grounded out to second.
Gonzalez gave the Dodgers a 3-0 lead before they recorded an out. Carl Crawford led off with a single and Nick Punto walked to set up Gonzalez's fourth homer of the year.
Playing with a mild neck strain, Gonzalez did not take batting practice on the field, but his first swing of the game had things looking good.
Marlins 20-year-old rookie Jose Fernandez, however, retired 17 of the next 20 batters he faced until Ellis singled in the sixth. Skip Schumaker followed with a double down the left-field line. Fernandez intentionally walked Gordon to face pinch-hitter Tim Federowicz with two outs and the bases loaded, but Federowicz flied out to center.
"I was trying to make great pitches," said Fernandez, who struck out seven over six innings. "Their lineup is incredible. They made adjustments and I had to make adjustments just as fast."
The Dodgers had another chance to score in the fifth. With runners on first and second and none out, Punto was unable to lay down a bunt and Juan Uribe was picked off at second. Punto and Gonzalez each struck out to end the inning.
"That was definitely a momentum-changer," Mattingly said. "If Nick gets the bunt down, we're going to get to Adrian, Matt and Andre [Ethier]. We kind of shoot ourselves in the foot there."
It was just another example of things not going in the Dodgers' favor during the club's longest losing streak since 2008.
"I think negative breeds negative, that's for sure," Mattingly said. "When things aren't going good, it seems like we talk about momentum in this game and us trying to get it turned around. You got to get that turned somehow. We have to fight."
In his third Major League start, Matt Magill went five innings for the Dodgers and allowed three hits, including a three-run homer that was the only damage against him. He struck out two and walked four.
Magill cruised through the first three innings while allowing just one hit, but the Marlins got to the rookie in the fourth as Magill struggled to find the strike zone. The right-hander walked Placido Polanco and Marcell Ozuna before Derek Dietrich launched his first big league home run.
"I wasn't hitting my spots like I needed to and I take full responsibility for this loss," Magill said. "My team shouldn't have been in that situation. I just need to get better."
It was quite possibly Magill's final start with the Dodgers for a while, as right-hander Zack Greinke made a rehab start with Class A Rancho Cucamonga on Friday and showed no ill-effects from the left collarbone he broke on April 11 in a benches-clearing incident against the Padres. Greinke said he's ready to start Wednesday against the Nationals.
J.P. Howell relieved Magill and tossed a 1-2-3 sixth.
Paco Rodriguez fired two scoreless innings in relief of Belisario. The left-hander has allowed just one hit in his last five outings. He has 10 strikeouts in his last 6 2/3 innings and is making a case to earn a high-leverage role in the bullpen.
"He's a guy that we're really having to take a look at," Mattingly said. "It's hard to stay status quo. You want to kind of stick with your plan and you'd like to stick to your guns because you plan along time to get somewhere and get yourself into positions and get the ball to the people you want. So you hate to just jump ship on that and give up on guys. He's working his way more and more towards that role."
Austin Laymance is an associate reporter for MLB.com. This story was not subject to the approval of Major League Baseball or its clubs.