Marlins rally behind Fernandez in LA
Righty's grit, Dietrich's first homer lead comeback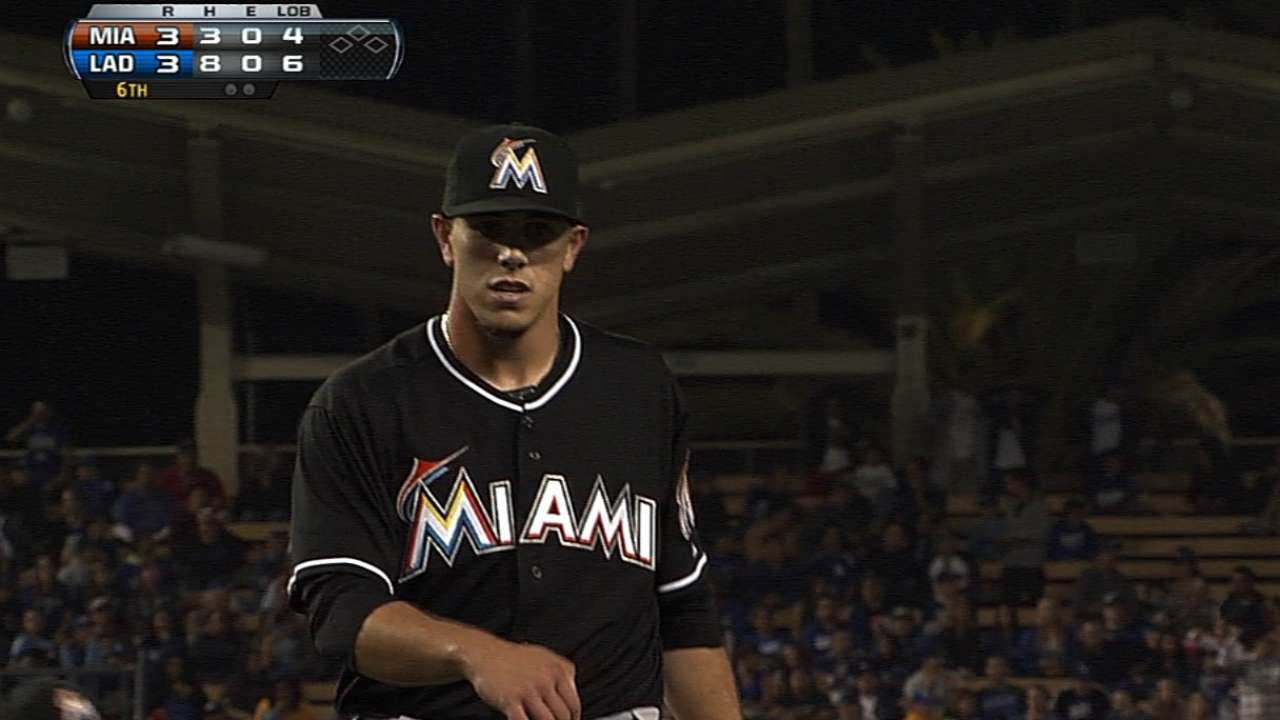 LOS ANGELES -- At age 20, Jose Fernandez is gaining the full experience of the big leagues. On Friday night, the rookie right-hander once again took on the role of stopper, snapping a three-game Miami losing streak for the second straight start.
Fernandez gave up three runs and struck out seven in six innings and Derek Dietrich hit his first career homer in the Marlins' 5-4 win over the Dodgers in front of 41,721 at Dodger Stadium.
Swept in three games at San Diego, the Marlins rallied to victory in the opener in Los Angeles. Adrian Gonzalez's three-run homer in the first inning plated all the runs Fernandez would yield.
"I got in here today, and I saw a lot of happy faces," said Fernandez, making his seventh big league start. "We lost our last three games, and we came back today. This is what it's about. It's fun. This team is going to play hard."
The way the night started, it appeared the Marlins were headed for more of the same. They scored just one run in the three games at San Diego, and at no point this season had they earned a victory after having more than a two-run deficit.
They did rally from two runs down at Cincinnati on April 20, but they ended up losing. And their biggest comeback win was erasing a one-run deficit, done four times, with the last in their walk-off win over the Mets in 15 innings on April 30.
So when Gonzalez homered in the first inning, the Marlins were in need of a lift. Fernandez provided it, repeatedly pounding the strike zone. Of his 86 pitches, 66 were strikes (77 percent).
"I think he got mad," manager Mike Redmond said. "I think Jose took it to another level. It looked he had come out a little bit up in the zone in the first inning, and then he turned it up a notch. He was lights out after that."
More than mad, Fernandez became more focused.
"I wasn't happy about it," the rookie said. "It hit me, and I was like, 'Ok, I'm going to get back to work, and I'm going to do what I can every pitch. I'm going to do the best I can.' "
Fernandez provided the shutdown innings, and Dietrich, in his second big league game, provided the momentum-turning hit -- a three-run homer in the fourth inning.
The Marlins claimed the lead in the seventh inning off Ronald Belisario. Rob Brantly singled to open the inning, and pinch-hitter Chris Coghlan drove a double high off the wall in center, so high in fact it took a replay review to confirm it didn't leave the yard.
Redmond asked crew chief Tom Hallion for a review. The umpires took a look, and the double was upheld.
"That's a really long ways from the dugout," Redmond said. "I wanted to make sure they got it right, and they did."
With runners on second and third, Juan Pierre lined an RBI single to left. Coghlan scored the second run of the inning on Adeiny Hechavarria's double-play grounder.
The Dodgers closed the gap to 5-4 on A.J. Ellis' RBI single off Chad Qualls in the eighth inning, but the Marlins' veteran reliever stranded Ellis on third.
Steve Cishek had an impressive perfect ninth inning, striking out two to collect his fifth save, while handing the Dodgers their eighth straight loss.
"I felt good," Cishek said. "I hadn't been out there in a while. I was amped up and ready to go."
In his third start, Dodgers right-hander Matt Magill minimized damage on a night he pitched five innings, allowed three hits, walked four and hit a batter. The rookie was lifted after 93 pitches, and three runs allowed.
The big blast of the fourth inning was delivered by Dietrich.
It's been an eventful week for the 23-year-old second baseman, who made his Major League debut on Wednesday at San Diego and singled his first time up.
On his fifth big league at-bat, he connected on his first home run and tied the game.
"So many greats have played here," Dietrich said. "Just walking in here earlier, coming into the clubhouse, it kind of brings chills, just thinking of some of the names. Friday night at Dodger Stadium, I'm so glad we got the win. It was an exciting game. Jose pitched great. They were aggressive early, but after that, he settled in and pitched a great ballgame."
The Marlins had gone 17 straight innings without a run, and they trailed by three. Placido Polanco walked to open the inning, and Marcell Ozuna drew a two-out walk. With the count full, Dietrich homered to right.
Brilliant on May 4 in his last outing, Fernandez limited the Phillies to one hit while striking out nine in seven shutout innings.
On Friday night, it was a different story.
Ten pitches into the game, he was tagged for two hits, one walk and three runs.
Carl Crawford singled to open the inning, and Nick Punto walked. Gonzalez unloaded the crushing blow, a no-doubt, three-run homer to right-center.
"He's one of those type guys that you want to get to early," Dodgers manager Don Mattingly said. "As he gets settled in, he got better as the game goes along. He was impressive. He was aggressive in the strike zone. He wasn't afraid of nobody. He was coming right after us."
Joe Frisaro is a reporter for MLB.com. He writes a blog, called The Fish Pond. Follow him on Twitter @JoeFrisaro. This story was not subject to the approval of Major League Baseball or its clubs.