Dyson's rare homer not enough to save Davis, Royals
Right-hander allows seven runs over five-plus innings against Yankees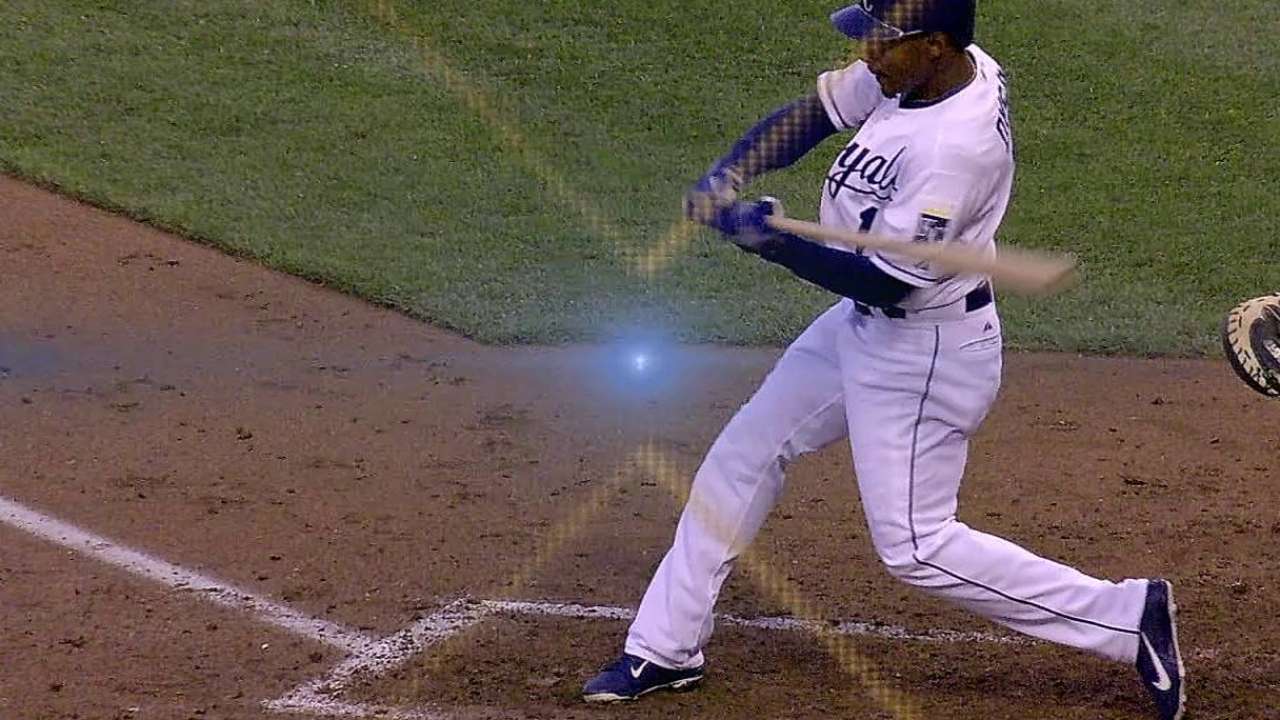 KANSAS CITY -- When Jarrod Dyson steps out of character and slams a three-run homer, the Royals had to figure this might be their night. It wasn't.
It belonged instead to the New York Yankees, who began their only visit of the year to Kansas City with an 11-6 victory over the Royals on Friday night with 24,521 fans at Kauffman Stadium.
The Yankees, with Lyle Overbay driving in five runs, won their third straight. They also presented Joe Girardi with his 500th victory as their manager.
The speedy Dyson is no stranger to the home run but, most certainly, it is a distant relative. In his Major League career, Dyson had hit precisely one home run, and that came on Sept. 27, 2010, in his 12th big league game and his 34th at-bat. It came off Minnesota pitcher Kevin Slowey.
Now, 148 games and 377 at-bats later, Dyson has his second home run.
This was a three-run smash that soared down the right-field line in the second inning against Yankees starter Phil Hughes. It came with Eric Hosmer, who walked, and Salvador Perez, who singled, on base after two strikeouts.
"I mean, anybody can take me out of the park these days," Hughes said with a laugh. "I don't really think about that part. These are professional hitters. He might be a little guy, but he's still dangerous."
Dyson's homer came at a great time for the Royals because, in the top half of the inning, the Yankees had struck for a 4-0 lead against Wade Davis.
"It's a little motivation to the pitcher, to the team, to everybody because we're back in it," Dyson said. "Down four and I hit a three-run blast and we're back in this thing."
The Yankees got two-run homers from Ichiro Suzuki and Overbay in the second inning.
"I left a couple of pitches up to some big hitters, and they hit it out of the ballpark, which is what they're supposed to do," Davis said.
The Yankees picked up another run in the fourth on Jayson Nix's walk and Overbay's double to center. A relay from Dyson to Alcides Escobar to Perez came within an inch or two of nailing Nix at the plate, but it was 5-3.
Not for long, though. In the Royals' fifth, Escobar and Lorenzo Cain each singled and both scored as Alex Gordon's long fly soared over left fielder Vernon Wells and bounced off the wall. Gordon was left at second, but the score was tied.
The Dyson home run seemed to be having an effect.
"That was a big blow to get us back into the ballgame," Royals manager Ned Yost said. "After giving up four, to get three of them back is huge. And then when Gordy got the big double to tie it up, you're thinking, 'OK, here we go.' But we just couldn't hold 'em."
Historically, Ichiro wears out the Royals (.365, 148-for-402 in his career) and his double in the sixth ignited a five-run inning for the Yankees. The first two hits got Davis out of the game.
"I made it look a lot harder than it should have been," Davis said.
Left-hander Bruce Chen took over with two on and nobody out.
"I'm just trying to get as many outs as I can," Chen said. "Obviously, I can't get three outs or get out of the inning with one pitch -- unless they make a triple play. What I'm trying to do is just make good pitches so I can get one out at a time, and I should've started with Overbay. They put me in a situation so I can get the lefty out, and I didn't do my job."
Overbay belted a run-scoring double, Chris Nelson a two-run single, Brett Gardner an RBI triple and Robinson Cano an RBI single.
From 5-5, it went to 10-5.
"Bruce just didn't have his good stuff today. It was the first [earned] runs he's given up all year long," Yost said.
Mike Moustakas homered to right field in the Royals' half of the sixth, his third blast in three games. It's the first time he's done that in his career.
But Moose was the Royals' last baserunner of the night. The Yankees' pitchers retired the last 11 batters in succession -- eight of them by strikeouts. Shawn Kelley fanned six of the seven batters he faced.
"I definitely wasn't trying to," Kelly said. "I was executing my pitches tonight and able to get ahead, and when you're 0-2, 1-2, you can get a little more picky with your location and go for it."
The Yankees picked up a ninth-inning run, and Dyson's home run was just a faded memory of a big night that might have been.
"It was a big one at the time, and unfortunately, we didn't get the win and that's what counts," Dyson said. "The home run doesn't matter if you don't get the win."
Dick Kaegel is a reporter for MLB.com. This story was not subject to the approval of Major League Baseball or its clubs.