Overbay's five RBIs net Girardi 500th win with Yanks
First baseman leads 16-hit attack vs. Royals with home run, four knocks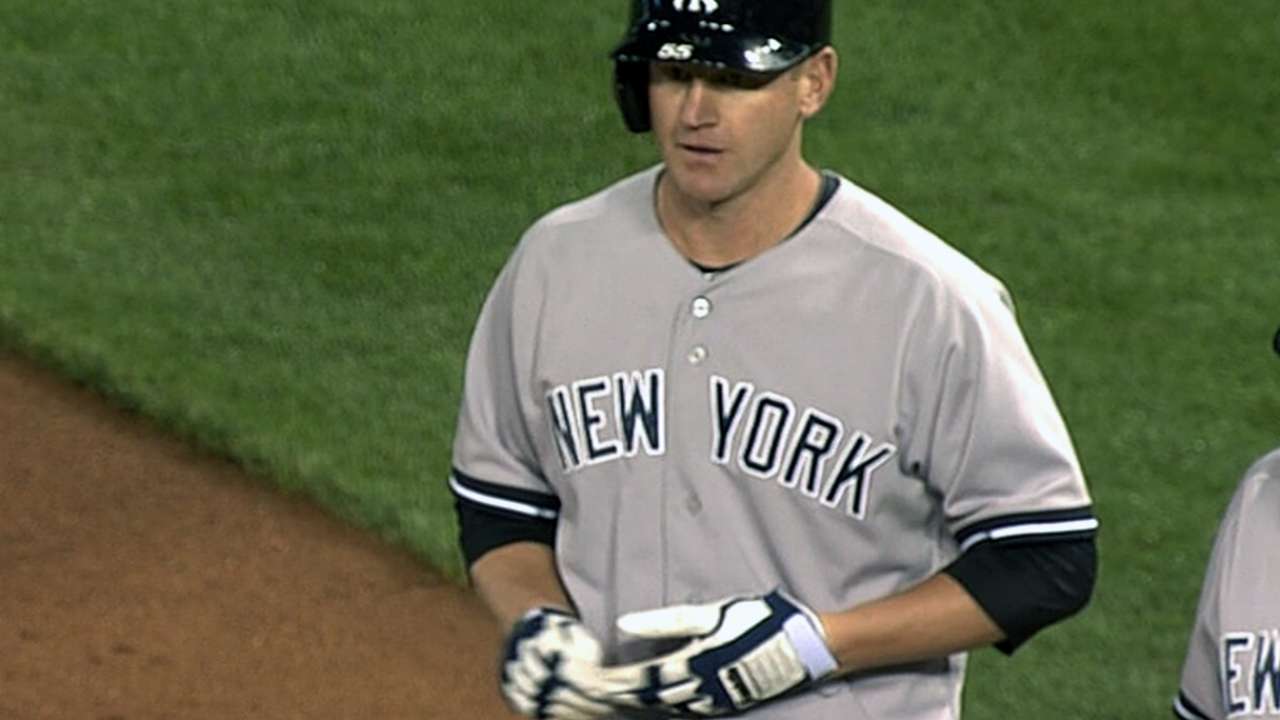 KANSAS CITY -- When Lyle Overbay first walked into the Yankees' clubhouse, he knew the desperation was thick for a temporary fix at first base. That was just fine to him, since he might have been 72 hours away from spending a summer on his living room couch.
Overbay may have been a last-minute addition slapped onto the Yankees' roster, but he has proven to be an invaluable pickup. The veteran hit a two-run homer, had four hits and drove in five runs as the Yankees outslugged the Royals, 11-6, on Friday at Kauffman Stadium.
"It's been a fun ride. I'm just enjoying it," Overbay said. "Three days before that, I was going to be going home. I didn't want to try to do too much and put pressure on myself. I just wanted to kind of enjoy it."
Overbay was released by the Red Sox late this spring before latching on with the Yankees. He said that working with hitting coach Kevin Long has helped his approach at the plate, which included his sixth homer of the season on Friday; a good jump after Overbay hit just two homers all of last season.
The bottom of New York's lineup was responsible for most of the heavy lifting as the Yankees pounded out 16 hits against Kansas City pitching. Ichiro Suzuki also slugged a two-run homer among three hits as the Yanks collected five doubles and a triple, lifting Joe Girardi to his 500th win as Yankees manager.
"I've been blessed to have this opportunity," said Girardi, who thanked the late George M. Steinbrenner and general manager Brian Cashman. "As a child, you dream about playing in the big leagues. I don't know if you dream about managing, but as I got older, it was something I really wanted to do. I got a great opportunity."
Girardi reached the milestone in his 844th game as Yankees skipper, one fewer than Billy Martin, also joining Casey Stengel, Joe McCarthy, Joe Torre, Miller Huggins and Ralph Houk in the exclusive club.
His tasks monitoring the lineup card must have seemed a little easier on a night when the Yankees pounded Wade Davis for seven runs in five-plus innings. New York batted around in a five-run sixth as the Yankees rapped Bruce Chen for another three runs in 1 2/3 innings.
"All their damage was on pitches up; fastballs, a cutter up to Overbay," Royals manager Ned Yost said. "[Davis] just struggled to command balls down consistently, and we just couldn't get Overbay out."
Phil Hughes started for the Yankees and was able to make use of the healthy cushion, but he also surrendered leads of 4-0 and 3-2 as he was hit for six runs in 5 2/3 innings in an ineffective outing.
"It wasn't very good," Hughes said. "The guys stepped up big and put up a bunch of runs. I gave away two leads, which is never a good thing, but those guys kept at it and scored a ton of runs. Thankfully, I was able to bring my not-so-good game on a day when we scored a lot of runs."
Hughes was hit by the long ball twice, serving up Jarrod Dyson's three-run homer in the second inning -- the speedster's first in the big leagues since Sept. 27, 2010, a span of 376 at-bats without a home run -- and Mike Moustakas' solo blast in the sixth.
"I mean, anybody can take me out of the park these days," Hughes said, with a laugh. "I don't really think about that part. These are professional hitters. [Dyson] might be a little guy, but he's still dangerous."
Alex Gordon also smoked a game-tying two-run double to deep left field in the fifth off Hughes, who walked two and struck out three in a 98-pitch outing.
"He made a few bad pitches that cost him," Girardi said. "He battled tonight and got us some important outs in the sixth."
Fortunately for the Yanks, support was in ample supply. Ichiro and Overbay connected for two-run homers in the second inning, and Overbay added a run-scoring double off Davis in the fourth.
In the big sixth, Overbay greeted Chen with a go-ahead RBI double off the right-field wall, Chris Nelson drilled a two-run single and both Brett Gardner and Robinson Cano added RBIs.
"There's never a time when everything is going perfect for a team," Ichiro said through an interpreter. "You're always going to have to have the pitchers or the hitters come through at certain points, guys stepping up. We always need to be ready, and everybody do their job, and we'll be OK."
The everyone-pitches-in mantra followed as Shawn Kelley provided strong relief for the Yanks, striking out five straight batters after entering in the sixth and retiring all seven batters he faced, with six strikeouts in all.
"I definitely wasn't trying to," Kelley said. "I was executing my pitches tonight and able to get ahead, and when you're 0-2, 1-2, you can get a little more picky with your location and go for it."
During Kelley's outing, Girardi had Boone Logan ready in the bullpen, but Kelley kept peeling through Kansas City's lineup and Girardi decided to ride that hot hand, a helpful reminder of one important lesson he has tried to absorb over the years.
"Sometimes baseball doesn't make sense," Girardi said. "On a night where we needed some runs, we got them. Everyone just seemed to help out tonight. It was a big night."
Bryan Hoch is a reporter for MLB.com. Follow him on Twitter @bryanhoch and read his MLBlog, Bombers Beat. This story was not subject to the approval of Major League Baseball or its clubs.