One-hit wonder: Miller dominates Rockies
After allowing first-inning single, rookie retires final 27 batters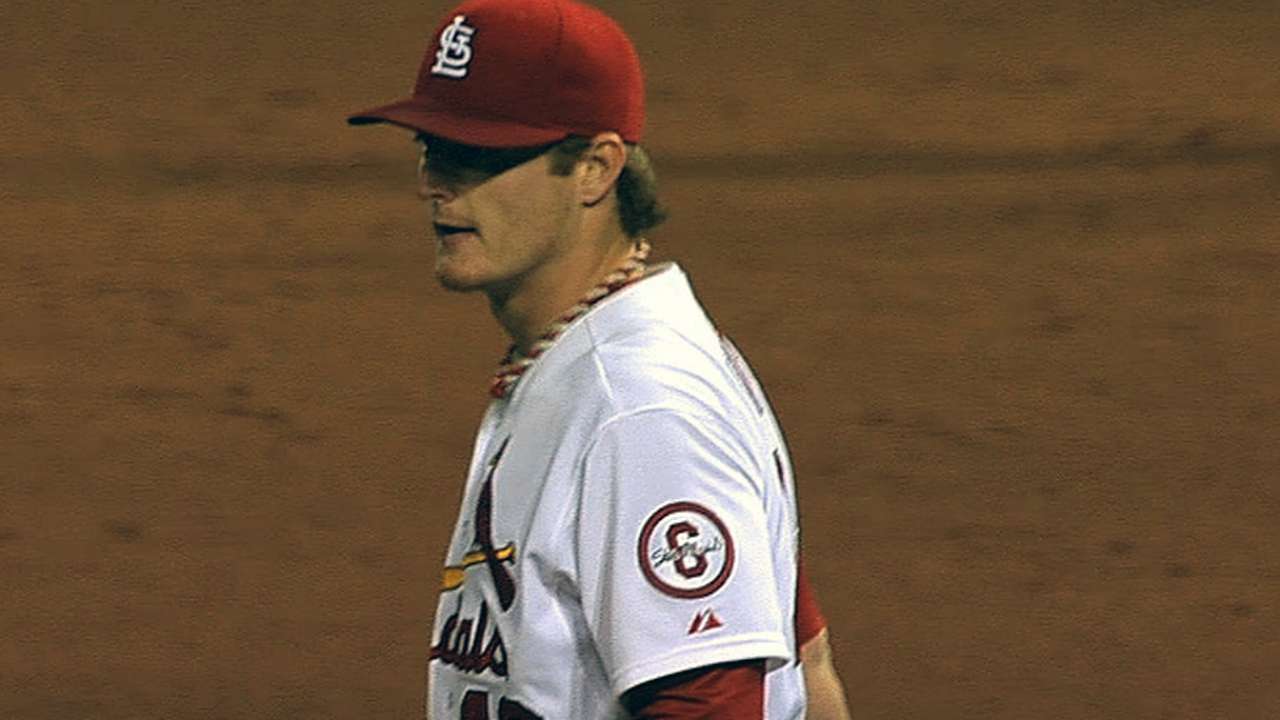 ST. LOUIS -- The best starting rotation in the Majors got even better Friday night.
Cardinals rookie Shelby Miller tossed a one-hitter in his first professional shutout and Carlos Beltran slammed his team-leading ninth home run of the season in a 3-0 win over the Rockies in front of 37,800 at Busch Stadium.
Miller allowed a leadoff single to Eric Young and then retired the next 27 hitters. He struck out a career-high 13 in improving to 5-2 with a 1.58 ERA. The right-hander has held the opposition to three or fewer runs in all seven starts this season.
"This was definitely the best game I've ever thrown," Miller said. "This was a start I'll remember for the rest of my life."
Miller, who recorded eight called strikeouts, got All-Star shortstop Troy Tulowitzki looking twice.
The Houston native dominated the hard-slugging Rockies, who came into the contest leading the NL in batting average and runs scored.
"Just an unbelievable display of pitching," manager Mike Matheny said. "He had pinpoint control, he was hitting his spots. He had a feel for everything. It was pretty incredible. Wow."
Miller, in just the eighth start of his career, is the third rookie in history to allow just one hit and strike out 13 or more in a complete-game victory. Cubs flamethrower Kerry Wood fanned 20 in tossing a one-hitter over Houston on May 6, 1998.
Miller needed just eight pitches to record two strikeouts in the ninth inning. Miller threw 84 strikes on 113 pitches, and he became the first St. Louis pitcher to throw a one-hit shutout since Chris Carpenter beat Milwaukee, 3-0, on Sept. 7, 2009.
Miller was so dominant that Young, who got the lone hit, said he felt lucky just to get on base.
"It was a jam shot and I just put it in a good place," Young said.
Miller deflected a lot of the credit for his performance to catcher Yadier Molina.
"He was making great calls for me," Miller said. "Couldn't have done it without him."
Miller never shook off Molina all night.
Molina also added two hits, including a third-inning single that extended his hitting streak to a team-high 10-games.
Thanks in part to Miller's gem, the Cardinals (22-12) won for the eighth time in the last nine games. Their 12 losses are the lowest total in the Majors.
St. Louis starters improved to 20-7 with an MLB-best 2.20 ERA, almost a full run ahead of any other rotation.
Matt Adams, part of the Cardinals' 2009 Draft class, has played alongside Miller every step of the way. Even Adams was impressed with Miller's eye-popping effort.
"I've seen him do a lot of incredible things," Adams said, "but nothing like this. He was amazing. It was fun just to be here and watch."
Beltran helped provide Miller with the necessary offensive support, slamming a first-pitch fastball from Jon Garland over the right-field wall in the third inning for a 2-0 lead. It was his 343th homer, tying him for 89th all time with Aramis Ramirez.
St. Louis, which has outscored its opponents 44-22 in its last nine contests, scored single runs in the second, third and fifth to back Miller.
The Cardinals jumped in front with a two-out rally in the second. Pete Kozma poked a single to right field to bring in Jon Jay, who singled to start the uprising.
Matt Holliday drew a leadoff walk in the fifth, Molina followed with a double and then Jay pushed the lead to a 3-0 with a sacrifice fly.
Molina went 2-for-3 against Garland and is 9-for-12 in his career against the right-hander.
Beltran also had two hits.
Steve Overbey is a contributor to MLB.com. This story was not subject to the approval of Major League Baseball or its clubs.