After leadoff single, Rockies held off basepaths
St. Louis rookie fans 13, retires final 27 Colorado batters in shutout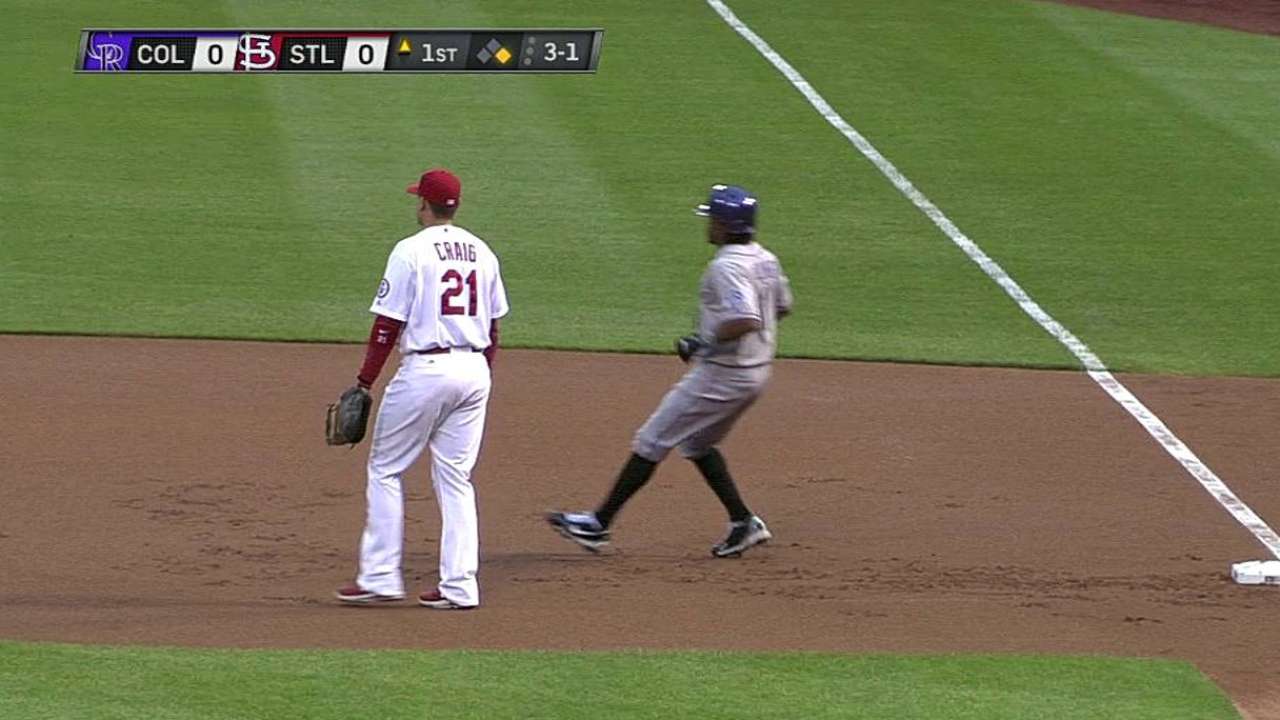 ST. LOUIS -- The 94-mph fastball from Cardinals rookie Shelby Miller hit the narrow middle of the bat of Rockies leadoff man Eric Young, but the ball floated through the middle for a first-inning single.
Some nights, that's a hopeful sign, but on Friday night, the Rockies' dreams of escaping their offensive funk ended up like Young's bat -- broken.
After Young's hit, Miller retired the final 27 batters -- 13 via the strikeout -- as the Cardinals won, 3-0, at Busch Stadium in front of 37,800 in what might have been the best performance by an opposing pitcher in the Rockies' 21 seasons.
Even the two times they were no-hit, the Rockies had more offense -- the Marlins' Al Leiter walked two on May 11, 1996, in Miami, and the Dodgers' Hideo Nomo walked four on a rainy night at Coors Field on Sept. 17, 1996. However, to see a perfect game's worth of hitters go down successively is something you don't see every day.
Young felt fortunate to be able to say only he stood between Miller (5-2) and perfection.
"It actually was a jam shot and I just put it in a good location," Young said. "I guess you could even say he was on in that first at-bat. I was just fortunate enough to find grass."
Despite the loss, the Rockies find themselves in third place in the National League West and just 1 1/2 games behind the D-backs.
The Rockies came to St. Louis reeling. After going 2-4 against the Rays and Yankees -- at Coors Field where the usually dominate, and need to dominate -- manager Walt Weiss called the lack of offense "unacceptable."
After Miller's performance, which was historic in its own right even though it wasn't officially perfect, Weiss was in no mood to hammer his batters.
Friday was the fourth time in history that a pitcher had given up a first-inning leadoff hit and retired the next 27 batters. It was the 13th time since 1921, the earliest the stat was tracked, that a pitcher had 13 or more strikeouts, no walks and gave up either no hits or one hit.
"This is one of those nights where we ran into a pitcher that had everything working," Weiss said. "It's a talented young arm and he had his 'A' game tonight."
Miller's domination was simple. He threw his fastball to both sides of the plate and mixed in enough breaking balls to make himself virtually unhittable. Carlos Gonzalez, who swings as much and as hard as anyone in the game, took two looking strikeouts. Troy Tulowitzki was frozen on two third strikes and stopped his swing early on another strikeout -- on a 96-mph blazer to end the seventh.
There was a 3-1 pitch that Tulowitzki thought was a ball in the fourth and didn't get the call from home-plate umpire Mike Everitt. Weiss said there was no complaint, because Everitt's strike zone favored pitchers on both sides. There was no argument with Miller's eye-popping finish -- looking strikeouts of Jordan Pacheco and Young.
"That's a pretty good hitting team over there," Miller said. "I feel really good. That's definitely the best game I've thrown in my life. How I finished was unbelievable. That's a start I'll remember all of my life."
Maybe the Rockies will shake their funk and hit to the standards they established in April, but even if they'd come to town swinging the bats well, they'd have had a hard time with a pitcher dealing the way Miller was Friday.
"He was making good pitches, barely strikes," Gonzalez said. "It wasn't like he was leaving the pitch right down the middle. He was hitting corners. He did a great job the whole night. He deserved the win. He battled the whole game. It was an impressive night."
Rockies starter Jon Garland (3-3) fell to 1-6 against the Cardinals even though he was competitive -- three runs, one on Carlos Beltran's ninth homer of the season, and seven hits in five innings. But anything Garland did was fruitless.
"Sometimes it helps you focus in a little bit because you can't get away with much," Garland said. "Just try to keep the ball down and do your thing and not worry about that. Let your hitters go up three and worry about it.
"It's his night. What can you do?"
Thomas Harding is a reporter for MLB.com. Read his blog, Hardball in the Rockies, and follow him on Twitter @harding_at_mlb. This story was not subject to the approval of Major League Baseball or its clubs.