Bullpen unable to hold on after Cloyd's strong start
Phillies plate just two runs in first inning in third straight loss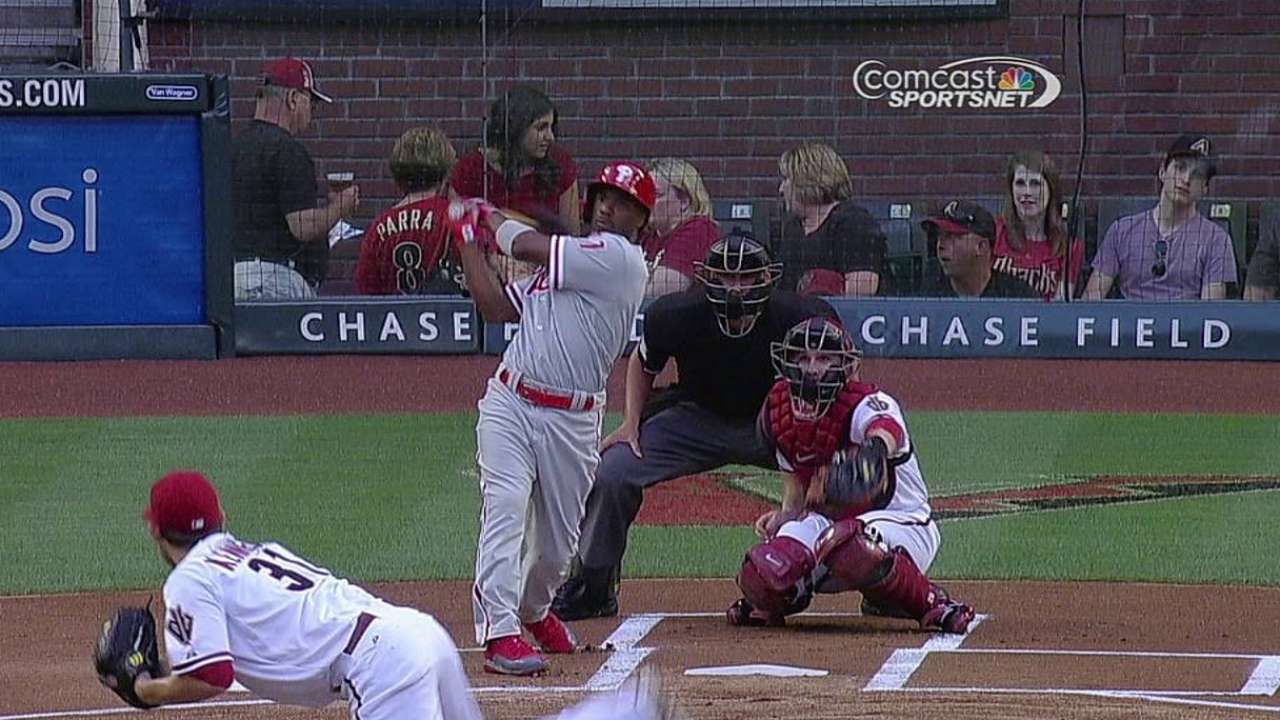 PHOENIX -- With one out in the bottom of the seventh inning Friday, Tyler Cloyd's season debut appeared destined to be one to remember.
Stepping in for an eight-time All-Star and two-time Cy Young Award winner, the right-hander hadn't allowed a hit since the first inning and was in line to win only his third game of his Major League career.
That's when it all came crashing down for both Cloyd and the Phillies.
Two singles and a home run later, all in a span of four batters over two innings, Philadelphia found itself suddenly trailing by a run, and dropped its third straight game, 3-2, to the D-backs at Chase Field.
"It was great, it was a great game for me," Cloyd said. "I showed that I can stay down in the zone and pitch at this level. Obviously, I have to continue that."
Ahead 2-1, the Phillies' undoing began when Cloyd surrendered a single to Cody Ross in the bottom of the seventh and manager Charlie Manuel opted to remove him from the game in favor of Antonio Bastardo.
After the southpaw induced a flyout that allowed Ross to take second, in stepped right-handed-hitter Martin Prado to the plate, with the left-handed-hitting Miguel Montero on deck. Instead of walking Prado to get the lefty-on-lefty matchup, the Phillies chose to pitch to Prado, who was 1-for-31 with runners in scoring position this season entering the game. Prado ended up making Philadelphia pay, plating the tying run with a single to right and leaving Cloyd with a no-decision.
After the game, Manuel admitted to considering giving Prado a free pass, but he didn't want to put the go-ahead run on base.
"I thought about it, but at the same time, I thought we had him," Manuel said. "We tried to get him to swing at a bad ball down, but we couldn't."
From Prado's point of view, he didn't think the Phillies would pitch to him.
"I figured they'd walk me. I guess they gave me a chance to have a good at-bat," said Prado, who was picked off and caught stealing to end the inning. "He made a couple pitches and the only thing I was trying to do was hit the ball hard. I was thinking the other way, the opposite way and finally he threw a fastball I could handle and, fortunately for us, we tied the game."
The run charged to Cloyd was the MLB-leading 19th inherited baserunner the Phillies' bullpen has allowed to score this season.
An inning later in the eighth, now with right-hander Mike Adams on the mound, Montero finally came up to bat and took advantage of the right-on-left matchup, smacking a changeup over the plate for a go-ahead solo homer off the right-field foul pole.
"It was just one of those nights. You can't always strike them out, sometimes they hit it," Adams said. "They get paid just like we do. If you make mistakes, they are going to hit it."
Only down by a run in the ninth, the Phillies executed a sacrifice bunt to put runners on second and third with one out, but were unable to tie the game as Laynce Nix popped out and Jimmy Rollins grounded out to end the game. The loss was the Phillies' third consecutive one-run defeat.
"When you lose and you don't hit, you can pick apart the game," Manuel said. "We scored early then we didn't add on the rest of the game."
Even with the bullpen losing the game, Cloyd's final line still looked good. He allowed just two runs on two hits over 6 1/3 innings.
With the Phillies not needing a fifth starter again until May 21, Cloyd was optioned back down to Triple-A Lehigh Valley after the game, but figures to be promoted again once the schedule calls for it.
"He threw really well," D-backs starter Ian Kennedy said. "He was commanding really well, getting ahead of guys and his pitch count was real low. He threw really well tonight and made it tough on us."
Both of the Phillies' runs came in the first inning off Kennedy, with Rollins blasting a leadoff homer and Domonic Brown following with an RBI single later in the frame.
Rollins' long ball marked the 44th time in his career he has led off the first inning with a homer, tying him with former Baltimore Oriole Brady Anderson for fourth place all-time.
That was all the run support Cloyd would get, however, as the Phillies' bats went silent the rest of the night, mustering up just three hits in the final eight innings.
"We broke through, but we made some mistakes," Manuel said. "We would've liked to get to Kennedy more. I thought we were going to score more runs off him. He was off to a slow start, I thought if we stayed at him, we'd get him, but he held us."
Tyler Emerick is an associate reporter for MLB.com. This story was not subject to the approval of Major League Baseball or its clubs.