Twins drive up score early, but bullpen can't hold on
Mauer paces offense with two doubles and two RBIs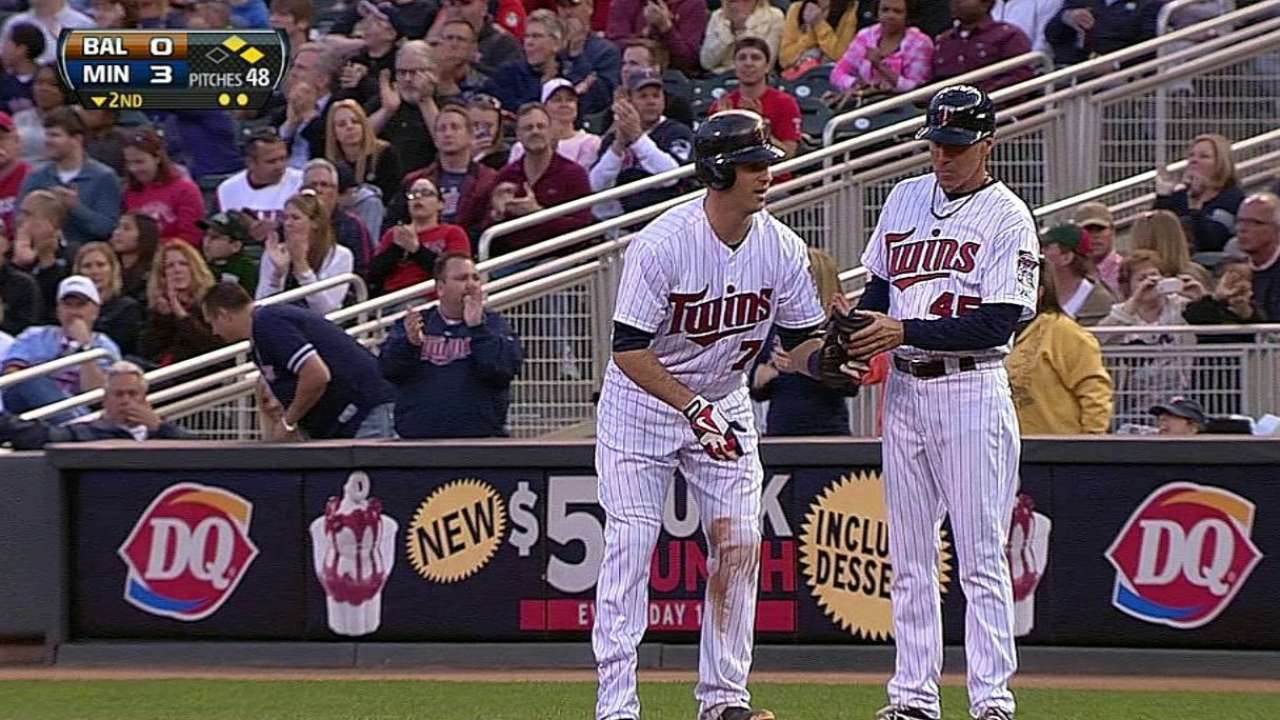 MINNEAPOLIS -- Given the bullpen's success so far this season, Twins manager Ron Gardenhire trusted his relievers to protect a three-run lead against the Orioles heading into the seventh inning.
But it wasn't to be, as Josh Roenicke, who entered with a 1.69 ERA, gave up three runs in the seventh and Anthony Swarzak, who carried a 2.37 ERA into the game, surrendered three more in the 10th.
It handed the Twins perhaps their most frustrating loss of the year, as they couldn't hold a six-run lead, with Manny Machado hitting the go-ahead RBI single in the 10th inning to lift the Orioles to a 9-6 win on Friday night at Target Field. It was the first time the Twins blew a six-run lead since doing so against the Indians on Sept. 24, 2011.
"We had them where we wanted them," Gardenhire said. "But we just ran out of bullets there at the end after our starter went out of the game. But our bullpen has been pretty good, so we'll take our chances with them. It just didn't work out for us tonight."
Swarzak, who was the last remaining reliever available for the Twins with Glen Perkins, Brian Duensing and Ryan Pressly out, gave up a leadoff single to Chris Dickerson before Nate McLouth hit a bloop single to put runners at the corners with one out in the 10th.
Machado then gave the Orioles their first lead of the night with an RBI single to right field. Nick Markakis added a sacrifice fly before Machado scored on an RBI single from Adam Jones to give the Orioles two insurance runs.
"It's not a club that panics," Orioles manager Buck Showalter said. "I've told you many times. It's a mature group. Even though it's the youngest team in our division. They stay within each other and do what they do."
It came after the Twins jumped all over Orioles right-hander Jason Hammel en route to a 6-0 lead by the fifth inning.
The Twins got on the board in a hurry, scoring in the opening frame on an RBI groundout from Josh Willingham after Jamey Carroll singled and Joe Mauer doubled. They added two runs in the second, when Mauer laced a two-run single back up the middle with two outs and the bases loaded.
Ryan Doumit extended the lead with a sacrifice fly in the third before Minnesota finally chased Hammel from the game with a two-run fifth, keyed by a two-run double from Trevor Plouffe to score Willingham and Justin Morneau.
Hammel, who was looking for his sixth road of the season, was denied, as he gave up six runs on eight hits over four-plus innings.
The six-run lead wasn't to be, as the Orioles rallied for three runs in both the sixth and seventh innings. Right-hander Mike Pelfrey cruised through five scoreless frames before struggling in the sixth. He gave up four doubles in the inning, including RBI doubles from Chris Davis, J.J. Hardy and Dickerson. Gardenhire called the double from Davis a catchable ball from Oswaldo Arcia in right field, but he couldn't make the play near the wall.
Pelfrey exited after six innings and picked up his second straight quality start, giving up three runs on nine hits and a walk over six frames.
"I didn't feel that good," Pelfrey said. "My offspeed stuff wasn't very good. The thing that kept me in the ballgame and go as far as I did was my sinker. It was really good and let me get through six. But my secondary stuff wasn't as good as I liked."
Roenicke couldn't hold the lead, as he gave up three runs in the seventh. McLouth led off the inning with a double, and scored on a throwing error from Plouffe on a bunt single from Machado, who advanced to second on the errant throw. Markakis made it a one-run game with an RBI single before coming around to score on a game-tying RBI double from Davis.
"Roenicke just couldn't get the ball where he wanted to," Gardenhire said. "The ball was just up, up, up."
With the bullpen's struggles, the Twins saw their three-game win streak come to an end while the Orioles improved to 22-14 on the year.
"You have to remember the offense over there too," Gardenhire said. "That's a heck of a baseball team over there. They can run some hitters up there at you and ambush you. They got some clutch hits and that's kind of what they're known for."
Rhett Bollinger is a reporter for MLB.com. Read his blog, Bollinger Beat, and follow him on Twitter @RhettBollinger. This story was not subject to the approval of Major League Baseball or its clubs.