Double machine drives extra-inning comeback win
O's score nine in a row to come back from a six-run deficit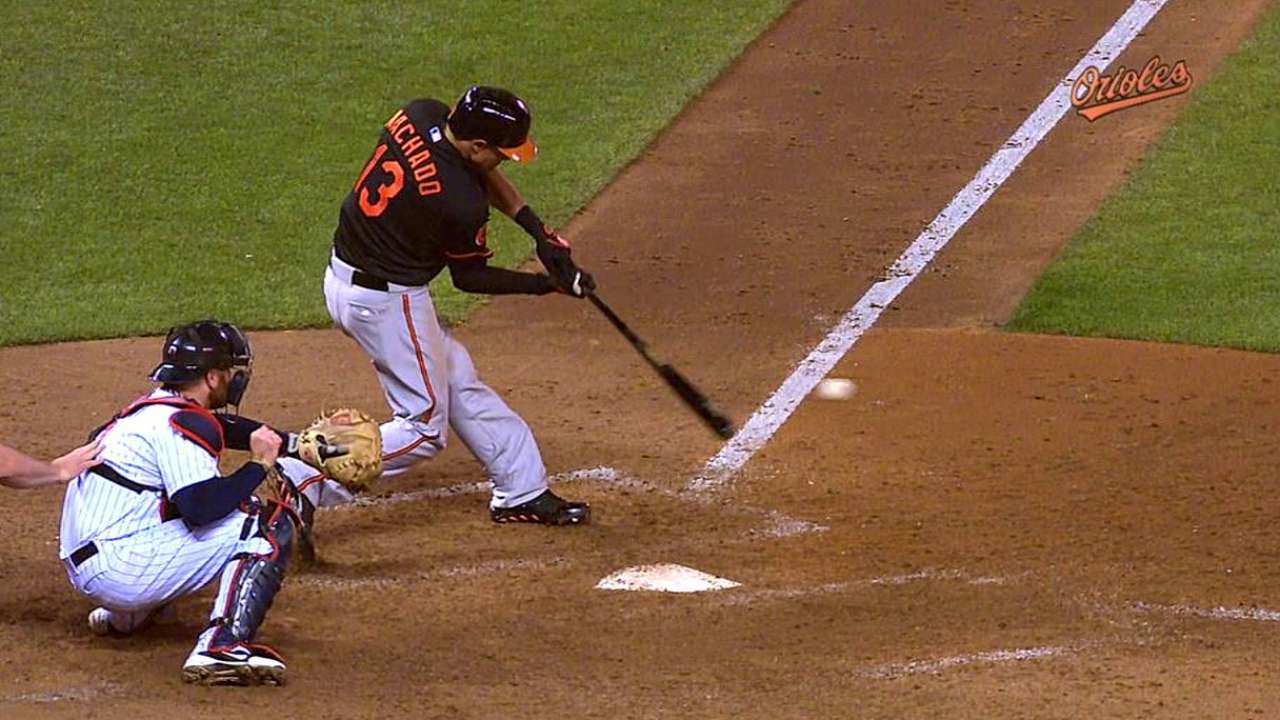 MINNEAPOLIS -- You want a rally? The Orioles, kings of the close games, proved Friday night they can do that, too.
Down six runs heading into the top of the sixth inning, Baltimore roared back to force extras and scored nine unanswered runs to complete their largest comeback of the year, a 9-6, 10-inning win over Minnesota.
"It's not a club that panics," manager Buck Showalter said of his team, which rallied back from a six-run deficit for the first time since June 25, 2010. "It's a mature group, even though it's the youngest team in our division. They stay within each other and do what they do. Guys don't try to hit five-run home runs. Just got a lot of people who strung a lot of good at-bats together and kept grinding it out."
Buoyed by seven doubles, six of which came in the seventh and eighth innings, the Orioles had seven players with multihit games for the first time since May 10, 2011. The offense barrage, coupled with some stout relief pitching -- highlighted by Jim Johnson's record-setting 35th consecutive regular-season save -- was plenty to cover up a short start from right-hander Jason Hammel, improving the O's to 22-14 this season.
"This was so casual, nonchalant, like, 'OK, 6-0. We are going to come back,'" outfielder Chris Dickerson said. "Very rarely do you ever experience that where you knew that the team knew we were going to come back and win. It was amazing.
"I don't think anybody had a doubt as to us coming back and making up that deficit, and that showed."
The bullpen brilliance -- which turned in six scoreless innings -- gave the offense some time to work and, after scoring six runs to force extras, Dickerson opened the 10th with a single off reliever Anthony Swarzak. He later scored on Manny Machado's RBI single, and Nick Markakis added a sacrifice fly to pad the lead. Adam Jones followed with a single to score Machado and give the Orioles their final tally on an 18-hit evening.
"We've got guys that are swinging the bat well, but it's going to be fun when we get guys on the same sync," said reliever Tommy Hunter, who turned in 2 1/3 innings to run his scoreless streak to 14 2/3. "It's going to be really fun to watch. That's the relievers' job, to keep them in it until the end."
And they've done it in impressive fashion so far. Following a 2012 season in which the relief corps led the way, the Orioles bullpen is showing no signs of slowing down. Hunter retired all seven batters he faced after T.J. McFarland -- who replaced Hammel -- tossed 2 2/3 scoreless innings.
A Rule 5 Draft pick, McFarland allowed an inherited run to score but held firm after that in an impressive 39-pitch outing. The five strong frames set it up for Johnson to record his 14th save this season and top Randy Myers' record, set in 1997.
"I wasn't thinking about it, obviously," Johnson said. "I was just thinking about watching us chip away. I thought it was a great team win. Everybody kind of chipped in. … Good effort out of the bullpen, guys had great at-bats and we ended up pulling it out."
Down three, the O's tied it in the seventh as Nate McLouth got things started with a double off Twins reliever Josh Roenicke. He scored off Machado's bunt single to Trevor Plouffe and the ensuing throwing error, and Markakis' left-field single -- putting him on base for the third time -- scored another run before Chris Davis' second RBI double made it 6-6.
"You have to remember the offense over there, too," Twins manager Ron Gardenhire said. "That's a heck of a baseball team over there. They can run some hitters up there at you and ambush you. They got some clutch hits and that's kind of what they're known for."
The Orioles had no answer for Twins righty Mike Pelfrey through five innings, but they were able to plate a trio of runs in the sixth and force his exit after 104 pitches. The O's scored their first run on Davis' RBI double off the right-field scoreboard, which tipped off outfielder Oswaldo Arcia's glove to plate Markakis. Markakis smacked the first of four two-baggers for Baltimore to start things off -- J.J. Hardy and Dickerson also doubled in the inning -- to cut a six-run deficit in half.
"You know, I can't be too ticked, that's a pretty big hook unscrewed tonight," Hammel said of watching the offense bail him out after one of his worst performances since being traded to Baltimore last winter.
"It's been a grind from the get-go, honestly. Really not much to say about myself. The way the team battled back after I put them in a deep hole; the bullpen to come in and hold it strong there. And then, like I said last week, you stick around long enough, these guys are going to put up some runs. I mean, nine runs in four innings from these guys, that's impressive."
The 29-year-old Hammel allowed six earned runs and lasted four-plus innings, ballooning his ERA to 4.93 in eight starts this season. The Orioles' Opening Day starter, Hammel hasn't been able to regain the form that got him off to a hot start last year and put him on the American League All-Star Final Vote ballot.
"He's getting out of his delivery a little bit," Showalter said. "[Pitching coach Rick Adair] was talking about his work day and warming up before the game as good as you'd want to see any guy warm up, but sometimes the emotions when you get out in a game kind of work against you."
After allowing a first-inning run, Hammel loaded the bases in the second on a walk and a pair of singles from bottom-of-the-order batters Arcia and Aaron Hicks. Hammel struck out Eduardo Escobar and Jamey Carroll, giving him a chance to get out of the frame unscathed, but Joe Mauer had other ideas and delivered a two-run single to push the lead to three. Hammel allowed another run in the fourth and exited the 87-pitch outing in favor of McFarland after Plouffe's double.
"Obviously it's frustrating because I haven't been the Jason Hammel that I know that I can be," Hammel said. "It's tough to keep going out there and really, it's not like I'm ... it's just all those battles. Just battle, battle, battle. Sooner or later it'll become easy, I've just got to keep putting in the hard work and trusting, and being confident in what I do."
Brittany Ghiroli is a reporter for MLB.com. Read her blog, Britt's Bird Watch, and follow her on Twitter @britt_ghiroli. This story was not subject to the approval of Major League Baseball or its clubs.