Lester retires first 17, blanks Blue Jays on one hit
In masterful performance, Red Sox lefty allows just one baserunner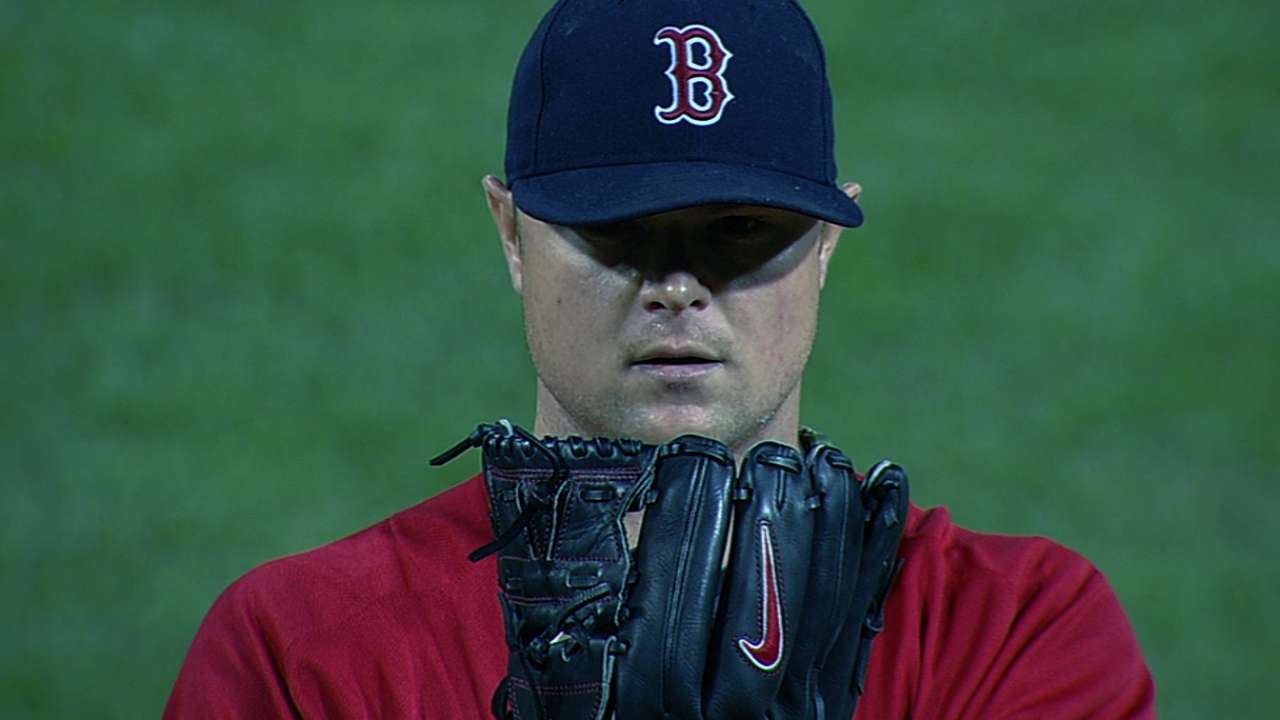 BOSTON -- Jon Lester was as good as he's ever been, if not better, during a one-hit shutout over the Blue Jays on Friday night, as the Red Sox snapped their three-game losing streak with a 5-0 win.
Yes, Lester has thrown a no-hitter. But that was almost five years ago.
"Back then, I was such a thrower, not really a pitcher," said the 29-year-old lefty. "They're apples and oranges in comparison."
Pitching coach Juan Nieves described Lester's plan of attack Friday as "crisscrossing."
The idea was simple: Lester moved his left foot slightly inward on the pitching rubber, away from the first-base side, so that his motion starts in the middle of the plate. That way, he has options. He can throw the cutter that breaks right, or the two-seamer that breaks left. Throwing either pitch on either side of the plate forces the hitter to have to be on the lookout for two-sided movement from pitches that start inside as well as pitches that start outside.
"It just makes the plate get bigger," Nieves said of Lester's adjustment. "The plate becomes, instead of 17 [inches wide], it becomes 21 [inches wide]."
The result: Lester carried a perfect game into the sixth inning, gave up a two-out line-drive double to Maicer Izturis, and retired the next 10 batters.
He finished his 10th career complete game and third career shutout -- his previous two shutouts came in 2008 -- with five strikeouts and no walks.
His cutter sharp, right-handed batters rolled grounders to the left side of the infield for 11 of his 27 outs.
Considering the Blue Jays' offense thrives off the long ball -- they entered Friday third in the Majors with 45 homers, while 25th in the Majors with a .238 batting average -- Lester's ability to keep the ball on the ground was of the utmost importance in a close game.
"He carved us up pretty good tonight," said Toronto manager John Gibbons. "It happens. We're a free-swinging team, there's no question about that."
Lester worked quickly, striking out a season-low five while working through an inning in seven pitches or fewer twice and finished with a season-high 118 pitches. The efficiency was surely appreciated by the bullpen, which has been getting more than enough work to pay the bills of late while it waits word on the fate of closer Joel Hanrahan, who could be forced to undergo season-ending surgery.
On the other side, the process in the Red Sox's hitting approach -- patient early in counts, swinging rarely but always aggressive with two strikes -- was working well. But the outcome wasn't there for much of the game.
They had a baserunner every inning, but rarely cashed in. Before Dustin Pedroia lined a one-run single in the seventh, the Red Sox had gone 0-for-11 with runners in scoring position and left 14 runners on base.
They continuously got the best of 39-year-old starter Ramon Ortiz, drawing five walks while collecting four hits in his five innings, but could muster just one run off an error by Izturis at short that allowed Daniel Nava to score.
The shaken bottle of pop finally exploded for the Red Sox in the seventh, when they scored four runs off five hits.
"I think that this last series we had, we had a lot of those opportunities," said Nava, who roped a two-run double in the four-run seventh. "Eventually you have enough of them, you're going to get it."
Shane Victorino reached base four times and made the Blue Jays pay with his baserunning, which saved an out by beating out a throw to second base in the fifth. He also advanced a base twice on a passed ball and a wild pickoff attempt.
The only two players not to get involved were Stephen Drew, who went 0-for-4 and saw his average fall to .233, and David Ortiz, who went 0-for-3 with a walk and is hitless in his last 16 at-bats.
Lester improved to 5-0 with a 2.73 ERA. His one-hit gem is one of three to be pitched in the Majors this season.
He didn't think much of it.
"I think today classifies as a little bit of a grinder for me," he said.
He was already thinking about his next start.
Jason Mastrodonato is a reporter for MLB.com. Follow him on Twitter @jmastrodonato. This story was not subject to the approval of Major League Baseball or its clubs.