Segura, Braun go back-to-back in loss to Reds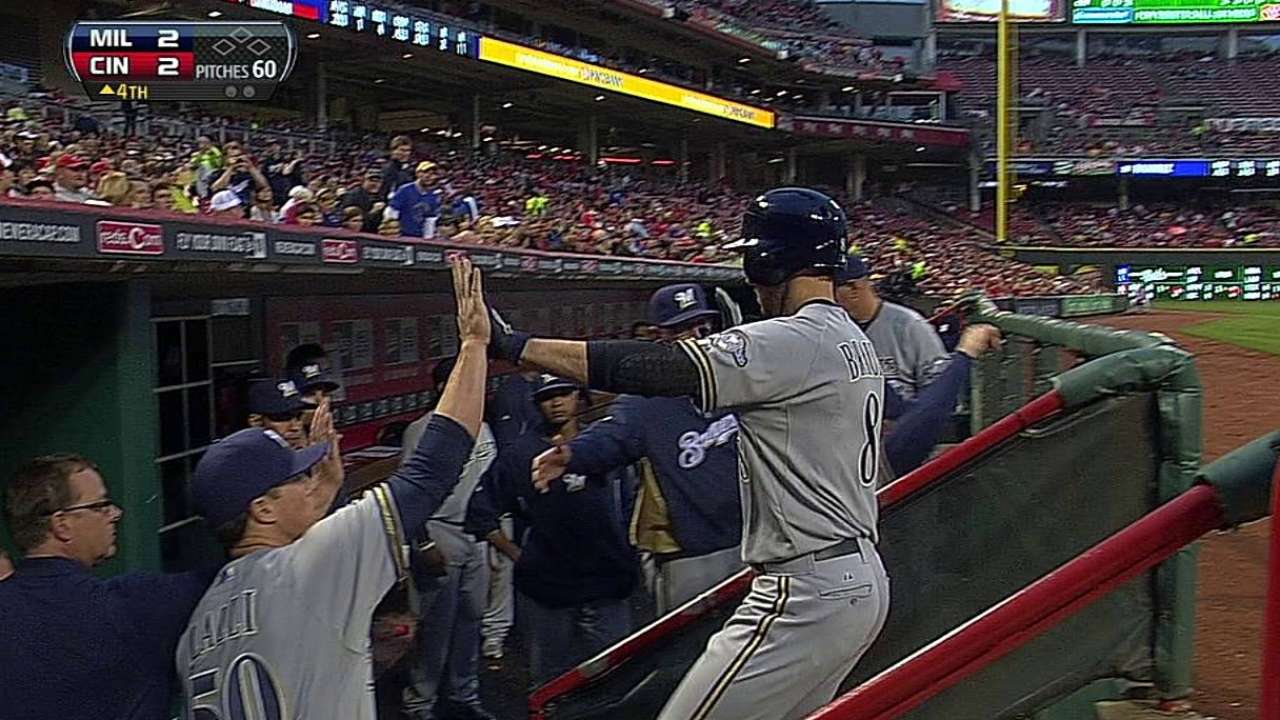 CINCINNATI -- This was not the way the Brewers had hoped to begin their most grueling stretch of the season.
Jean Segura and Ryan Braun hit back-to-back home runs, but Yovani Gallardo needed 100 pitches to grind through four innings of a 4-3 loss to the Reds on Friday night at Great American Ball Park that marked an inauspicious start to a critical three-city, intra-division road trip.
These 10 games against the Reds, Pirates and Cardinals start the Brewers' stretch of 13 games in as many days, and 33 games in 34 days.
"Normally, I try to take something positive out of every start," Gallardo said, "But there's nothing to take out of this one."
The Brewers hoped their Opening Day starter could set a tone for the trip, but Gallardo (3-2) fell flat, allowing three earned runs on five hits and five walks. He struck out five batters in his first loss since April 13, and minced no words when talking about his mechanics and command, which he said, "sucked."
It made for a slow slog. Gallardo struck out Joey Votto and Jay Bruce in the first inning, but walked two batters and threw 24 pitches. He needed only 11 pitches in a scoreless second, but threw 36 more in the Reds' two-run third, when Shin-Soo Choo sparked a rally with a two-out stolen base before Brandon Phillips singled home the game's first run and Bruce made it 2-0 with a double that popped out of the heel of right fielder Norichika Aoki's glove.
After Segura and Braun led off the fourth with home runs against Reds rookie Tony Cingrani, Gallardo needed 29 pitches to get through the bottom of the inning, when another stolen base, this by pinch-hitter Donald Lutz, positioned the Reds for another run-scoring single by Zack Cozart, who punched a slider to right field for a 3-2 lead.
"I give up a few runs and then the guys come back and score two in the [top of the fourth] inning, and no matter what, I have to go out there and put up a zero," Gallardo said. "No matter what the situation is, whether I'm struggling or whatever it is, I have to do everything possible to put that zero up there.
"That pitch to Cozart, it's a check swing and he hits it between first and second. That's just how it was going."
Those long innings added up to 100 pitches for Gallardo, only 53 of them for strikes and not a single fastball in excess of 91 mph, according to the stadium radar gun.
That final figure may have been the most puzzling of all. After averaging between 92.3-92.7 mph with his four-seam fastball for three straight seasons in 2009-11, Gallardo's average fastball velocity dipped to 91.8 mph in 2012 and was down another tick to 90.6 mph entering Friday, his eighth start of 2013.
"He says he's fine, so I don't know why that is," Brewers manager Ron Roenicke said. "He's throwing all his pitches. He seems to recover the next day OK, so I don't know why."
Gallardo had little to say about the radar gun.
"The past few games, the velocity has been the same, so it's not an issue," he said. "Ultimately, if you win games, you're not going to say much about the velocity."
Cingrani threw harder but did not fare much better, also lasting only four innings and allowing two runs on five hits, with two walks and four strikeouts. He threw 85 pitches.
Reds reliever Alfredo Simon (3-1) threw two scoreless innings and was awarded the win. But the Reds' best escape act came in the seventh inning with Sam LeCure on the mound. The Brewers put runners at first and second with Braun at the plate and the score still 3-2. Braun battled LeCure in a 10-pitch at-bat, fouling off four consecutive two-strike pitches before hitting a high bouncer over the pitcher's mound.
But Phillips was there to barehand the baseball while stumbling to the ground. With his left knee on second base, he slung a throw to first base to complete an inning-ending double play.
"I don't know how I made it, but I'm glad I made it," Phillips said. "I just took a gamble to try and turn the double play."
Segura was racing for second base and had the best view of anyone.
"No, I've never seen one like that," Segura said. "It was a good play. He was lucky, he got that ball in his hand -- his bare hand -- and turned to first and made that throw. ... There's not too much you can do about that. Those guys know how to play the game."
He wasn't quite finished. Phillips led off the bottom of the inning against Brewers lefty Mike Gonzalez by hitting a long home run to left field for a 4-2 lead.
The Brewers scored a run in the ninth when Norichika Aoki, who reached base five times, trotted home on a wild pitch by Aroldis Chapman. The lanky left-hander struck out Segura to seal his eighth save and a series-opening victory for the Reds.
The Brewers finished with eight hits and six walks, but went 0-for-5 with runners in scoring position and lost for the seventh time in eight games.
"We need to get a couple of big hits and we'd be looking good," Roenicke said. "The important thing is we continue to get people on base. I feel better about that, that you have opportunities to do it, than [if] we're not getting anybody on at all.
"They're there. They're all out there for us. We've got to have some guys come through with those hits."
Adam McCalvy is a reporter for MLB.com. Read his blog, Brew Beat, and follow him on Twitter at @AdamMcCalvy. This story was not subject to the approval of Major League Baseball or its clubs.