Phillips does it all in victory over Brewers
Homers, drives in two and makes spectacular defensive play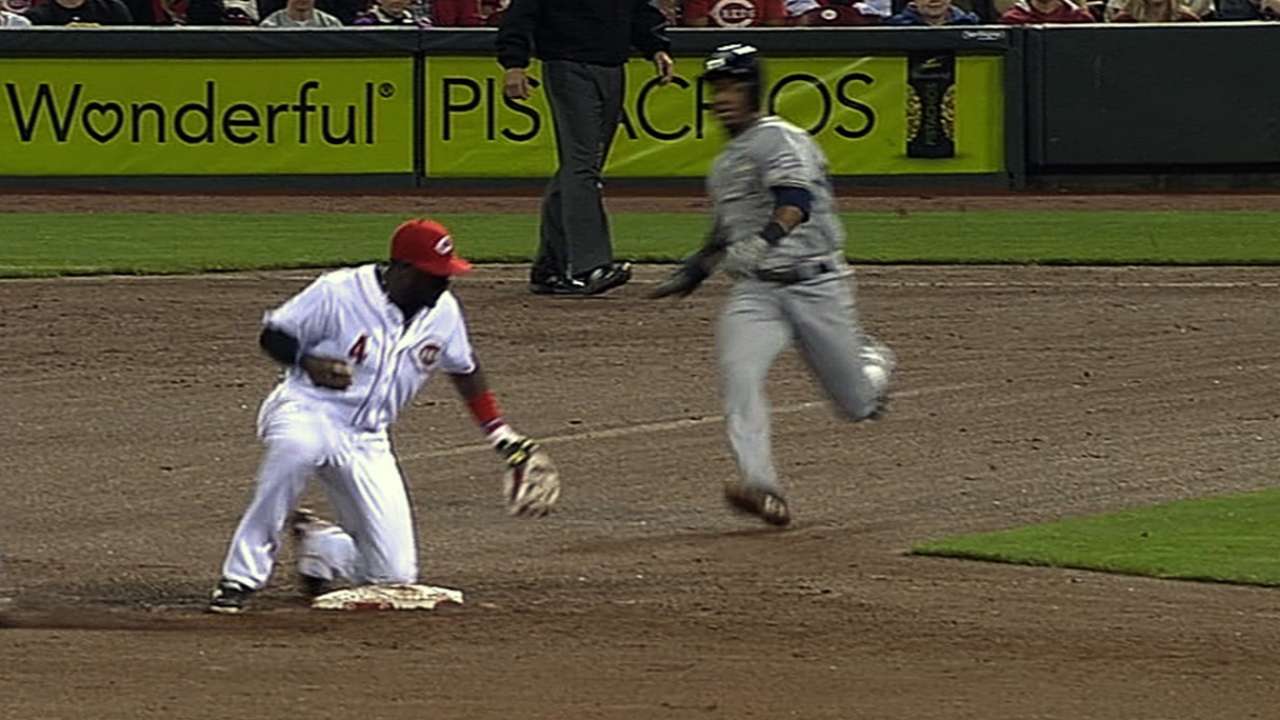 CINCINNATI -- Brandon Phillips has long reveled in being a hit-taker and a heart-breaker on defense. On Friday against the Brewers, the Reds' three-time Gold Glove second baseman didn't even need his glove to make the play of the night -- just his right hand and left knee.
Phillips also notched an RBI single and his solo home run in the seventh proved the difference in the Reds' 4-3 win over the Brewers.
Not bad for a night's work.
"He's one of the best I've seen at that position, and he works at it," Baker said.
Cincinnati took a 3-2 lead into the seventh inning when reliever Sam LeCure backed himself into a corner with back-to-back one-out walks. Next was Ryan Braun, who worked LeCure for 10 pitches, then hit a high bouncer up the middle.
Phillips broke to his right and made a barehanded stop, then touched second base with his left knee. As he fell to the ground, he twisted and threw successfully to first base to complete the inning-ending double play.
The crowd of 33,251 fans at Great American Ball Park roared with amazement.
"I don't know how I made it, but I'm glad I made it," Phillips said. "I just took a gamble to try and turn the double play. I would have used my glove, but I knew it was going to be a short hop. I knew if I put my glove down, it would probably hit the bag."
Instead of Aramis Ramirez coming to the plate with either the bases loaded after an infield single, or runners at the corners with two outs after a forceout at second, Phillips' double play took the Reds out of harm's way.
"That's the best double play I've ever seen turned from second base," Baker said. "That was a game saver. If we won't turn that double play, who knows? They had some dangerous guys up that inning."
LeCure pointed to Phillips with gratitude as the team came off of the field.
"Sometimes I guess maybe we take it for granted, because we see it on a daily basis, but I certainly did not take it for granted tonight standing on the mound," LeCure said of Phillips. "That was a huge play in the game.
"I just kept telling myself, "It's going take one pitch, it's going take one pitch." Definitely wasn't what I had in mind right there. The double play was, but how it was turned was not. That was pretty unbelievable, man. That was huge for him, and I'll definitely try to take him out to dinner for that. "
Throughout most batting practice or infield drills, Phillips will attempt a variety of flourished plays -- behind the back catches, no-look tosses to second base and anything potentially out of the ordinary. You never know when that dexterity could come in handy.
It certainly did on Friday.
"I've practiced the short hops with the bare hand, but I never had a bag in the way," Phillips said. "I've touched the bag with my knee plenty of times, but I've never caught a short hop barehanded by the bag. That's a first."
Brewers shortstop Jean Segura was forced out at second base on the play.
"No, I've never seen one like that," Segura said. "It was a good play. He was lucky, he got that ball in his hand -- his bare hand -- and turned to first and made that throw. ... There's not too much you can do about that."
In the bottom of the seventh with one out, Phillips provided big insurance as he hit a 1-0 pitch from Michael Gonzalez for a solo homer to left field to make it 4-2. It was his sixth of the season and it gave him a National League-leading 31 RBIs.
It proved to be the game's difference as Aroldis Chapman gave up a two-out single to Norichika Aroki in the top of the ninth. Aoki went to second base on indifference and a pair of Chapman wild pitches allowed him to score, making it 4-3.
The early portion of the game lacked any flash as Reds starter Tony Cingrani and Brewers ace Yovani Gallardo each labored with four-inning outings and high pitch counts.
Gallardo, who threw 100 pitches and only 53 strikes, walked five batters and allowed three runs, including a Phillips RBI single and Jay Bruce RBI double in the third -- both with two outs. Cingrani gave up two runs on a pair of fourth-inning home runs to Segura and Braun and left after his pitch count reached 85.
Until the fourth, Milwaukee had only two singles against Cingrani, but that changed when Segura led off with a fly ball to right field that carried just enough over Bruce's glove for a homer. On the next pitch, there was no doubt about Braun's drive to right field for back-to-back homers.
For the eighth straight game, the Reds did not get a quality start.
A two-out RBI single by Zack Cozart provided the Reds the go-ahead run in the fourth.
Following his homer in the seventh, Phillips had a chance to blow the game open in the eighth. His one regret was that he missed the chance with the bases loaded by striking out.
"If there were two outs, maybe it's a different story," Phillips said. "There was one out. One of my goals is to get 100 [RBIs] since I've moved into the fourth spot. I just feel like I had a chance to at least get one [run]. I didn't do my job, but I'm glad that we won. That's a plus also."
Mark Sheldon is a reporter for MLB.com. Read his blog, Mark My Word, and follow him on Twitter @m_sheldon. This story was not subject to the approval of Major League Baseball or its clubs.