Replay it again: Jones' homer fuels Wandy's win
Three-run shot awarded after umpires' conference changes triple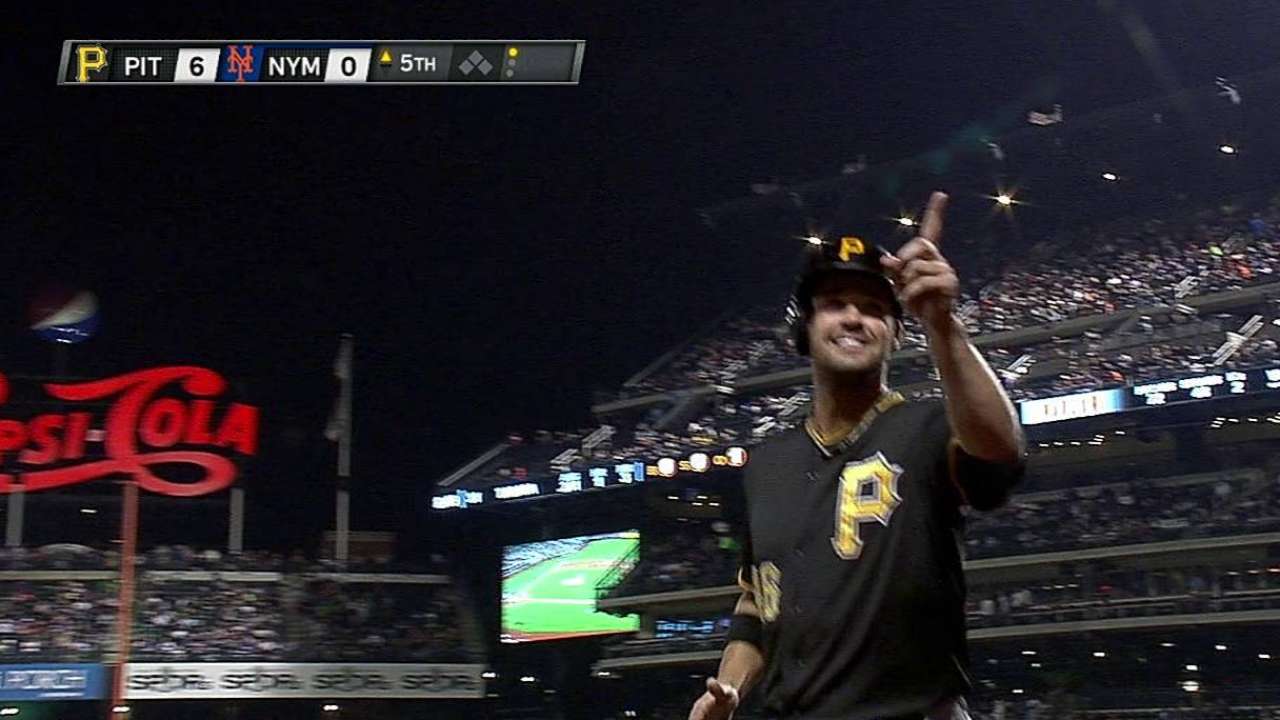 NEW YORK -- A not-particularly comprehensive review of Pirates games played in the last two calendar years suggests that Garrett Jones must be among the more review-able players in the game. Seems that some of what the Pirates' first baseman does in his other role, that of slugger, occasionally demands reassessment, a second opinion, a different perspective, another set of eyes and a gathering of game officials clad in blue.
So it was Friday night that the four partners in the firm of Holbrook, West, Fletcher and Drake -- aka the umpires -- gathered on the infield at Citi Field to discuss the merits of the fly ball Jones had, moments earlier, hit to -- or over -- the top of the wall in right field. They met, they spoke, they disappeared, reviewed and reappeared. Upon return to public view, a twirl of his index finger by crew chief Joe West awarded Jones another base, another RBI and the Pirates another run.
Remarkably, fly balls struck by Jones have been reviewed four times in two years. What became the telling blow in the Pirates' 7-3, rocky road victory against the Mets was, at one point, a two-run triple. It soon was changed to a three-run home run that created a 6-0 lead and another memorable morsel in the career of the 31-year-old left-handed hitter.
Instant replay reviews are not uncommon in the game, but with Jones, they are treading near the border of routine. The transformation of triple to home run marked the second time this season umpires had changed a could-a-been triple to a home run in his favor. It also had happened in St. Louis on April 28.
It was merely June 28 last year, that a fly ball hit by Jones was initially ruled a double and upheld as a double in Philadelphia. And the same thing happened May 9, 2011 in Pittsburgh.
"I don't have much control over that," Jones said following Friday's win, realizing the oddity his swing has produced.
More weight lifting must be the answer. He smiled. And why not? On this baseball evening, he also hit two undisputed doubles and scored twice. This from a man who has seven career triples, none this season.
"I'll stick with the home run," he said.
Jones' production -- most of it against Mets starter Shaun Marcum (0-3) -- benefited winning pitcher Wandy Rodriguez, who disposed with the Mets' lukewarm batting order for six innings before stepping aside for a too generous bullpen.
Rodriguez (3-2) won for the first time in four starts, beating one of his favorite and least resistant opponents. His career numbers against the Mets now include a 6-2 record and a 2.74 ERA in 10 starts spanning 62 1/3 innings.
He allowed six hits and zero walks and struck out two.
The Pirates scored merely three runs in the previous two games, losing both. They equaled that run output in the second inning.
Marcum was ineffective almost from the outset. He struck out his first two batters before Andrew McCutchen flied out to the wall in center field, almost matching his out in the ninth inning Thursday night.
Jones led off the second with a double to deep left center and advanced to third when Jose Tabata singled. Pedro Alvarez produced his third hit and third RBI of the series when he singled to right, but Tabata was thrown at third by Marlon Byrd. Alvarez reached third when Michael McKenry doubled inside third base. Marcum hit John McDonald with a pitch to load the bases, and Rodriguez's ground ball to second produced an out and the second run.
An infield single by Starling Marte, his first hit of the series, scored McKenry and put the Mets three runs behind a pitcher who had beaten them in three successive starts and who had produced a 2.00 ERA in his four previous starts against them.
Ineffective pitching in the ninth inning by Jose Contreras prompted manager Clint Hurdle to summon closer Jason Grilli, who recorded the 27th out for his 14th save in 14 opportunities, with two runners on base and a lump beginning to develop in the manager's throat.
No team should need to use its closer after leading by five runs in the eighth. It jeopardizes the next day's game. Grilli has pitched three times in four days, and it's early May.
Hurdle acknowledged as much but said: "We needed to win the game [the Pirates had lost four of five]. We'll worry about tomorrow, tomorrow."
Marty Noble is a national reporter for MLB.com. This story was not subject to the approval of Major League Baseball or its clubs.