Cubs double down, but Samardzija can't buy win
Starter falls to 0-5 in last seven starts despite club's seven two-baggers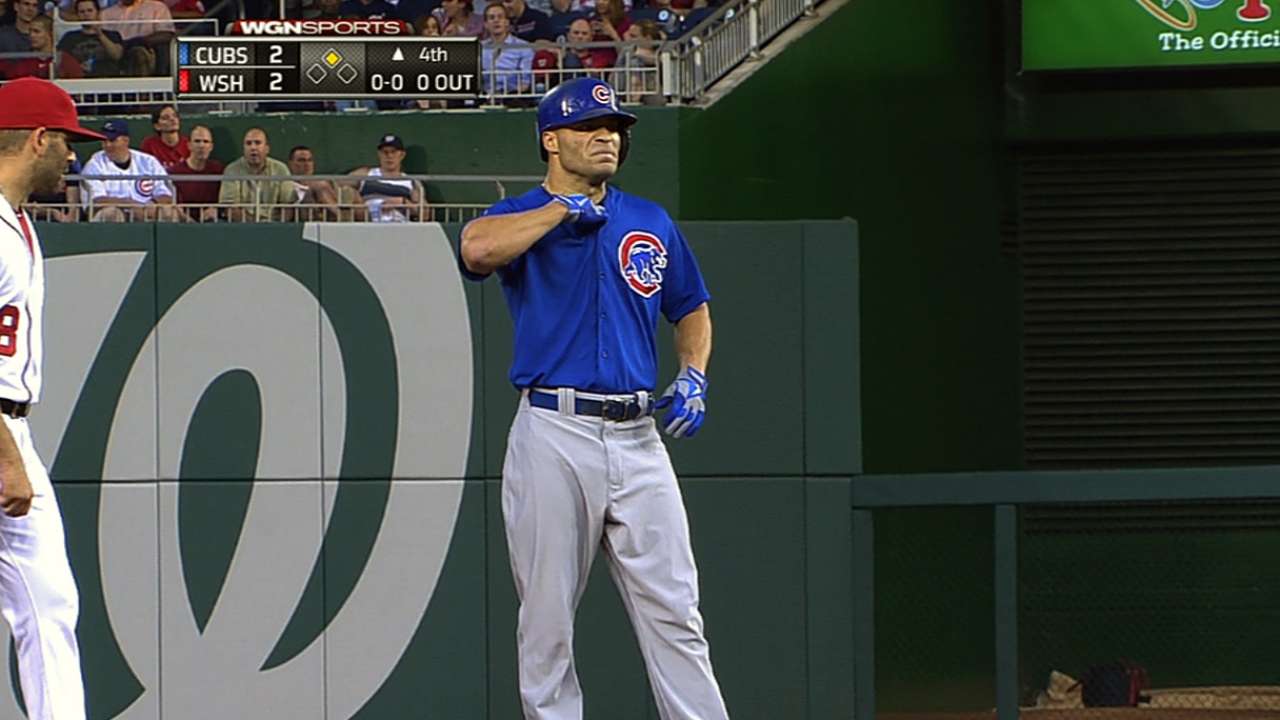 WASHINGTON -- Opening Day seems like a long time ago for Jeff Samardzija.
April 1 was the last time Samardzija won a game, and despite ranking among the National League strikeout leaders, the Cubs right-hander can't seem to get another "W."
On Friday, Ian Desmond hit a two-run home run and an RBI double, and Kurt Suzuki and Danny Espinosa each added two-run doubles to lift the Nationals to a 7-3 victory over Samardzija and the Cubs.
"That was a strange game," Cubs manager Dale Sveum said.
Samardzija struck out five to raise his season total to 57, and he helped himself by hitting a double and scoring a run in the third, but he also set season highs in hits allowed (eight), runs (seven) and earned runs (five), with his fielding error leading to two unearned runs. The right-hander now is 0-5 in his last seven starts.
"I thought I had good stuff today, fastball location was good," Samardzija said. "There's a couple pitches I'd like to have back, like the hanging slider to Desmond [on his homer in the fourth], and a couple here and there. It's a tough one."
The problem isn't his right hand. Samardzija has had no issues since he cut his right index finger trying to reach for a liner on April 24 against the Reds.
This was the first meeting between the two teams since last Sept. 3-6, when Chicago was swept in a four-game series that featured two bench-clearing incidents. There were no fisticuffs on Friday, but the Nationals did improve to 8-1 against the Cubs in D.C. since 2011.
"Any time you play these teams at the top of the division, you want to play your best ball and measure up against them," Samardzija said. "I thought we played good today.
"On my part, I needed to make a couple better pitches and get out of those innings with no damage and get your offense back in the dugout to score some runs. They're a good team, and someone we keep our eyes on. Just have to make better pitches, get the offense back in the dugout and put some runs on the board."
The Cubs outhit the Nationals but didn't get the hits when they needed them. Starlin Castro, batting leadoff for the first time this season, doubled to start the game and scored one batter later on Anthony Rizzo's groundout.
"The Cubs are a pretty good fastball-hitting club," Nationals manager Davey Johnson said. "After the third inning, [Nationals starter Ross Detwiler] started mixing in more curveballs, and he threw some pretty good curveballs, getting ahead and making it easy for him."
With one out in the Nationals' second, Desmond reached on an infield single and Espinosa was safe on an error by Samardzija, who tried to backhand the ball, then couldn't pick it up.
"Originally, I wanted to go two with it and turn a double play, and once I kicked it the first time, it turned into one of those, 'Keep reaching for it and trying to hurry and get it calmed down and throw it to first [situations],'" Samardzija said. "That was my bad."
One out later, both runners scored on Suzuki's double for a 2-1 Nationals lead. Samardzija's error was the eighth miscue by a Cubs pitcher this season, most in the Major Leagues. The Diamondbacks have committed seven errors total.
Samardzija and Castro hit back-to-back doubles in the third to tie the game at 2. Castro tried to score one out later on Rizzo's single but was thrown out at the plate by right fielder Roger Bernadina. Chicago had opportunities, totaling a season-high seven doubles. But they went 2-for-14 with runners in scoring position.
"We just couldn't do anything after the doubles," Sveum said.
Adam LaRoche singled in the Nationals' fourth, and Desmond followed with his fifth home run off an 0-1 pitch for a 4-2 lead. With two outs in the fifth, after Samardzija coaxed a double play, Desmond added an RBI double for his third hit of the game, and Epinosa followed with his two-run double.
"He was a couple pitches away -- and fielding a ground ball, and gets the double play, nobody on, two outs, and then it's three runs later," Sveum said of Samardzija's fifth inning. "It's kind of a strange outing for him."
This game didn't make sense.
"You throw 102 pitches, you should win, let alone give up seven runs," Sveum said. "And then to have seven doubles and only score three runs, and two of the runs were on groundouts -- it was a very, very strange game tonight."
But whenever the Cubs make a mistake, they can't seem to recover from it. Samardzija said his winless stretch isn't getting him down.
"I know personally how I've felt and how I've pitched in each outing," Samardzija said. "I have to take the positive out of today and how I was pounding the zone. I used my fastball a lot, my pitch count was down. I was efficient. I just let it get away from me there in the fifth. One more pitch, and I get out of that [fifth] inning."
Carrie Muskat is a reporter for MLB.com. She writes a blog, Muskat Ramblings, and you can follow her on Twitter @CarrieMuskat. This story was not subject to the approval of Major League Baseball or its clubs.