Banged-up Angels capitalize on error, claim road win
Two-run rally, started by fielding miscue, snaps tie in Chicago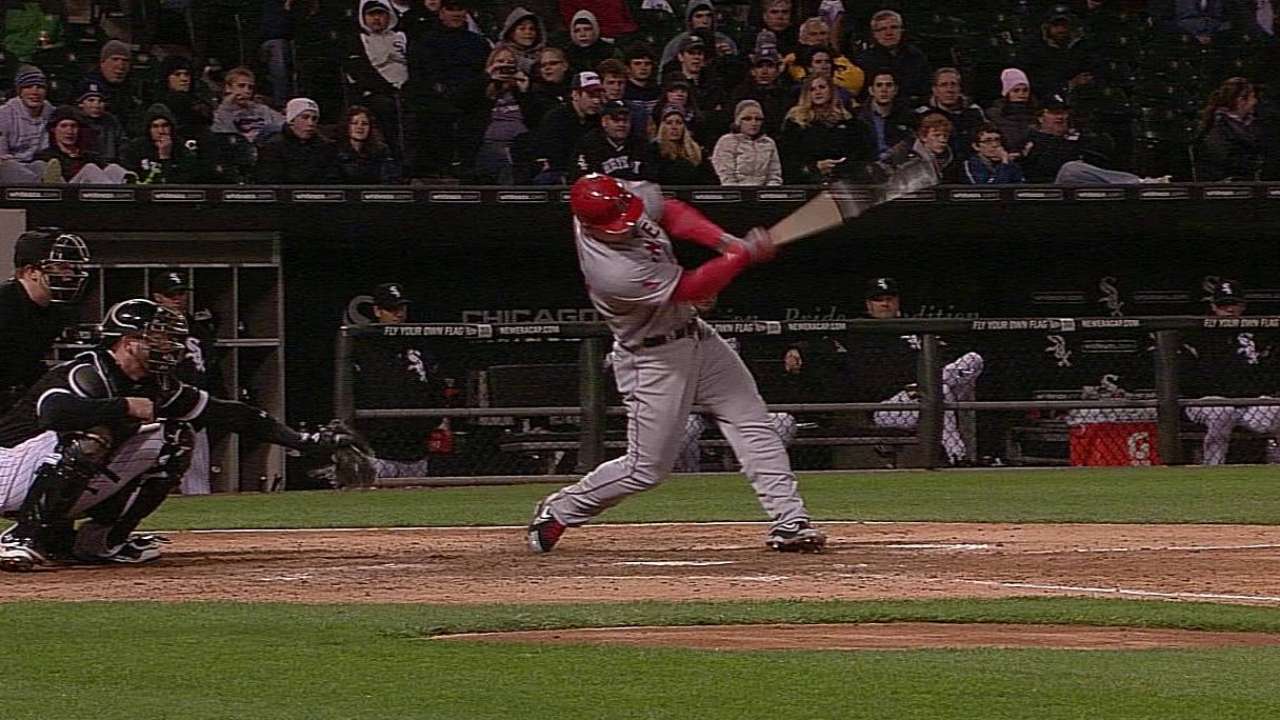 CHICAGO -- Brendan Harris had three hits, J.B. Shuck ignited a couple of runs, and Dane De La Rosa and Michael Kohn combined to provide three scoreless innings of important relief in a 7-5 victory at U.S. Cellular Field on Friday night.
It was the Angels' first set of back-to-back wins since sweeping the Tigers from April 19-21.
And it was a snapshot of where this high-priced, championship-hopeful team is -- hurt, struggling and in need of a boost from unlikely sources in order to keep its head above water.
For one night at least, the 13-22 Angels got that.
"It's huge," Kohn said. "Guys have been hurt, and it's just big for the team when guys like that step up."
This essentially looked like a throwaway game -- if not for the fact that the Angels can't afford to give any more games away.
Scheduled starter Tommy Hanson was gone, back in Georgia to deal with the aftermath of his step-brother's death, setup man Scott Downs was sidelined with a foot injury that he sustained the night before, handcuffing a bullpen that already had three important members on the disabled list, Peter Bourjos is still in Arizona rehabbing a left hamstring strain and Erick Aybar was out of the lineup, one night after hurting his left hamstring.
The man who took the ball, Barry Enright, became the ninth starting pitcher the Angels had deployed this year -- after using eight all of last season.
But with Jerome Williams starting Saturday's game, Garrett Richards back to being a reliever, Jered Weaver still sidelined, the farm system barren and the 40-man roster left with three healthy pitchers who aren't in the Majors -- David Carpenter, Nick Maronde and Ryan Brasier -- the Angels really didn't have anywhere to turn.
Luckily, the offense was there and the bullpen stepped up. They got a four-run third, retook the lead with a two-run seventh, then watched as Kohn (scoreless sixth), De La Rosa (perfect seventh and eighth) and Ernesto Frieri (struck out the side in the ninth) shut it down, giving the Angels back-to-back road wins for the first time all season.
"Those guys stepped up big," manager Mike Scioscia said of his relievers. "I think we had about as good a performance as you can expect."
Shuck hit a sacrifice fly, Albert Pujols added a two-run double and Mark Trumbo notched an RBI single in the third and Aybar's replacement at shortstop, Harris, hit a solo homer for the second straight night in the fourth, giving the Angels an early 5-1 lead.
Enright, who hadn't appeared in a game in 10 days and hadn't pitched more than 2 2/3 innings since April 15, gave up five runs on four hits in 3 1/3 innings. Four of those runs came in a fourth inning that Enright couldn't finish, when he loaded the bases with none out, threw a wild pitch, gave up a double to Dayan Viciedo, then watched Mark Lowe surrender the tying run on a two-out single to Tyler Flowers.
"Guys pitch tired, guys pitch sore -- guys pitch like that all the time," Enright said. "I was a little disappointed it ended that way, throwing that [slider] to Viciedo."
But the Angels re-took the lead in the seventh, when White Sox reliever Matt Lindstrom gave up an RBI single to Mike Trout and then allowed Shuck to score on a passed ball.
"They seemed to just kind of find some holes that inning," Flowers said. "A hard-hit ball here, a double, and a couple of runs scored but for the most part I think it was them kind of finding holes lumped into all that together."
Somehow, the Angels found a way.
They'll need to do a lot of that.
Alden Gonzalez is a reporter for MLB.com. Read his columns and his blog, Gonzo and "The Show", and follow him on Twitter @Alden_Gonzalez. This story was not subject to the approval of Major League Baseball or its clubs.