Seventh-inning error costly in White Sox loss
Gillaspie's miscue starts game-winning rally; De Aza hits leadoff HR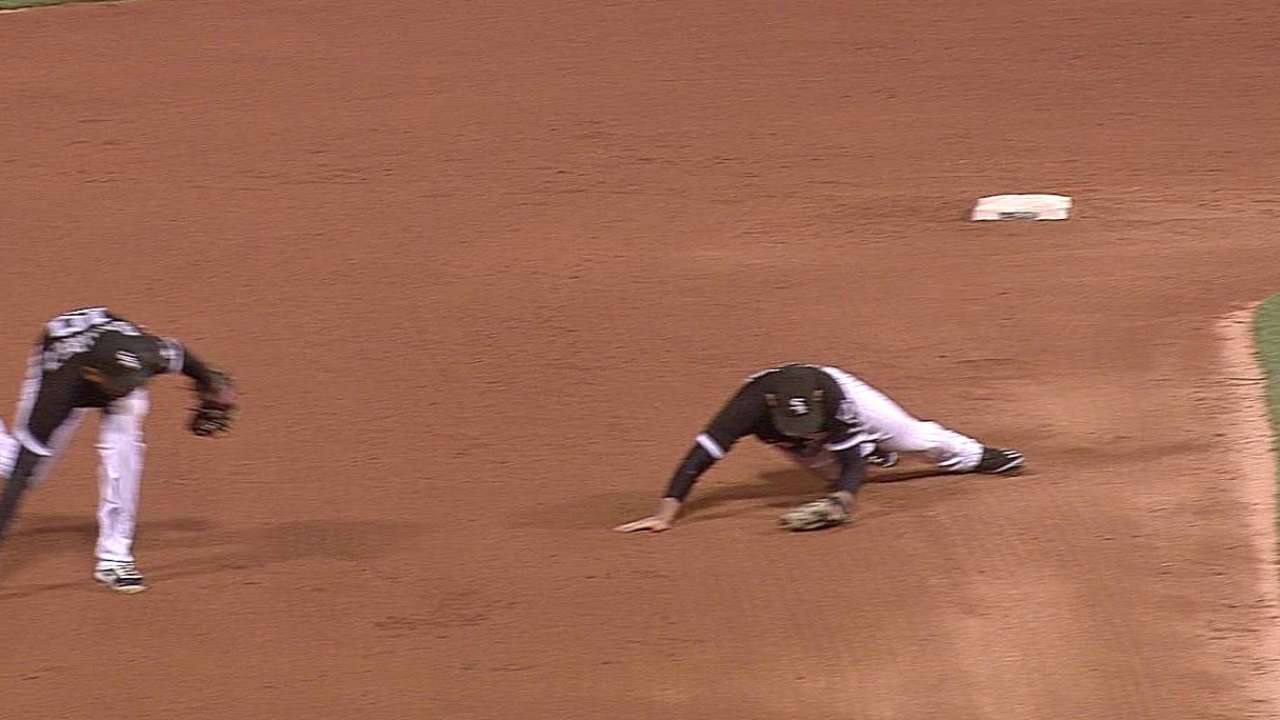 CHICAGO -- Robin Ventura's 100th career victory as a manager will have to wait until at least Saturday night following the Angels' 7-5 victory over the White Sox before 22,638 at U.S. Cellular Field in Friday's series opener.
But if the White Sox defense doesn't improve soon, Ventura might not have significant additions to that win total as the 2013 campaign progresses.
The White Sox (14-19) committed two more errors in Friday's setback, giving them 24 on the season. And it was a Conor Gillaspie fielding gaffe to open the seventh that started the Angels (13-22) on their way to a second straight road victory.
"You give them multiple opportunities and you're going to pay for it," said Ventura of his team's defensive shortcomings. "It's almost like a broken record: Any time you're giving a lineup like this extra chances, it doesn't work. It just doesn't work."
"It's just one of those things that's been going on this year," said White Sox starter Dylan Axelrod, who took his third loss without a win. "We just need to keep working on it and it will turn around. We got guys that make spectacular plays and it just seems like it's one of those things where it's hard to explain."
With the score deadlocked at 5 in the seventh, catcher Hank Conger opened with a roller between Gillaspie and shortstop Alexei Ramirez that Gillaspie ranged over to try to grab. He fumbled the grounder, though, putting Conger on first and ending Axelrod's evening.
Reliever Matt Lindstrom proceeded to strike out Brendan Harris, who had homered earlier, but J.B. Shuck and Mike Trout followed with singles to score Conger. A passed ball charged to Tyler Flowers brought home Shuck, who got an immediate, lightning-fast break off third, while Lindstrom was a step slow covering the plate.
Walks to Albert Pujols and Mark Trumbo loaded the bases, but Josh Hamilton grounded into a force at home and Howie Kendrick grounded out to Ramirez to minimize the damage.
Michael Kohn (1-0), Dane De La Rosa and Ernesto Frieri (sixth save) threw four combined hitless innings out of the bullpen to finish off the White Sox, striking out seven. Frieri walked Ramirez on four pitches to start the ninth and then proceeded to strike out pinch-hitter Dewayne Wise, Alejandro De Aza and Jeff Keppinger.
"I think the length we needed, plus the effectiveness, those guys stepped up big," said Angels manager Mike Scioscia of his bullpen, which helped the Angels win two in a row for the first time since April 19-21 and two in a row on the road for the first time. "We had about as good of a performance as you can expect."
A four-run White Sox fourth against Barry Enright, the Angels starter who slowed to a crawl on the mound after the White Sox threatened, erased a 5-1 deficit to pull the South Siders even.
Alex Rios started the rally with a single, followed by walks to Adam Dunn and Paul Konerko. Gillaspie took a called third strike as the culmination of a 10-pitch at-bat, but Rios scored on a wild pitch and Dayan Viciedo doubled home two runs. Enright, who started in place of Tommy Hanson, threw 32 pitches to those five batters alone.
Flowers' single off reliever Mark Lowe scored Viciedo with the game-tying run. Dunn's run scored in this rally marked the 1,000th of his career.
De Aza put the White Sox on the board in the first with a leadoff home run for a second straight contest. But the Angels regained control with their four-run third, as Shuck, Pujols, Trumbo and a De Aza error accounted for the runs.
Axelrod yielded five earned runs on seven hits over six-plus innings, striking out six and walking one. The right-hander is winless in seven starts this season and saw his string of four straight quality starts end. Although Axelrod wasn't happy with the ultimate outcome, he had no issue with the way he pitched.
"They were just being aggressive that [third] inning pretty early in the counts," said Flowers of the Angels. "They seemed to just kind of find some holes that inning, a hard hit ball here, a double, and a couple of runs scored."
"You know, the whole game I felt really good. It's just an unfortunate thing they got some runs there in the third," said Axelrod, who threw 91 pitches. "That's the frustrating part when you feel great out there and still give up some runs. I can't be that disappointed in my effort because I felt like I executed pretty well. They just happened to score."
Friday's setback marked the 28th game of the 33 played by the White Sox to be decided by three runs or fewer. They sit 7-8 in one-run games, 4-2 in three-run games and 2-5 in two-run games for an overall record of 13-15.
Those numbers in close games won't improve without better White Sox glove work behind stellar starting pitching.
"There's nothing else you can do but keep harping on it," said Ventura, whose team led the league with a franchise-record .9883 fielding mark in '12.
"Hopefully, over the course of the year it'll even out," Flowers said. "It sticks out a little more when it seems to all happen together. Hopefully, that's the case where a number of them are happening right now and we're going to shore it up over the course of the year."
Scott Merkin is a reporter for MLB.com. Read his blog, Merk's Works, and follow him on Twitter @scottmerkin. This story was not subject to the approval of Major League Baseball or its clubs.