Hamels effective vs. D-backs but run support lacking
Lefty falls to 1-5; Manuel frustrated with offense's inconsistency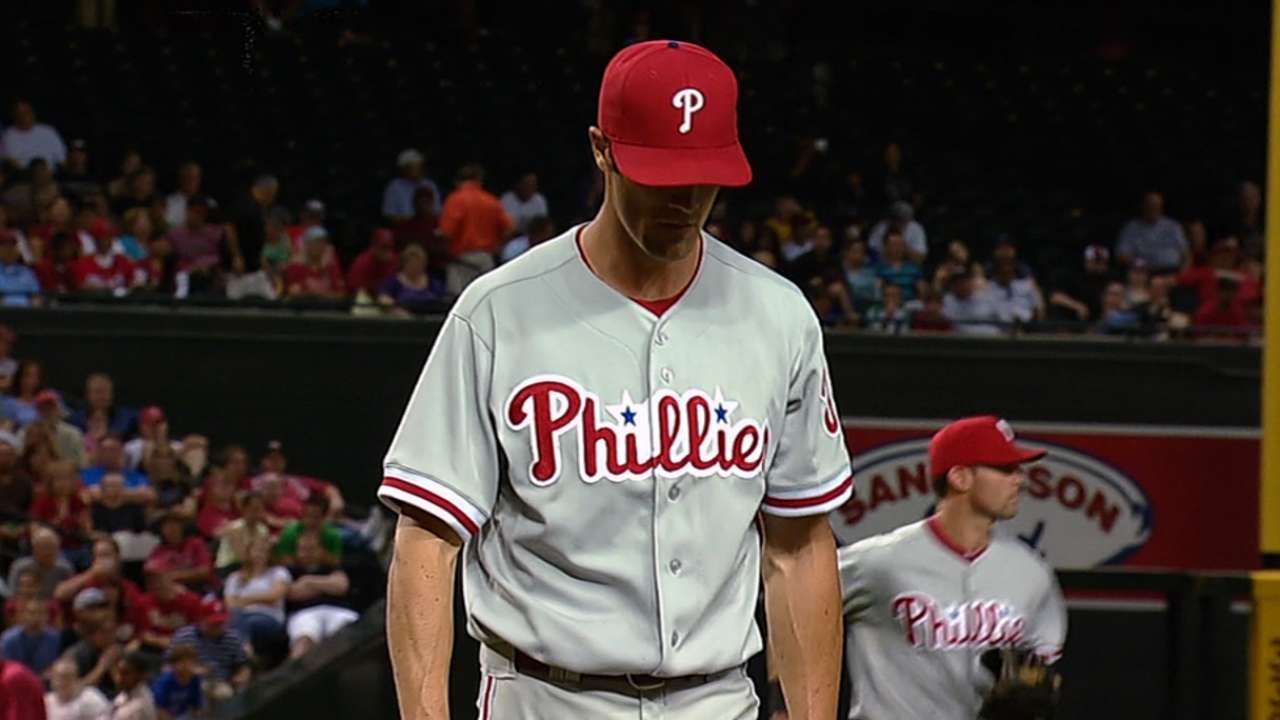 PHOENIX -- Unfortunately for veteran left-hander Cole Hamels, it was more of the same on Thursday night against the D-Backs at Chase Field: He pitched well enough to win, but the Phillies' offense couldn't score more than a single run.
Hamels allowed only two earned runs on the way to a 2-1 loss to Arizona that fits the pattern of his past six starts. While Hamels has allowed just a total of nine earned runs during that span, his team has scored only nine times while he's been in the game.
That's primarily why the Phillies dropped to 16-20, six games behind the Braves in the National League East, with their second loss in a row. The D-backs' two runs off Hamels scored on a pair of infield outs: Patrick Corbin's grounder to short in the fifth that came in when Jimmy Rollins was moved back to double-play depth, and Gerardo Parra's push bunt in the sixth.
"We definitely haven't hit full stride," Hamels said. "We can't wait for it. We have to go out and act on it. I think we're just kind of tiptoeing. We're at that sort of border that we need to cross over. That's to the type of baseball we're capable of playing and that's winning. Once we're able to do that then we can start taking that momentum every day.
"But it starts with one at-bat, with one pitch, one game. We have to be able to fight and ultimately go out there and not give it away."
None of that happened on Thursday night. Hamels took the loss and is 1-5, although his ERA dropped to 4.18. He pitched six innings, allowing six hits, with five walks and three strikeouts. The Phillies are 1-7 in his first eight starts, a fact unheard of in his career, now in its eighth season.
Hamels blamed himself for the walks. He's now strolled 22 batters in 51 2/3 innings. Add 43 hits and those walks are not acceptable, he said. No excuses.
"For me I have to go out and execute pitches," he said. "Stop the walks. If that's where I really need the work, it's going to make me a more effective pitcher and that's what I have to focus on. I can't really take anything else, the results, from what's going on. I have to correct what I can correct and what is going to allow me to be a better player so I can go out and help the team get some wins."
But it's all a fine line, isn't it? Hamels has allowed 24 runs this year and the Phillies have scored 16 for him in those eight starts. That's not much margin for error. They produced their only run for him Thursday when Kevin Frandsen pinch-hit for Hamels with the bases loaded and one out in the seventh. Frandsen appeared to plate the run with a single to short right, but John Mayberry Jr. was forced out at second as Parra's throw beat him to the bag. The run scored anyway, but the gaffe hurt the Phils' chance at a much bigger inning.
"It was a softly hit ball that I am looking at the second baseman in pursuit," Mayberry said. "I thought he might have a play on it when he lunged at it at the last second. I kind of took a giant step back and that ultimately ended up costing me second base. From my vantage point, it looked close and I didn't want to get doubled off at first. I wanted to be able to get back to first but that giant step cost me."
Meanwhile, the Phillies could manage only four hits off Corbin, six total in the game against four Arizona pitchers. Corbin, having a mirror season to Hamels, is 5-0 with a 1.75 ERA in his first seven starts. Heath Bell closed it out for his fourth save -- three in the last three games since replacing injured closer J.J. Putz. And as was typical of the evening, Philadelphia left the tying run stranded with one out in the ninth inning after Domonic Brown doubled.
It was more frustration for Hamels, and even more for Charlie Manuel, who set the all-time franchise record by managing his 1,332nd game for the Phillies. His club's offense has been inconsistent at best, Manuel said.
"Just watch us play every day," he said. "We just have inconsistent hitters. That's all you can say about it."
About watching Hamels take another tough loss, he added: "It's disappointing that Cole can hold a team to two runs and not win the game. That's tough for us because we need to win some of his games. I'm getting kind of tired of having to tell him to just keep your head up and keep it going."
Barry M. Bloom is a national reporter for MLB.com and writes an MLBlog, Boomskie on Baseball. Follow@boomskie on Twitter. This story was not subject to the approval of Major League Baseball or its clubs.