Homers back Guthrie in win vs. former team
Gordon, Hosmer, Moustakas go deep to extend pitcher's win streak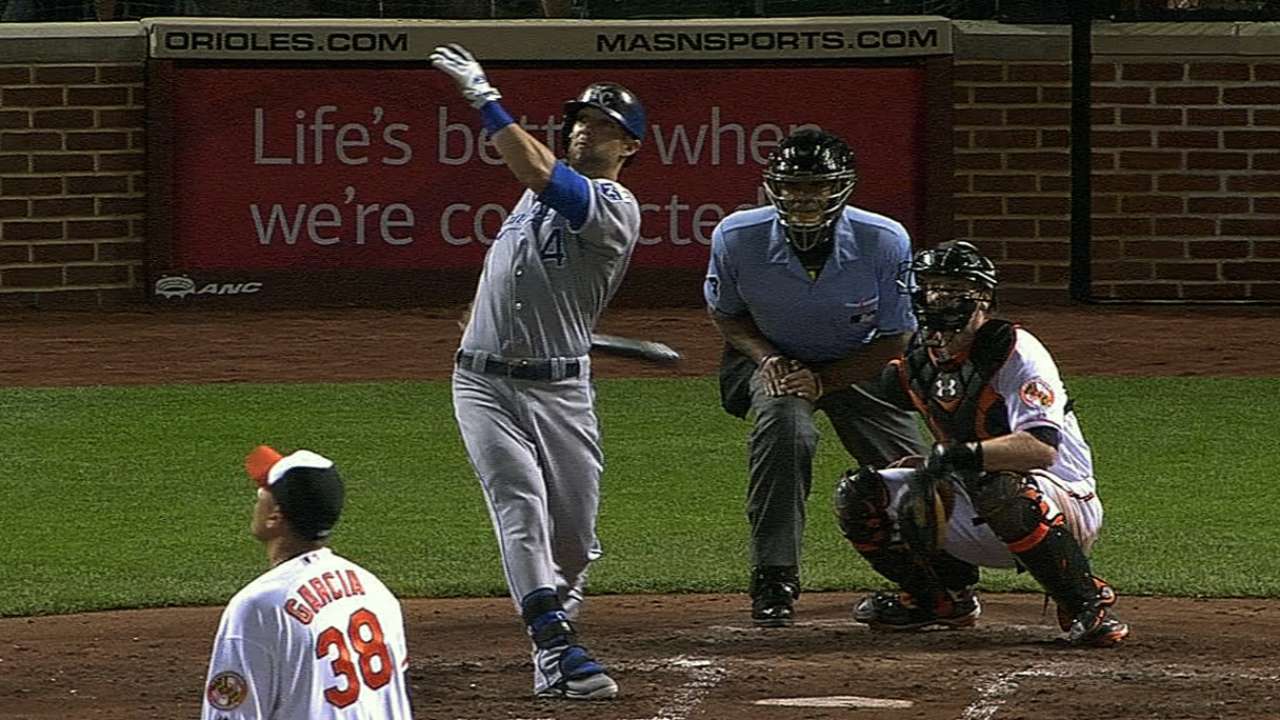 BALTIMORE -- Jeremy Guthrie kept his streak rolling and, while he was at it, pulled the Royals out of their little skid.
Guthrie worked six innings for the victory in Kansas City's 6-2 win over the Baltimore Orioles on Thursday night at Camden Yards. It was his 18th straight start without a loss, extending his club record. During the two-year streak, Guthrie is 10-0, making him the first Royals pitcher to win 10 straight decisions since Rich Gale in 1980, according to the Elias Sports Bureau. The Royals are 16-2 during the stretch.
The Royals on Thursday got two-run homers from Alex Gordon and Eric Hosmer and a solo shot from Mike Moustakas.
They not only ended the Orioles' four-game winning streak, they snapped out of their own three-game swoon, and Guthrie played stopper.
"That's the nice thing," Guthrie said. "We've got five guys we're confident with, starting pitching-wise. They can win every single day. We have that confidence. Unfortunately, it didn't work out the last three games, but today we had a total team win to be able to snap that."
Many of the 23,282 fans probably knew Guthrie well. He had pitched five years for the Orioles, 2007-11. This was the first time he had pitched against the O's, but he wasn't thinking much about that.
"I think someone else put it this way: We've turned the page," Guthrie said.
Thursday's outing began somewhat ominously when Guthrie's streak of consecutive scoreless innings ended at 17 2/3 with the Orioles' unearned run in the second inning.
Adam Jones was safe on shortstop Alcides Escobar's throwing error and eventually scored on J.J. Hardy's single. The other Orioles run came on Chris Davis' leadoff home run in the fourth.
Everything else, though, was all Royals.
Gordon, shifted to the third spot in the Royals' batting order for the first time this season, ignited a power explosion in the fourth inning.
Orioles starter Freddy Garcia had retired the first 10 batters he faced before Lorenzo Cain beat out a bouncer down the third-base line for a single. Up came Gordon, whose drive cleared the fans lining Eutaw Street in right field for a two-run homer. He homered in all three games of the series, marking the first time in his career that he went the distance in three straight games.
"This is a fun place to hit, for sure," Gordon said. "It's a little different than Kauffman so just try to take advantage of it. I'm not trying to hit home runs, just really trying to drive the ball, and that's what happened. Got some good pitches to hit and didn't miss 'em."
That must have inspired Hosmer, who had not homered in any game this season. In fact, his last blast came Sept. 11 in Minnesota -- 144 at-bats ago.
"Gordy got us going with that big swing," Hosmer said. "He's our leader, and we feed off of him."
So after Billy Butler singled, Hosmer crashed a Garcia pitch into the left-field seats, and the Royals were ahead, 4-1.
"He's been smoking to left field, which is great to see -- and just hitting it right at 'em," Gordon said. "So he figured it out and hit it over their heads. He's been swinging the bat great, and so has Moose."
Moustakas got the Royals their third home run of the night as the first batter to face left-hander T.J. McFarland, opening the seventh with a drive that soared into the yellow wire mesh on the right-field foul pole. It was his third homer in his last eight games.
"I'm seeing the ball better, not trying to do too much, just sticking with a good approach," Moustakas said. "Just getting back to how I used to hit -- calm, relaxed, seeing the ball and hitting it. Not trying to do anything too crazy."
The Royals' sixth run came in the eighth as Gordon singled, advanced on a groundout and scored on Salvador Perez's two-out looper to right.
Guthrie, in his six innings, gave up seven hits and three walks but kept the Royals in the game.
"It was all right. I executed some pitches, made a couple mistakes -- the home run was a big mistake," Guthrie said. "But our offense did what we've been doing all year when I've been out there. Score big runs, tack on a couple of extra ones."
Orioles catcher Matt Wieters got two hits off his old batterymate.
"Same guy," Wieters said. "He's got great stuff and can mix in four pitches. It was a little different seeing him from the box as opposed to behind the plate, but still the same guy as when he was here."
Guthrie upped his record to 5-0 and lowered his ERA to 2.28 in seven starts this year.
"He pitched well enough for them to win tonight," O's manager Buck Showalter said. "He gave them six innings. We thought he might continue, but I guess not."
Not necessary, because Royals relievers Aaron Crow, Kelvin Herrera and Luke Hochevar each reeled off a scoreless inning.
"The bullpen looked dynamite," manager Ned Yost said.
Dick Kaegel is a reporter for MLB.com. This story was not subject to the approval of Major League Baseball or its clubs.