Aggressive Baxter hits another walk-off winner
Queens native provides clutch pinch-hit for second time in three games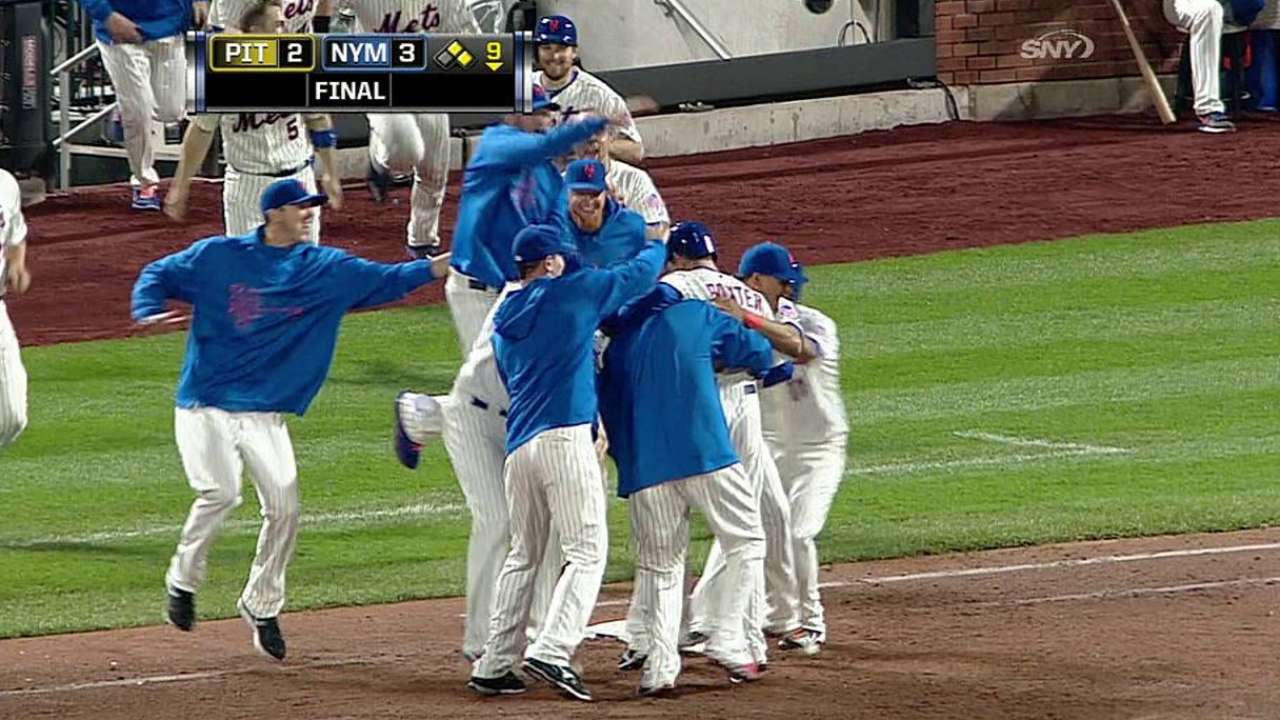 NEW YORK -- A significant reason why Mike Baxter has endeared himself to the Mets is his patience. Baxter often works walks, rarely swings at pitches out of the zone and has become a quiet example of general manager Sandy Alderson's on-base philosophy. When Baxter walked five times in a game last season, Alderson congratulated him personally.
But Baxter's main job with the Mets is that of a pinch-hitter, a role in which he does not believe patience always fits. Aggression, Baxter has learned, tends to pay more late-game dividends.
With that in mind, Baxter approached home plate with a hostile mindset in the ninth inning Thursday, two days removed from a walk-off single against the White Sox. Swinging at the first two pitches, he converted yet again, singling to send the Mets to a 3-2, walk-off win against the Pirates at Citi Field.
"Talking to the players that we've had in the past that have had a lot of experience pinch-hitting … I think the consensus among them is you've got to be a little more aggressive," Baxter said. "You've been idle all game. You don't have that rhythm of the game. So if you get a pitch in the zone, especially a fastball that you're looking for, you should probably go ahead and try to get your timing on that first one."
The Mets considered asking Baxter to hit in the eighth inning, after David Wright hit a one-out single. But when John Buck was unable to advance Wright into scoring position, manager Terry Collins called Baxter back from the on-deck circle and proceeded with Lucas Duda, whom he considered more likely to shoot a ball into the gap.
An inning later, Marlon Byrd led off with an infield single against Pirates closer Jason Grilli. This time, the Mets sacrificed the potential winning run into scoring position, bringing their secret weapon off the bench.
Baxter fouled back Grilli's first pitch, a fastball high in the zone. The second was a much more hittable heater, and Baxter redirected it into center field for his second walk-off hit in three days.
"You tip your hat," Grilli said. "Some nights you make good pitches, some nights you don't. Big league hitters and players make plays. That's what happens sometimes."
Baxter previously hit a walk-off Tuesday at Citi Field, pinning a happy ending on Matt Harvey's near-perfect game. His latest hit marked the third straight home game in which the Mets have walked off winners, counting Jordany Valdespin's grand slam against the Dodgers to end their last homestand.
"Very enjoyable," Baxter said. "It's a good feeling and a couple good wins."
In Baxter's mind, a significant amount of credit went to the man he pinch-hit for, center fielder Juan Lagares. With Bobby Parnell in danger of coughing up a go-ahead run for the Pirates in the top of the ninth, Lagares ranged back on a rocket that Andrew McCutchen hit to the warning track. The rookie timed his leap and snared the ball to rob McCutchen of a certain extra-base hit -- possibly of a home run -- ending the inning with a man on base.
"I just said, 'I've got to go hard, because that at-bat right there can be the game,'" Lagares said. "I got a good jump and I got the ball."
He and Baxter made a winner out of closer Bobby Parnell, whose bizarre season now includes more wins (four) than saves (three).
It also made for a thankful starting pitcher. Dillon Gee worked on a scoreless outing until the sixth inning, when two singles and a hit batsman loaded the bases with no outs. That led Gee to the dugout, where he watched nervously as Brandon Lyon induced a shallow sacrifice fly, a popup and a groundout, limiting the damage to one game-tying run.
The Mets and Pirates traded runs in the later innings on Ike Davis' double and Pedro Alvarez's homer, while the Mets bemoaned their inability to do much damage against Pittsburgh starter Jeff Locke.
Then it was time for Baxter.
Already well-known both for his Queens roots and his historic catch during Johan Santana's no-hitter last June, Baxter added to his legend Tuesday against the White Sox. Collins, meanwhile, has learned to pigeonhole Baxter into a distinct role. Should any late-game situation require a home run or extra-base hit, Collins typically turns to Valdespin, who has built an impressive pinch-hitting resume of his own.
But if a base hit is all he requires, the manager calls for Baxter. And Baxter knows what to do. Spending the past few seasons soaking up advice from pinch-hitting aficionados, such as former teammate Scott Hairston and third-base coach Tim Teufel, he has carved his own sizeable niche into the home dugout bench.
"This guy comes off the bench with a plan, with something in his mind, and he executes it," Collins said. "It's truly amazing, because that is one tough job. And for a young guy to do it as well as he does, it is truly remarkable."
Anthony DiComo is a reporter for MLB.com. Follow him on Twitter @AnthonyDicomo. This story was not subject to the approval of Major League Baseball or its clubs.