Mets rob McCutchen before Grilli allows walk-off
Closer enters tied game in ninth after Cutch nearly delivers lead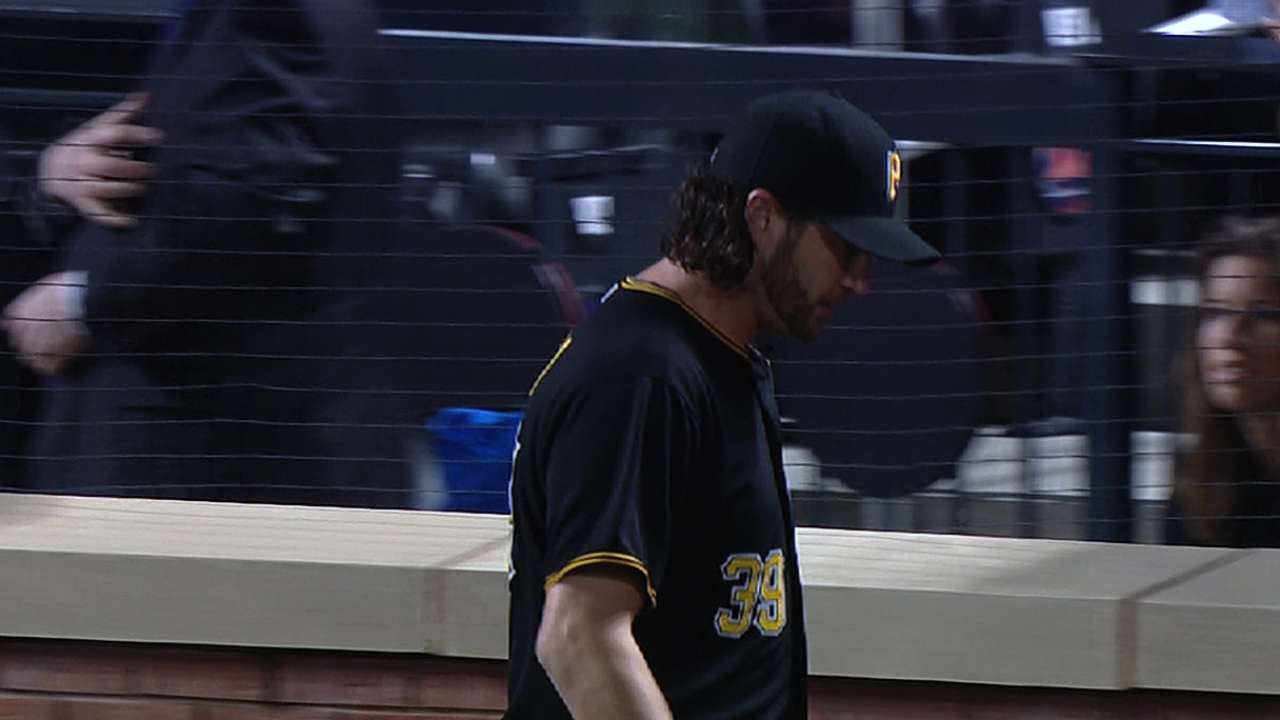 NEW YORK -- It happens, so say the T-shirts and license-plate frames that exist in a world that sometimes prefers four-letter nouns to less-offensive pronouns. It happens; happens to the best of 'em, happens to the worst of 'em, though no one fusses about those latter incidents. And it happens to the Pirates every so often. The best teams lose 60 times in a baseball season -- because it happens. And the Pirates aren't one of the best yet.
So it was in a 3-2 Thursday-evening loss in a place this city calls Citi Field and the Pirates call the Temple of Doom. They were on the threshold of a taut, but tidy, victory. All that was needed was the bolt from the bat of Andrew McCutchen to fall at the base of the wall in right-center field, or better, smash into the wall and bounce away from the Mets' center fielder, Juan Lagares. Then three more outs -- Jason Grilli outs -- and the Pirates could bus it to midtown and enjoy what Manhattan offers at midnight for 20-somethings.
But ... it happens. And in the ninth inning, as McCutchen was sprinting on the bases, a hero's helmet almost on his head, another center fielder, one less renowned than he, intercepted the Pirates' potential victory. All the good stuff ended there for them. It ended as abruptly as if McCutchen had been stopped and dragged down by his hair.
A half-inning later, the Mets had their hero certified. Mike Baxter singled through the middle, Marlon Byrd scored from second base, Grilli walked off the mound a losing pitcher, and the Mets' win was completed. All that was missing for the Bucs was a license-plate frame.
Citi Field has been less than hospitable to them. They have played at the Mets' new home on 16 occasions during the four-plus seasons since Shea Stadium was razed. They have lost 13 times.
Though Clint Hurdle has managed the Pirates for merely two seasons and 34 games on the current baseball calendar, he is quite familiar with the scourge of the Citi.
"Every team I've managed here [against New York] has been challenged," he said, and that was before Lagares, a rookie center fielder, swiped the halo from McCutchen, and before Grilli proved vincible for the first time in 2013.
Hurdle's postmortems suggested a similar take.
"It's hard to win here," he said.
The Mets' home record is 9-9 now, but the Pirates have played one game in Queens. So who can dispute the manager's assessment?
He knows well the value of tact. Hurdle routinely speaks respectfully of opposing teams, lest he offend. So when he says, "We have to win the games we're supposed to win," as he did say in the afternoon, his words reflect the game in play, not the quality of the opponent. What he meant was that a hunt-and-peck team like his Pirates must win games it's in position to win.
"We were almost in position," he said, "but we were never ahead."
Almost ahead, but never.
The Pirates trailed, 2-1, until Pedro Alvarez hit his sixth home run with one out in the eighth against veteran reliever LaTroy Hawkins. They might have scored in the seventh, when they had Jose Tabata on second base with one out against reliever Brandon Lyon. But Tabata still remained on second when the inning ended, a development that assured starter Jeff Locke of his third no-decision in seven starts.
And then there was the ninth, with Lagares doing to McCutchen what McCutchen often does to others. Hurdle noted the Mets' no-doubles defense, the proper alignment with a man, Jordy Mercer, on first. But what McCutchen had in mind could have thwarted any defense if Lagares were half a step slower.
"Good catch," Hurdle said, "Exciting game."
Indeed, the Pirates' fourth loss in five games -- three by one run -- was a well-played, one-run-at-a-time affair that had so many old National League attributes. Three sacrifice bunts, two sacrifice flies. Where were Mazeroski and Ashburn and Ebbets Field?
It also featured native New Yorker Alvarez's game-tying homer in the eighth after he drove in the Pirates' first run in the sixth with a sacrifice fly.
The Mets had scored against Locke in the second and against left-handed reliever Tony Watson in the seventh. The critical hit in the latter inning was a booming, two-out double to the warning track by Ike Davis, a left-handed hitter in a slump as deep as his drive.
Locke, who retired the final nine batters he faced, surrendered three hits -- all singles and all in the second inning -- and three walks in six innings. He struck out three. He has allowed one run or fewer in four starts, and his ERA is 2.95.
When Alvarez tied the score in the eighth, the Pirates seemed well-positioned. Mark Melancon handled the eighth and handed it off to Grilli, who entered the game with an 0.64 ERA, no decisions and 13 saves. But the closer, pitching with no chance of a save, allowed a leadoff single to Marlon Byrd, a sacrifice bunt and Baxter's second walk-off pinch-hit in three days.
"It happens," Grilli said. "I give up hits, I give up walks and I give up runs. But I'm a glass-half-full kind of guy."
He declined a T-shirt.
"It's not for me," he said.
Marty Noble is a reporter for MLB.com. This story was not subject to the approval of Major League Baseball or its clubs.