Vogelsong's troubles continue against Braves
Right-hander pulled during four-run fifth; season ERA to 7.78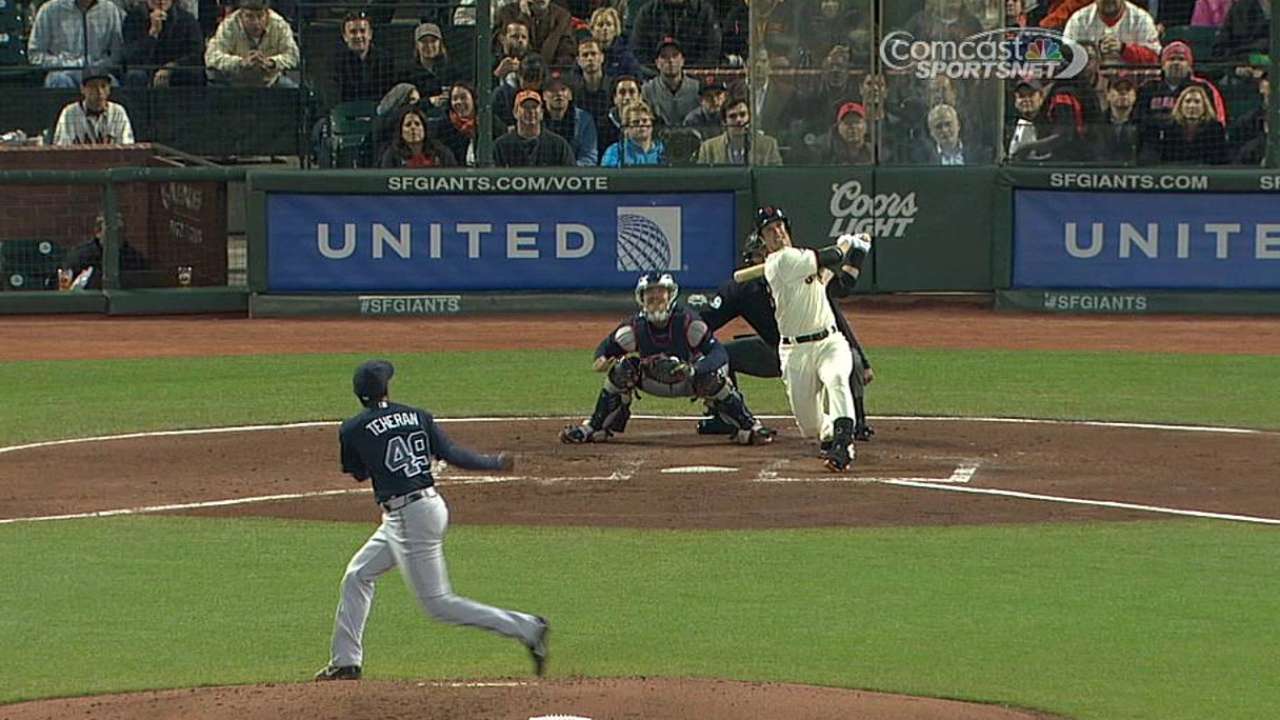 SAN FRANCISCO -- The Giants' 6-3 loss to the Atlanta Braves was the least of their problems Thursday night.
A more pressing issue was the continued ineffectiveness of Ryan Vogelsong, who has displayed mere glimpses of the form that entrenched him in San Francisco's starting rotation.
A 2011 National League All-Star who was the Giants' wins leader last postseason and Team USA's No. 2 starter in this spring's World Baseball Classic, Vogelsong allowed six runs and seven hits in 4 1/3 innings. His ERA climbed to 7.78 as his record fell to 1-3.
After striking out seven batters in four innings, Vogelsong crumbled during Atlanta's four-run fifth inning that erased San Francisco's 3-2 lead. Four of the five batters he faced reached base safely, including Jordan Schafer and Justin Upton, who ripped triples.
Buster Posey accounted for San Francisco's early edge with a two-out RBI single in the first inning and a two-run homer in the third. The Giants mustered little else against rookie right-hander Julio Teheran, who blanked them on two hits through the final four innings of his seven-inning effort.
Vogelsong endured a similar lapse in his previous start on Saturday, when he was charged with six runs in the fifth after entering the inning with a 6-1 cushion against Los Angeles. He insisted that there was no coincidence. Just faulty execution.
"I'm not making pitches when I need to. That's all it comes down to," he said. "... It just seems like lately when things start going bad, they hit the bad ones and the good ones and they find somewhere to go."
That matched Braves manager Fredi Gonzalez's version of events.
"That one inning was really the only thing we did against him," Gonzalez said. "We didn't miss any pitches."
Since Vogelsong recorded his lone quality start of the season on April 17 at Milwaukee, he has yielded 22 earned runs in 21 innings spanning four appearances. The right-hander's troubles have worsened in his last two outings, during which he has permitted 13 earned runs and 16 hits in nine innings.
Inevitably, Giants manager Bruce Bochy was asked whether Vogelsong will make his next start. Due to Monday's scheduled off-day, San Francisco conceivably could skip Vogelsong for a turn, enabling him to work on the side.
Bochy delivered a carefully worded response.
"These are things we'll talk about internally," he said. "Right now I'm not ready to discuss that. He's healthy. We have different options. I'll leave it at that."
Home runs have plagued Vogelsong, and Thursday was no exception as Brian McCann yanked a two-run, second-inning homer to open Atlanta's scoring. Otherwise, Vogelsong performed adequately overall and impressively at times before the Braves chased him. Vogelsong struck out the side in the first and fourth innings, coaxed a double-play grounder that thwarted a third-inning threat and held Atlanta hitless in three at-bats with runners in scoring position.
Vogelsong drew hope from his strikeout total, which matched a season high.
"They're good pitches. Obviously, you're not striking guys out if you're throwing bad pitches," Vogelsong said. " ... I feel really close. That's dangerous to say because if I have another bad one, then you're like, 'You said you were close.' But I feel closer to being where I need to be than further away, let's put it that way."
Such steadfast hope can be expected from Vogelsong, whose rise from reject to All-Star captivated fans. He bolstered his conviction by citing his arduous climb through professional baseball and his emergence from the isolated slumps he experienced with the Giants.
"I just need to fight through it, dude. It's a tough game sometimes and it'll beat you down," he said. "I've been here before and came out the other side and I'll come out again. ... I came through it after 13 years, I came through it after August of 2011, I came through it after August and September of 2012 and I'll come through it again this year."
Chris Haft is a reporter for MLB.com. This story was not subject to the approval of Major League Baseball or its clubs.