Scott's walk-off walk wins it for Rays
Price strikes out eight; Escobar ties it on solo homer in seventh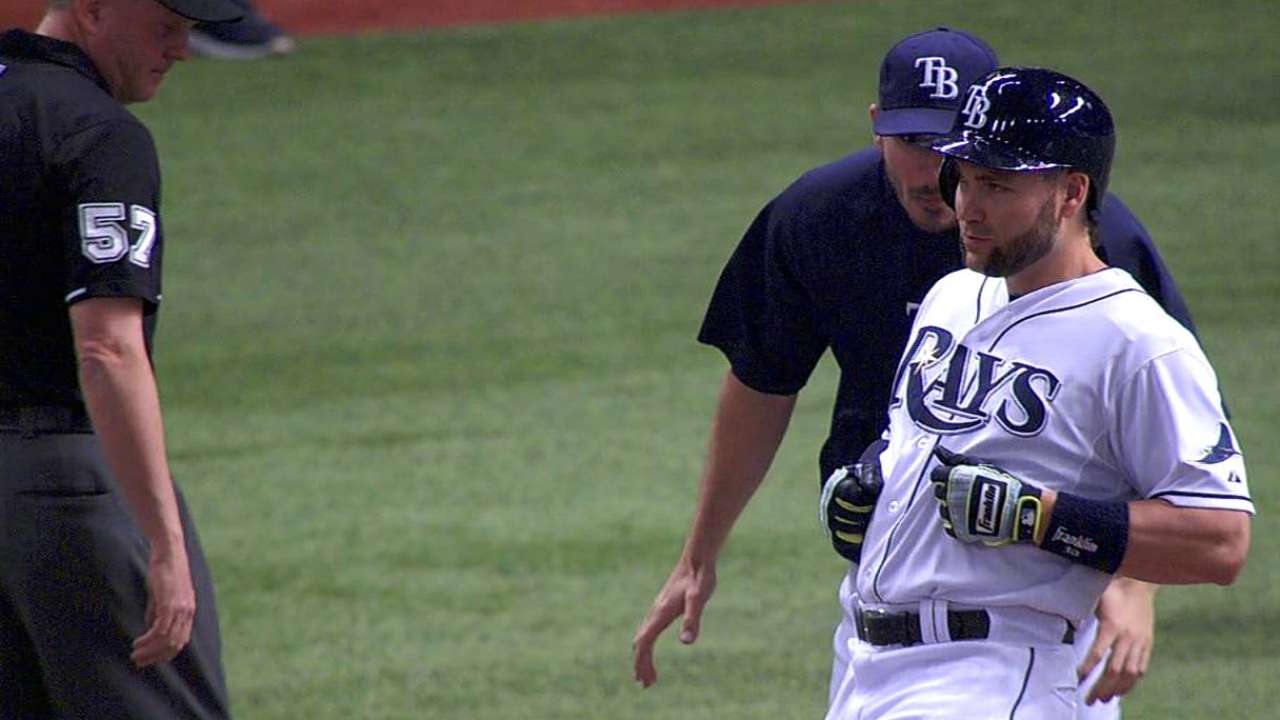 ST. PETERSBURG -- A walk proved to be as good as a hit Thursday night when Luke Scott drew one with the bases loaded in the 10th to give the Rays a 5-4 walk-off victory over the Blue Jays at Tropicana Field.
The Rays moved to 16-18 and split the four-game series with the Blue Jays after losing the first two.
Evan Longoria stepped to the plate with two outs in the 10th and the score tied at 4. Toronto pitching coach Pete Walker chose that moment to pay a mound visit to Aaron Loup. Predictably, Loup began to tip-toe around the strike zone and fell behind 2-0 to the cleanup hitter. Most everybody in the ballpark believed Longoria would see four balls and take his base. Instead, Longoria swung at the third pitch, driving a double to right-center field.
That brought James Loney to the plate and, rather than pitch to the American League's second-leading hitter (at .381) with the winning run in scoring position, Toronto manager John Gibbons elected to issue Loney a free pass. He took his chances with right-hander Brad Lincoln against right-handed-hitting Ryan Roberts, who drew a five-pitch walk to load the bases for Scott.
"Loney's been on fire," Gibbons said. "He's been one of the hottest hitters in the game the last month. Roberts is a guy we can get, but we walked him."
Scott fell behind 0-2, prompting him to reach back in his memory.
"Based on the way he's pitched me in the past, he's been soft breaking balls early, mix in a fastball and go back to a breaking ball," Scott said. "We were playing chess out there. His first few moves, he beat me."
After seeing two fastballs, Scott fouled off Lincoln's third pitch, a curveball.
"I just had to go into battle mode and fight off a tough breaking ball," Scott said.
Scott then watched four straight pitches pass that were out of the strike zone to draw the walk that forced home Longoria with the winning run.
"I was fortunate to work a walk," Scott said. "I was hoping to get something out over the plate. I can throw it out in the outfield and do some damage."
Scott, who checked his swing on the final pitch, instantly recognized that Lincoln's fifth offering after the 0-2 count would be a ball.
"I saw it the whole way," Scott said. "I was getting ready for a fastball. He kind of came around it, buried it in there, it was a ball right out of his hand."
Given the disappointing fashion in which the Rays blew leads of 7-0 and 4-1 to lose the first two games of the series, claiming the final two meant a lot to them.
"I'm really impressed with our guys after those two losses to come back and win two games like we did under those circumstances," Rays manager Joe Maddon said. "That's where I really want to give our players credit. Horrible losses, very difficult losses, but we bounced back and we didn't let it carry over. That to me is the sign of a really good team."
Other good signs for the Rays came in the performances of David Price and Fernando Rodney.
Price limped into the contest, including a loss in his previous start Saturday in Colorado. However, this start had a regal feel since Price, the reigning American League Cy Young Award winner, squared off against R.A. Dickey, who won the National League Cy Young Award in 2012 while pitching for the Mets. The much-anticipated matchup was only the third time that the previous year's Cy Young Award winners met the next season.
Price allowed two earned runs on seven hits and one walk with eight strikeouts in eight innings.
"I thought that was his best stuff all season," Maddon said. "He pitched really well. I thought he had everything going. His fastball, I thought looked really good, and the other stuff off the fastball was very good also."
Meanwhile, Rodney pitched a scoreless ninth, hitting 100 mph in the process. He too triggered memories of his brilliant 2012 campaign.
"He hit 100 twice, and that gun seems to be very accurate," Maddon said. "You don't see inflated numbers on our gun, and [Rodney had] a really good changeup working off that."
Longoria went 3-for-5 with an RBI and two doubles, Loney drew three walks and Ben Zobrist had a big triple and scored on a passed ball in the third. But Yunel Escobar had the Rays' biggest hit of the night, as he hit a solo home run to center field in the seventh that tied the score at 4. Kyle Farnsworth improved to 2-0 after pitching a perfect 10th.
In claiming the win by virtue of a walk-off walk, the Rays became the first Major League team to do so this season, and it gave the Rays their fourth walk-off walk in team history.
A walk-off walk is "nothing like a walk-off homer, that's as good as it gets," Scott said. "But a walk-off walk is the same result. The Rays win and that's what's most important."
Bill Chastain is a reporter for MLB.com. This story was not subject to the approval of Major League Baseball or its clubs.