Following controversy, Halos rally past Astros
Pitching changes leads to protest, which gets rescinded following win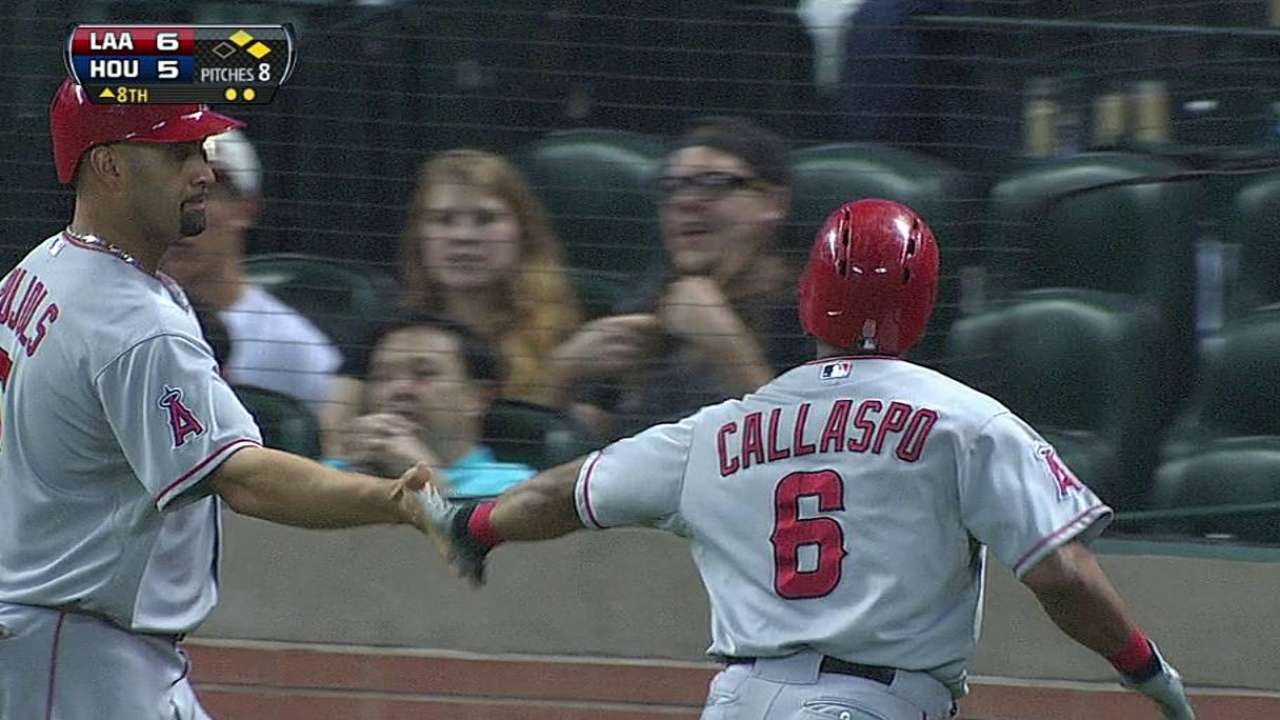 HOUSTON -- In a wild game that featured a controversial call by crew chief Fieldin Culbreth, an official protest by manager Mike Scioscia, injuries to shortstop Erick Aybar and reliever Scott Downs and plenty of back-and-forth, the Angels avoided a sweep against the last-place Astros on Thursday night.
Trailing by two in the top of the eighth, Mark Trumbo hit a two-run double and Alberto Callaspo added a sacrifice fly, giving the Angels a 6-5 lead that Ernesto Frieri was somehow able to hold with another five-out save.
The Angels, who came in having lost four in a row and 11 of their last 14, are now 12-22.
"It's a great character game for our guys," Scioscia said just before his team traveled to Chicago for a series against the White Sox without scheduled Friday starter Tommy Hanson, who continues to deal with family issues.
"I feel good for them and the clubhouse feels good, just to bounce back and get some key outs at the end."
Rule 3.05(b)
If the pitcher is replaced, the substitute pitcher shall pitch to the batter then at bat, or any substitute batter, until such batter is put out or reaches first base, or until the offensive team is put out, unless the substitute pitcher sustains injury or illness which, in the umpire-in-chief's judgment, incapacitates him for further play as a pitcher.
Jason Vargas, who gave the Angels their last victory with a shutout of the Orioles on Friday, was charged with five runs on 10 hits in 5 2/3 innings, surrendering an initial lead on a two-out, two-run single by third baseman Matt Dominguez in the sixth.
Trailing, 5-3, in the top of the eight against reliever Hector Ambriz, the Angels loaded the bases with none out. Trumbo, who has reached base in 33 of the Angels' first 34 games this season, flared a blooper just over the glove of first baseman Chris Carter and into shallow right field to plate two runs and tie the game.
Three batters later, after an intentional walk to Howie Kendrick, Callaspo hit a fly ball deep into the left-center-field gap that Brandon Barnes made a nice sliding catch on but nonetheless brought in the go-ahead run.
"That was a draining game," Trumbo said of the four-hour and seven-minute series finale. "You battle that hard, you'd like to come out with a win, especially going into a new series. This is what we're going to have to do. They're not going to be easy, and if this is indicative of what we have to do, then we have to do it."
Downs put the first two batters on in the bottom of the eighth, but he then exited after injuring his right foot while fielding a sacrifice bunt. Despite coming in with runners on second and third and one out, Frieri struck out Dominguez, got pinch-hitter Carlos Pena to ground out on a comebacker and then retired the side in the ninth, notching a save that closely resembled what he did in Oakland on May 1.
"You have to be ready for anything," said Frieri, who hadn't pitched in four days because save situations have been few and far between. "If that's what we need to do to win some games, I'm in. I'm able every time. Hopefully we start doing the little things a little better."
This was not one of those nights, though.
The Angels won despite leaving 16 runners on base and going 1-for-13 with runners in scoring position. The Astros committed three errors and starter Lucas Harrell walked five batters in the first three innings, but the Halos got only two runs on a solo homer by Josh Hamilton -- his second in as many days and fourth on the year, with all coming against the Astros -- and the first of two sac flies by Callaspo. Brendan Harris, who checked in at shortstop after Aybar suffered tightness in his right hamstring in the fourth, added a solo homer in the sixth.
With two on, two outs and the Angels trailing, 5-3, in the top of the seventh, Astros manager Bo Porter subbed right-hander Paul Clemens with lefty Wesley Wright, with left-handed hitter J.B. Shuck due to bat.
After Wright threw his warm-up pitches and Porter saw the right-handed-hitting Luis Jimenez on deck to pinch-hit, Porter made another pitching change, going to righty Ambriz before Wright faced a hitter, which isn't allowed unless there's an injury. At that point, a furious Scioscia informed the umpires that the Angels would play the rest of the game under protest.
"I think the rule's pretty clear," Scioscia said.
Porter had a different understanding.
"Technically, Wesley came in to pitch the batter that was scheduled to hit, but he pinch-hit for the batter that was scheduled to hit -- which, from my understanding of the rule, you can bring in another pitcher to face the pinch-hitter," said Porter.
That, however, isn't really mentioned in the rule book, and Culbreth didn't comment postgame, only saying that "all matters concerning protests are handled through the league office."
The Angels' win spared the umpires of defensive attention one night after the replay controversy in Cleveland -- and it avoided what would've been a crippling sweep.
"We needed it," Frieri said. "We needed it really bad. We're going to have a happy flight now."
Alden Gonzalez is a reporter for MLB.com. Read his blog, Gonzo and "The Show", and follow him on Twitter @Alden_Gonzalez. This story was not subject to the approval of Major League Baseball or its clubs.