After wild seventh, Astros unable to sweep Halos
Following pitching change controversy, Ambriz allows three runs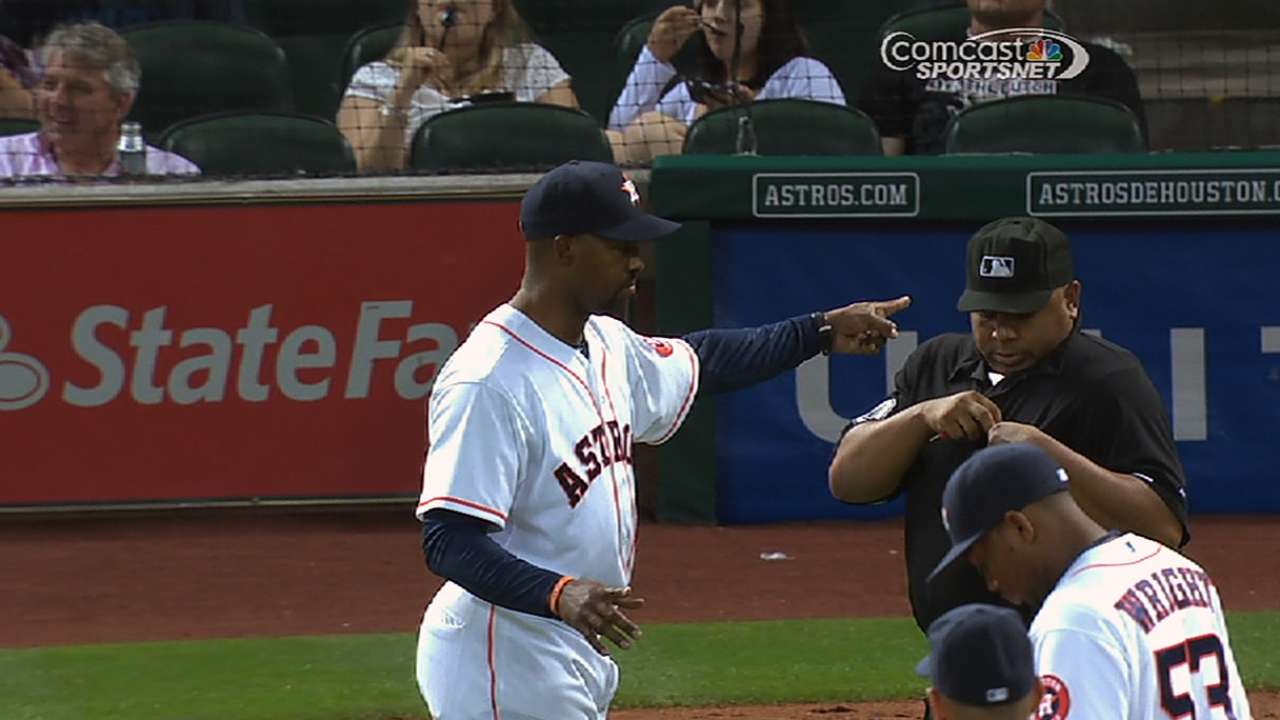 HOUSTON -- Angels manager Mike Scioscia argued and pleaded and eventually filed a protest to dispute the way Astros manager Bo Porter was allowed to handle a pitching change in the seventh inning Thursday, but all the fuss proved to be meaningless.
That's because the Angels rallied for three runs in the eighth inning off relief pitcher Hector Ambriz, including a two-run double by Mark Trumbo that tied the game, to come from behind and beat the Astros, 6-5, at Minute Maid Park.
The Angels snapped a four-game losing streak and avoided being swept by the Astros.
"It's always good to win a series, but at the same time, we would have liked to have won tonight's ballgame," Porter said. "We felt like we were in position to win it, but they made a couple of more plays than we did and they walked away with the win."
Matt Dominguez, the sure-handed third baseman who made a career-high three errors in the game, tied a career high with three RBIs, including a two-run, two-out single with the bases loaded in the sixth inning that gave the Astros a 5-3 lead.
Then things got crazy.
With runners at first and third and two outs in the seventh, Porter brought in lefty Wesley Wright to face left-handed hitter J.B. Shuck. Porter then subbed in the right-handed Ambriz before Wright threw a pitch after he saw right-hander Luis Jimenez on deck to pinch-hit.
Rule 3.05 (b) says that a pitcher must face at least one hitter before he can come out of the game, unless he's injured. Wright wasn't injured, and Scioscia argued at length with the umpires before notifying them he was playing the game under protest.
"My contention was that the pitcher who came in had to face one batter," Scioscia said. "That's why I protested it, and we're happy we won."
Porter said he sat in a meeting last year with Nationals manager Davey Johnson that laid out the rule.
"If you have to pinch-hit for that batter, you now have the right to bring in another pitcher," said Porter, who was Washington's third-base coach last season. "Technically, Wesley came in to pitch the batter that was scheduled to hit, but he pinch-hit for the batter that was scheduled to hit -- which, from my understanding of the rule, you can bring in another pitcher to face the pinch-hitter."
Porter said he stopped to talk to the umpires to make sure Jimenez was officially in the game.
"Once I made sure that he pinch-hit for the batter that was scheduled to hit, then I started towards the mound," he said. "The home-plate umpire, he kind of stopped me. He said, 'Whoa, Bo,' and then Scioscia started yelling he has to face a hitter.
"I just calmly explained to him my interpretation of the rule is, 'Yes he has to face hitter, as long as it's the hitter that's scheduled to hit.' The hitter that was scheduled to hit had now been pinch-hit for, which now gives me the right to bring a pitcher to face the pinch-hitter."
Ambriz retired Scott Cousins to end the inning, but he couldn't record an out in the eighth. Brendan Harris singled, Mike Trout and Albert Pujols walked before Trumbo doubled to right field to tie the game. Alberto Callaspo drove in the winning run three batters later with a sacrifice fly on a slick sliding catch on the track by center fielder Brandon Barnes.
"He's been tremendous all year and tonight was definitely uncharacteristic of the success of which he's had in those situations, and it was costly for us tonight," Porter said of Ambriz (0-2).
Houston starter Lucas Harrell got a no-decision, though he left the game with a 3-2 lead. He battled control problems from the start and walked six batters and allowed four hits and two runs (one earned) in five innings of work.
"The first three innings I was pretty bad," Harrell said. "Against a lineup like that, when you only give up two runs, you feel lucky a little bit."
Harrell said he and pitching coach Doug Brocail watched video from last season inside the tunnel after the third inning and discovered a flaw in Harrell's mechanics. Harrell retired six of the final nine batters he faced after the meeting.
"I felt like the last two innings I got back to what I was doing last year, and I think that's the last time you'll see a poor effort out of me where I don't get deep in the game and throw a lot of pitches and walk a lot of guys," Harrell said. "You won't see that anymore."
Second baseman Jose Altuve went 3-for-5 and made a terrific diving stop of a grounder with two outs and the bases loaded in the third to save a run. Jason Castro, Chris Carter, Ronny Cedeno and Dominguez had two hits apiece in Houston's 13-hit attack.
Brian McTaggart is a reporter for MLB.com and writes an MLBlog, Tag's Lines. Follow @brianmctaggart on Twitter. This story was not subject to the approval of Major League Baseball or its clubs.