Lackey's sixth-inning error proves costly in finale
Right-hander allows five runs -- just one earned -- with eight K's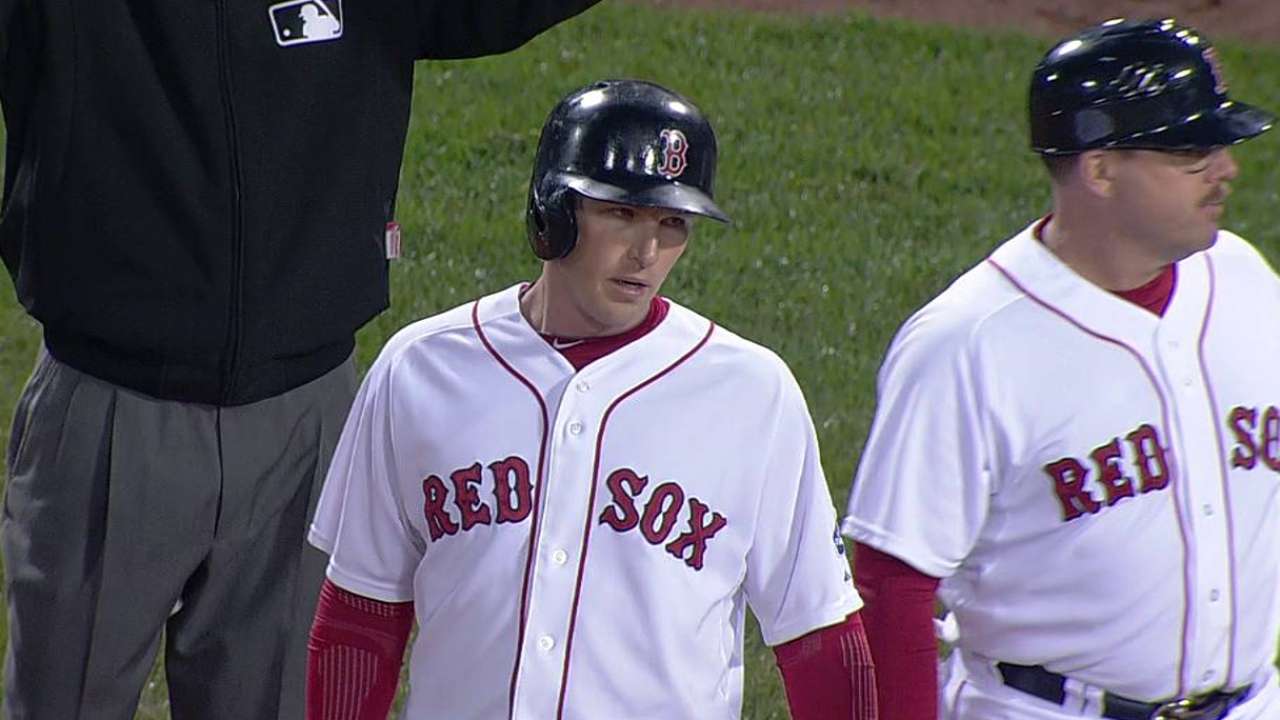 BOSTON -- At the point of contact, it looked like nothing more than a hard grounder back to the mound. John Lackey did the first part of his job, gloving it. Then he felt himself lose a bit of the grip on the ball.
Lackey was in fact about to lose his grip of the game, one in which the suddenly-reeling Red Sox would lose to the Twins, 5-3, on Thursday night at Fenway Park.
This was a night in which Lackey felt great about the way he threw the ball. Except, of course, that sixth-inning grounder off the bat of Trevor Plouffe that Lackey fielded and then threw into center field.
"I felt great throwing the baseball," said Lackey. "I pitched really well. Not real complicated. I've just got to make that one play and win the game."
Instead of an inning-ending double play, the Twins tied the game on that play.
"I just didn't make a good throw," Lackey said. "I didn't have a real good grip on it. I probably should have just re-set it and thrown it to first and taken an out. Yeah, that's all on me."
After Lackey's fielding miscue tied it, Ryan Doumit hit a fly ball to medium-depth in right field. Shane Victorino made a nice catch and then a perfect throw to the plate. But catcher David Ross barely missed the tag, and Justin Morneau slid in safely to put the Twins ahead.
"I mean, obviously, that's on me," said Ross. "That's a frustrating, frustrating play for me. I just missed it, plain and simple. No excuses on my end, it's just you know [it was a] great throw by Victorino. That play alone cost us three runs, the difference in the ballgame. So I'm a little upset with myself, to say the least."
Two batters later, Lackey gave up a two-run homer to Oswaldo Arcia.
It has been a frustrating few days for the Red Sox, who have lost six of their last seven to fall to 21-14 on the season. After getting swept in Texas, Boston lost three out of four at home to the Twins. The Blue Jays are set to come to Fenway for a three-game weekend series.
"I don't think anybody's worried about the last seven games," said Red Sox second baseman Dustin Pedroia. "We're just coming out playing that day hard and trying to win. It's the big leagues. Everybody's good. We're going to have to try to find a way to get that big hit or come up in a big situation and find a way to get it done. We'll do that."
The Sox had hopes of a comeback in the ninth. Trailing 5-3, Jacoby Ellsbury led off with a walk. But Victorino and Pedroia both struck out looking, and neither player was pleased by the call from home-plate umpire Lance Barksdale.
Pedroia's strikeout came on a 3-2 pitch, at the end of a nine-pitch at-bat against Glen Perkins.
"I felt like it wasn't [a strike]," Pedroia said. "I haven't seen the replay."
Early on, the story was Lackey. He seemed to have all his pitches going in his fourth start of the season.
In all, Lackey gave up six hits and five runs over seven innings, but just one of the runs was earned. He walked one and struck out eight.
"It's definitely no fun," Lackey said of the loss. "For most of the night, I felt really good. I was locating well and had good stuff and just one play kind of ruined it all."
In the big picture, however, Lackey's resurgence could bode well for the Red Sox.
"I feel really good. I'm not all the way there and it's progressing pretty nicely, so I'm excited about the pitching part of it moving forward, for sure," he said.
Boston did jump out first, rallying with two outs in the third. Victorino smacked a double to right and Pedroia followed with an RBI single up the middle, making it a 1-0 game. Stephen Drew added an RBI single to center in the fourth, and Lackey had a two-run lead.
Through the first four innings, Lackey was magnificent, allowing just two baserunners. The first sign of trouble came in the fifth, when Arcia drilled a one-out triple and Aaron Hicks smashed an RBI double, making it a one-run game.
The Twins grabbed the momentum in the sixth, and never gave it back.
As for the Red Sox, if there has been a common thread during this mini-rut, it's the offense coming up a little short.
"Well, I don't think anybody in our clubhouse expects to ever give at-bats away or give an appearance away when they come to the mound," said manager John Farrell. "We hit some balls hard tonight. We're going through a stretch right now where we're not really bunching our hits together. We're still playing a tough style or a tough brand of baseball. When we're in a good stretch, we've had the ability to bunch and mix together. That hasn't been the case here over this last week."
Ian Browne is a reporter for MLB.com. Read his blog, Brownie Points, and follow him on Twitter @IanMBrowne. This story was not subject to the approval of Major League Baseball or its clubs.