Arcia celebrates birthday with big homer vs. Red Sox
Correia contributes solid outing, allowing three runs in 5 1/3 frames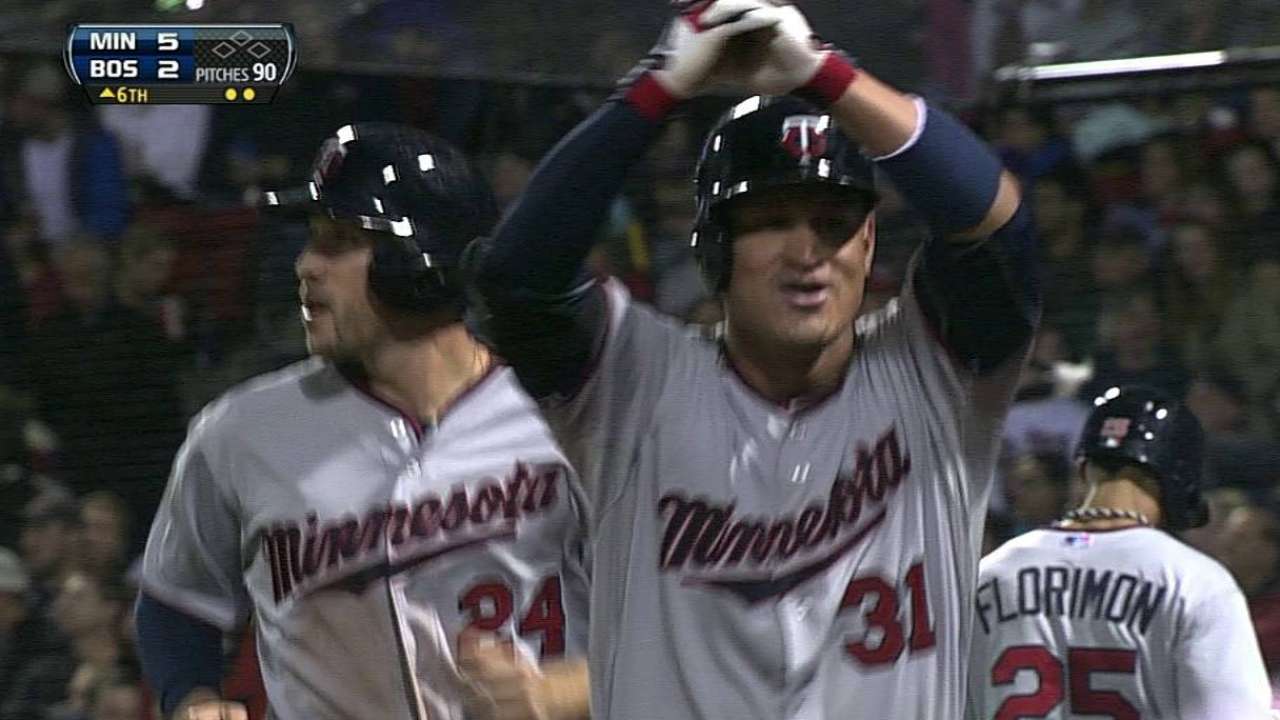 BOSTON -- It was quite the way to celebrate a birthday.
Rookie Oswaldo Arcia tripled and crushed a two-run homer on his 22nd birthday to lead the Twins to a 5-3 win over the Red Sox on Thursday night at Fenway Park.
The victory gave the Twins a series win against the Red Sox to mark the second straight season the club won three out of four at Fenway Park. Minnesota also went 5-5 on its 10-game road trip through Detroit, Cleveland and Boston and improved to 16-15 on the season.
"It's great to get the 'W' and hit a home run on my birthday," Arcia said through translator and Twins outfielder Wilkin Ramirez. "I'm happy right now. I don't know how to explain it, but I'm just happy."
Arcia, who had a career-high four hits in Wednesday's 15-8 win, was at it again Thursday night. The right fielder extended his career-high hit streak to seven games with his first career triple off Red Sox right-hander John Lackey in the fifth inning and came around to score on an RBI double from Aaron Hicks.
"He's a fun kid to watch with the bat," Twins manager Ron Gardenhire said. "Watching him come up here and swing the bat is a lot of fun."
Arcia crushed a two-run homer to right in his next at-bat to cap a four-run sixth inning for the Twins that was keyed by a throwing error from Lackey. Joe Mauer led off the inning with a single and Justin Morneau walked with one out before Trevor Plouffe hit into what should've been an inning-ending double play on a comebacker to Lackey.
But Lackey's throw went into center field to score Mauer and moved Morneau to third base. Ryan Doumit then hit a sacrifice fly to center field with Morneau barely beating the throw home from Shane Victorino. Arcia then made Lackey pay with a two-run homer on a first-pitch fastball for his third career homer.
"I felt great throwing the baseball," said Lackey, who gave up five runs (one earned) on six hits over seven innings with eight strikeouts. "I pitched really well. Not real complicated. I've just go to make that one play and win the game."
The offense backed right-hander Kevin Correia, who picked up his staff-leading fourth win by allowing three runs on nine hits over 5 1/3 innings.
The Red Sox opened the scoring with an RBI single from Dustin Pedroia in the third inning before adding another run in the fourth on an RBI single from Stephen Drew.
"I wasn't really in trouble, but I just gave up some two-out hits with a couple bad pitches at the wrong time," Correia said. "Against a team like that, I'll take it. They've been the hottest team in baseball pretty much."
After Minnesota rallied for four runs in the sixth, Boston scored on an RBI single from Daniel Nava with nobody out after Mike Napoli led off the frame with a double. Correia was able to get Will Middlebrooks to ground into a fielder's choice before being removed for left-hander Brian Duensing.
Duensing fared well, throwing 1 2/3 scoreless innings in relief of Correia. Jared Burton and Glen Perkins combined to preserve the victory with Perkins picking up his eighth save in as many chances. But it got dicey in the eighth, as Eduardo Escobar, who replaced Pedro Florimon at shortstop after he left with a tight right hamstring, made an error on what should've been an inning-ending double play. Burton, though, was able to get out of the inning with back-to-back strikeouts.
"Brian came in and did a super job and got some huge outs for us," Gardenhire said. "And then the guys at the end had some sticky situations, but got some big outs."
It was an impressive victory for the Twins in the final game of their 10-game road trip, as they were able to bounce back and win three straight against the Red Sox after dropping Monday's opener in 11 innings.
"It kind of shows what kind of ballclub we are," Duensing said. "We lost that first game in extras and it kind of took the wind out of our sails. But for us to come back and put up some runs and win the next three was real important and I think it shows a lot to us as a team."
Rhett Bollinger is a reporter for MLB.com. Read his blog, Bollinger Beat, and follow him on Twitter @RhettBollinger. This story was not subject to the approval of Major League Baseball or its clubs.