Tribe knocks three homers, Kazmir dazzles in sweep
Swish, Kipnis, Reynolds go deep as lefty strikes out 10 in six frames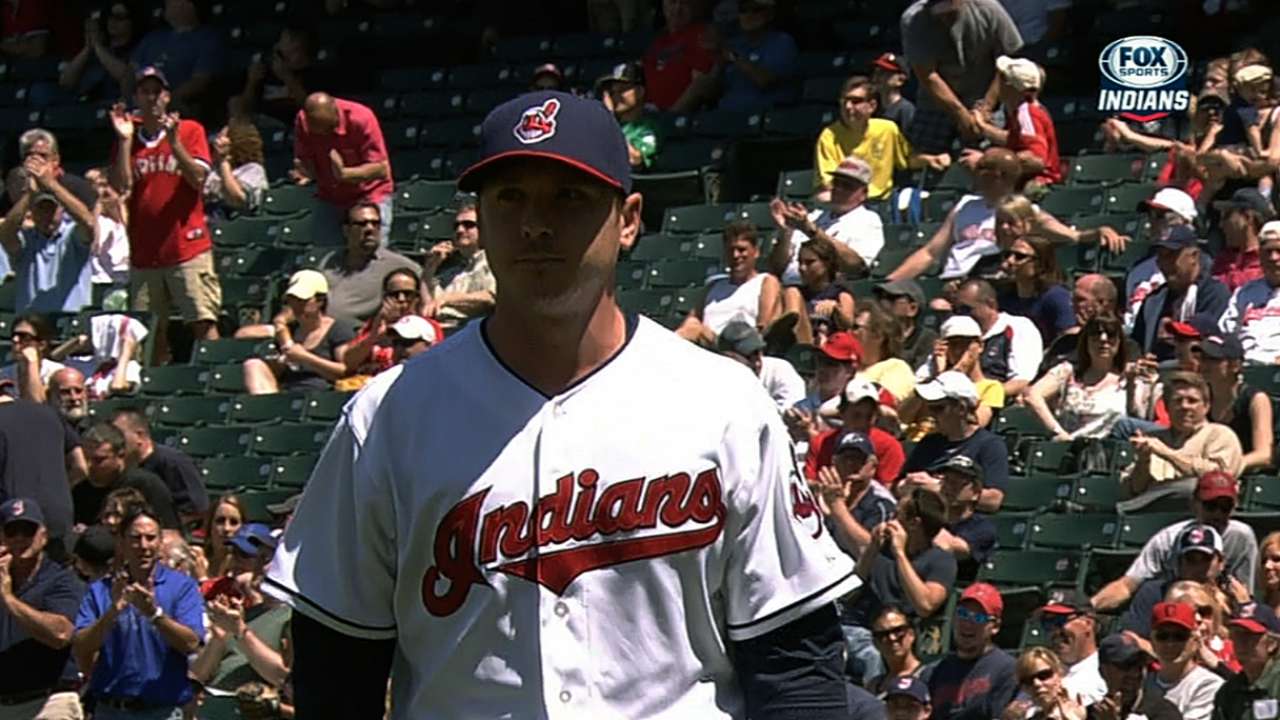 CLEVELAND -- There was no disputing the Indians' victory on Thursday afternoon.
One day after the home run review heard 'round the baseball world, Cleveland clubbed a trio of homers to cruise to a 9-2 rout over the A's at Progressive Field. The lopsided win supported a strong outing from left-hander Scott Kazmir, who struck out 10 hitters to help guide the Indians to their 10th win in the past 11 games.
"At the start of this series, we were clicking," Kazmir said. "We were on point and we didn't look back. We just kept attacking them every single game."
The rolling Tribe wrapped up its homestand with an 8-1 record and series wins over the Phillies, Twins and A's. It marks the first eight-win showing on a homestand for the Indians since the club picked up nine victories in a 10-game stretch in September of 2005. The Indians had not swept Oakland in a four-game set in Cleveland since July of 1995.
The Indians (18-14) claimed the four wins behind a string of solid pitching performances from their rotation, which combined for a 2.05 ERA in the series. Offensively, Cleveland outscored Oakland -- baseball's top-scoring club heading into its clash with the Tribe -- by a count of 21-8 during the brooming.
"We were just bad all the way around," A's manager Bob Melvin said. "We didn't play clean baseball games. At the very least, when you're not hitting and you're getting beat, you want to play clean games defensively, and we didn't do it. We just had a really bad series."
This strong stretch for the Indians comes at an opportune time, considering the team is off to Detroit for a weekend series against the American League Central-leading Tigers.
The Tribe is looking forward to its date with the reigning AL champions.
"We know it's a true test of where we stand," Indians second baseman Jason Kipnis said. "We're excited to finally see them this year. We definitely want to go up against them. We know they're the team to beat. We're playing well right now, so we have a bunch of confidence and momentum going in our favor. We're ready to see them."
Kazmir was steady on the mound, but it was the Indians' lineup that again stole the show.
Kipnis, Nick Swisher and Mark Reynolds each belted a home run, accounting for five of the Indians' runs. The trio of blasts upped Cleveland's Major League-leading total to 49 roundtrippers on the season. Reynolds' two-run blast off reliever Evan Scribner in the fifth gave the Indians first baseman an AL-high 11 homers on the year.
In the first inning, Kipnis sliced a 2-1 offering from A's starter Bartolo Colon deep to left field, where the ball just cleared the railing that sits atop the 19-foot wall. The two-run shot -- No. 4 on the season for the second baseman -- pushed Cleveland to a 2-0 lead and was knocked to the same section of the ballpark as the controversial hit in the ninth inning of Wednesday's 4-3 win over the A's.
With two outs in the final inning on Wednesday, Adam Rosales sent a pitch from Indians closer Chris Perez off the railing above the wall. The hit was deemed a double, and umpire Angel Hernandez confirmed that call after reviewing replays of Rosales' shot. Major League Baseball announced on Thursday that it was an "improper" ruling, but the play will stand, as it was a "judgment call."
There were no such controversies this time around.
"I was happy that it stayed up there and someone caught it," Kipnis said of his home run, "just to make sure there was no confusion about it."
Cleveland added three runs in the second inning -- Yan Gomes, Drew Stubbs and Kipnis each collected an RBI -- and Swisher contributed a solo home run off Colon in the third inning. Colon (3-2) took the loss after being charged with six runs on eight hits in an abbreviated four-inning outing.
Kazmir (2-1) sent the A's (18-18) to their 14th loss in 20 games with six solid innings for the Tribe. The left-hander allowed one run -- courtesy of a sixth-inning shot from Josh Donaldson -- on five hits, finishing with a season-high in strikeouts to go along with zero walks.
After surrendering the home run, Kazmir reached back and hit between 95-96 mph on the three pitches he used to strike out Luke Montz.
"Those were some angry throws right there," Kazmir said.
For Kazmir, it represented his first double-digit strikeout game since Aug. 26, 2009, when he pitched his final game for the Tampa Bay Rays. His outing against the A's marked his first with at least 10 strikeouts and no walks since May 26, 2008. Kazmir has won two straight starts since piecing together a four-game winning streak in June of 2010.
The pitcher's continued improvement has been a welcomed development for the Indians.
"I don't mean to get overly sentimental," Francona said, "but I just think he's kind of at peace where he's at and enjoying it."
Kazmir agreed with that assessment.
"I just feel comfortable, and I feel confident out there," Kazmir said. "And I feel like it's going to get better and better."
Jordan Bastian is a reporter for MLB.com. Read his blog, Major League Bastian, and follow him on Twitter @MLBastian. This story was not subject to the approval of Major League Baseball or its clubs.