Cano, bullpen steer Yankees to win and first place
Second baseman collects 1,500th hit before rain delay, goes deep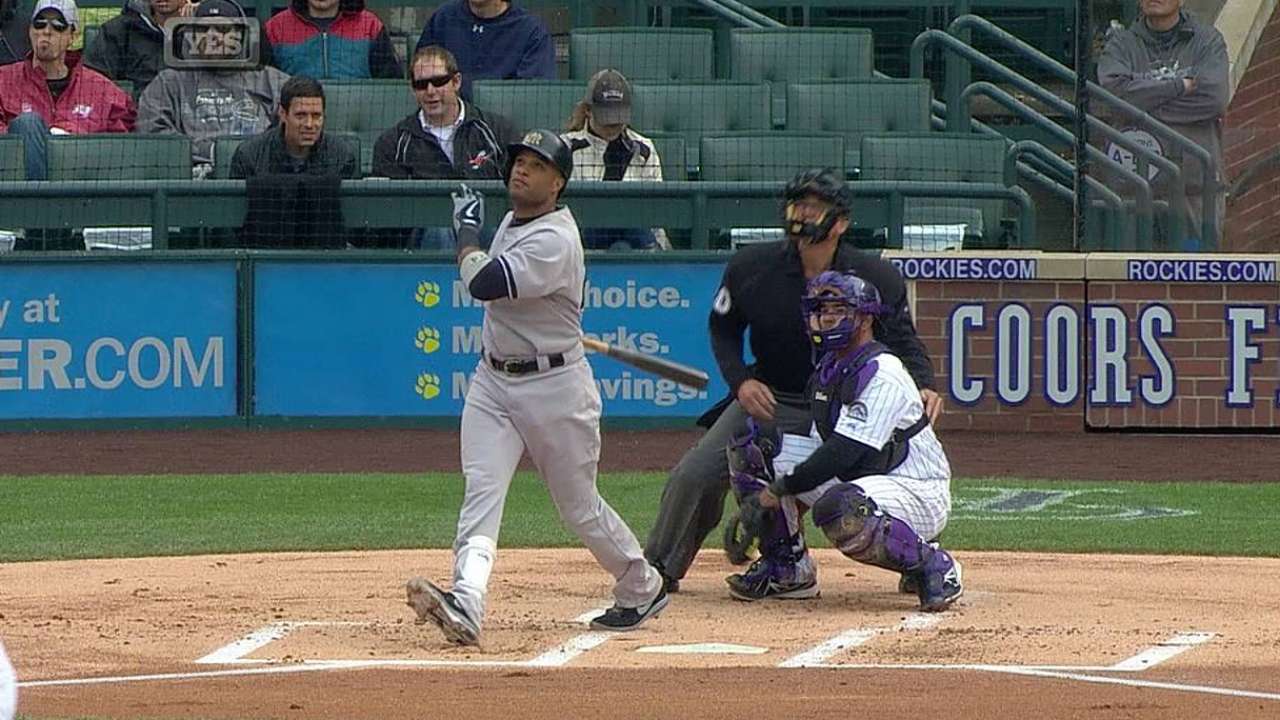 DENVER -- CC Sabathia was sailing along and had retired 11 straight Rockies batters through the fourth inning when the rain came Thursday.
Forced to go to his bullpen early because of a one-hour, 59-minute rain delay, Yankees manager Joe Girardi was able to call on Mariano Rivera in the ninth to nail down a 3-1 win over the Rockies in the rubber game of their low-scoring series, but not before a succession of huge efforts from Adam Warren, who won his first Major League decision, Boone Logan, Preston Claiborne and David Robertson to finish the seventh and pitch the eighth, the inning he typically works.
"Just a great job starting with Adam Warren," Girardi said. "Everyone contributing, some guys give us multiple outs, Boonie gave us one big out. They made some big pitches when they had to when [the Rockies] had a chance to tie the game, so I give them a lot of credit."
The win, combined with losses Thursday night by the Orioles and Red Sox, moved the Yankees into a three-way tie atop the AL East. New York's 20-13 record gives it a .606 winning percentage, slightly better than the .600 sported by Baltimore and Boston, who are each 21-14.
With so many frontline players on the disabled list, run production has become very iffy for the Yankees. Once again, their pitching sustained them as they finished a series at Coors Field, where the Yankees outscored the Rockies, 6-5. The Yankees went 3-for-16 with runners in scoring position in the series. By no means great, but it was good enough, considering the Rockies went 1-for-12, including five hitless at-bats in such situations Thursday.
"We just did a lot of little things right," Girardi said. "When we had opportunities to score, we did. There weren't a lot of runs scored in Colorado. I can't imagine people would have predicted that here. Three days here, and we won two close games."
The Yankees are 13-4 in games decided by one or two runs. Vernon Wells singled home a run in the first. Chris Stewart hit a sacrifice fly in the fourth. And Robinson Cano, whose infield single in the third was the 1,500th hit of his career, homered in the fifth off Adam Ottavino, the only hit he allowed in three innings. It was Cano's s ninth homer and the first earned run Ottavino allowed in eight games, dating back to April 9.
Cano had gone 0-for-8 in the first two games in the series and said he "was chasing everything and swinging at everything." He spent time in the batting cage with hitting coach Kevin Long and worked to "let the ball get deeper and hit my pitch."
Cano said reaching 1,500 hits "means a lot. It's one of the dreams come true. When you get to the big leagues, you want to be successful."
Rivera capped the bullpen's five scoreless innings by retiring three of four hitters in the ninth for his 13th save in as many chances. That is his second-longest streak of consecutive saves to begin a season. He converted his first 28 save opportunities in 2008.
Getting to Rivera, however, involved an all-hands-on-deck scenario in the bullpen. Warren worked 1 2/3 innings, retiring the first five batters he faced before issuing successive walks and giving way to Logan. He retired Carlos Gonzalez on a grounder to end the sixth.
Claiborne gave up a leadoff single in the seventh but got Nolan Arenado to bounce back to him and started a double play. After Claiborne yielded successive singles to Jordan Pacheco and Josh Rutledge, Robertston came on to face pinch-hitter Todd Helton, who struck out swinging on a curveball.
"I knew I had to make some quality pitches," Robertson said. "Helton's a good hitter. I knew if I made a mistake, he was likely to put it in the seats. He hit a home run [Wednesday]. So I just tried to stay away from him, not give him anything he could put a good swing on."
Robertson also ended the eighth with a big strikeout, getting Gonzalez with a runner on second base.
Sabathia breezed through four innings on 51 pitches and allowed one hit, a single by Troy Tulowitzki in the first that paved the way for Gonzalez's sacrifice fly. Sabathia then posted three 1-2-3 innings before the delay.
Asked if he was disappointed at not being able to continue pitching, Sabathia said, "I'm just disappointed I didn't get any more at-bats."
He struck out to end the second and the fourth and said, "I'm sure my son is going to be all over me."
Rockies starter Jeff Francis gave up two runs in four innings, which he completed with 64 pitches, including 39 strikes. The Yankees scored a run in the first on a broken-bat, two-out single by Wells that brought home Jayson Nix, who had walked.
Chris Nelson led off the fourth with a double, took third on Lyle Overbay's grounder to second and scored on Stewart's sacrifice fly.
"I executed some pitches," Francis said. "It's four innings, not really a long time to be able to judge. They did a good job manufacturing the run off the leadoff double in the fourth inning. Broken-bat single scores a run in the first. It's a good team. We expected more out of ourselves. We just have to make sure we do better."
Jack Etkin is a contributor to MLB.com. This story was not subject to the approval of Major League Baseball or its clubs.