Nats' fast start backs Haren in win over Tigers
Washington scores three in first, two in second in support of righty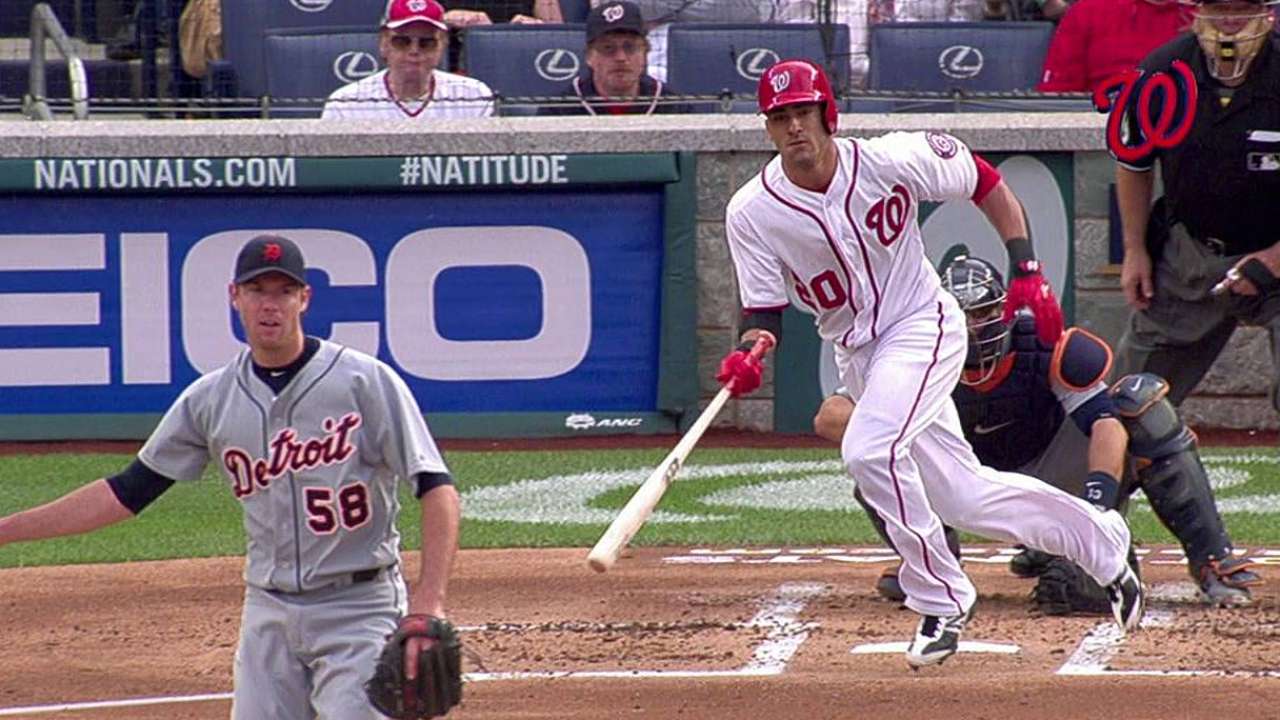 WASHINGTON -- The Nationals scored early and often, and it proved to be enough as they edged the Tigers, 5-4, at Nationals Park on Thursday afternoon. Washington swept the two-game series and is now on a four-game winning streak, improving its record to 19-15.
"I'm really happy with the team coming away with the two-game sweep against a club of that caliber. I think we are headed in the right direction," right-hander Dan Haren said. "We have come a long way within a week -- it seems like. We lose the first two games in Atlanta. No one was really feeling great. Jordan [Zimmermann] pitched a huge game that third day in Atlanta, and things have kind of turned since then."
The two-game series was considered a World Series preview between the Nationals and Tigers, and Washington showed how tough it could be. It played like that team that won the National League East title last year. It was about timely hitting, solid pitching and superb defense. Did the Nationals leave a message about how good they can be?
"I don't think we need to send a message. It's just nice to see us starting to get some timely hits," manager Davey Johnson said. "I've liked the progress we've kind of made. It was great to see [Ryan Zimmerman] swinging the bat really good. Adam LaRoche continues to swing the bat good. That's the big thing for me today."
Nats outfielder Denard Span said it's too early to make predictions about the two clubs.
"Our starters threw a little better than their starters," Span said. "No message at all. We are going to face them at their place in about a month or so. It was good to play a team like that and win."
The Nats entered Thursday's game with 11 first-inning runs, the fewest in the National League and third fewest in Major League Baseball, while Tigers right-hander Doug Fister had not allowed a first-inning run, and only four first-inning hits, over six starts.
That would change Thursday, as Washington scored three runs off Fister in the first inning. After Span led off with a double and Roger Bernadina reached base on a bunt single, Bryce Harper grounded into a fielder's choice, with Span scoring on the play to give the Nationals a 1-0 lead.
After Zimmerman singled to put runners on first and second, LaRoche singled to center fielder Austin Jackson, who allowed the ball to go past him for an error which allowed Harper to score.
Ian Desmond followed and singled to center field, scoring Zimmerman.
"It was probably his worst outing of the year," Tigers catcher Alex Avila said about Fister. "He's pitched really good for quite a while now. You have to give him credit, he battled. ... He was just leaving some stuff up and stayed over the middle of the plate today, didn't have as good command as he normally does."
Haren (4-3) started for the Nationals and said he wasn't at his best during the game. It didn't help that he was pitching on extra rest because of the off-day this past Monday and the rainout Tuesday.
"I was searching for it all game. I was able to wiggle myself through. It's funny how it works. I held the one through four hitters in check, and then the bottom of the lineup killed me," Haren said.
Haren pitched six innings, allowing four runs on nine hits. The Tigers scored their first run of the game in the second inning, when Fister singled to center field to score Jhonny Peralta.
The Nationals added to their lead in the bottom of the inning. Zimmerman and LaRoche had RBI singles to make it a four-run game.
But the Tigers would make it close in the sixth inning, when pinch-hitter Matt Tuiasosopo hit a three-run homer to make it a one-run game.
Nationals relievers Ryan Mattheus, Drew Storen and Rafael Soriano blanked Detroit the rest of the way, with Soriano picking up his 12th save, though it was not an easy one.
In the ninth, Soriano was able to get two quick outs, but Miguel Cabrera singled to right field, bringing up Prince Fielder.
On a 1-0 pitch, Fielder hammered the ball to deep left-center field, but Span managed to catch the ball in front of the wall to end the game.
"You never know with him," Span said about Fielder. "He can take a big swing every time. I kept inching back, inching back. Wow."
Johnson didn't think the ball was going out of the park once it was hit.
"I didn't think he got all of it," Johnson said. "The ball didn't seem to carry. I was glad to see the ball stop in front of the wall."
Bill Ladson is a reporter for MLB.com and writes an MLBlog, All Nats All the time. He also could be found on Twitter @WashingNats. This story was not subject to the approval of Major League Baseball or its clubs.