Fister handed first loss of season in DC finale
Righty allows five runs (four earned) in three innings vs. Nationals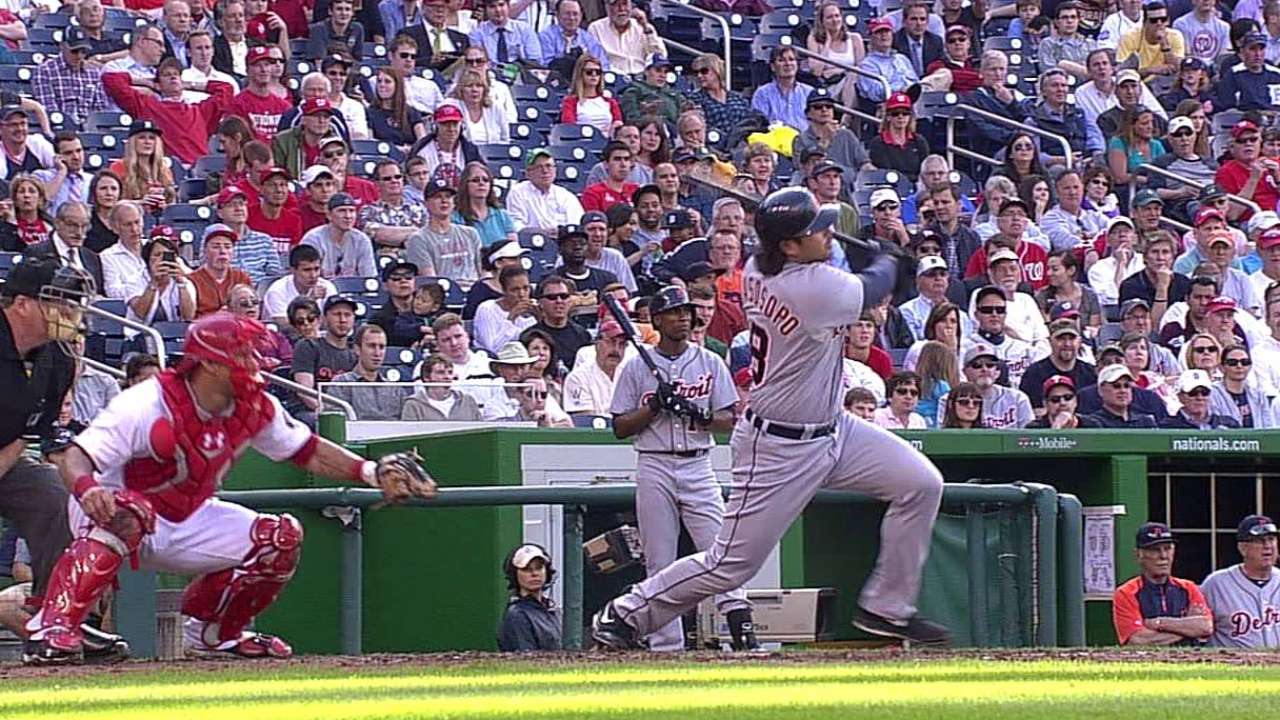 WASHINGTON -- The series was billed as a potential World Series preview. For the Tigers, it ended up looking a little bit like a World Series replay.
Save for another hit-by-pitch, it looked nothing like the way Doug Fister has pitched for most of the season. The Tigers came within a few feet of overcoming that. Like last October, they couldn't get the go-ahead or game-tying hit they needed.
"We dug ourselves a hole early on and we had to work to come back, and we almost did it," manager Jim Leyland said after Thursday's 5-4 loss to the Nationals completed the two-game sweep.
It was a brief midweek series in May, delayed by rain, and the two clubs will have two more games at the end of July at Comerica Park. Still, the Nationals -- a World Series favorite heading into last postseason, and a strong candidate so far this year -- could argue that they made an early statement against the defending American League champions. With two close games dictated by strong starting pitching, Washington held down a Tigers lineup that came to town rolling from four games in Houston.
The Tigers led for all of a half-inning in the series, that being the third inning of the series opener. Yet they had the tying or go-ahead run at the plate in 10 out of the final 14 innings after that.
"They have a good team," catcher Alex Avila said. "They're built for the playoffs, just like we are. I thought the last two games were really good games. It'll be interesting to see how the rest of the season goes for the both of us."
The Tigers can attest to how easily late-season momentum can render an early-season series meaningless, having overcome early-season doldrums in 2011 and 2012. When asked if he felt like they could meet again in October, Avila's response was uncharacteristically short.
"If we both win," he said.
The response was similar on the other side.
"Winning two games is better than losing two games," Nationals third baseman Ryan Zimmerman said. "That's a really good team over there. I don't think anyone would be surprised if they were coming out of that league or if they're in there until the end. That's one of the better teams you're going to see."
At the same time, the Tigers said that the Nationals have a lot more pitching to give them a chance than just Stephen Strasburg, whom they did not face this week.
Not until Matt Tuiasosopo's pinch-hit three-run home run in the sixth inning did Detroit show signs of life against Nats starter Dan Haren, who had scattered seven singles and an Austin Jackson double before that. Until then, the only Tigers runs for the series came home on RBI singles through the middle by Miguel Cabrera on Wednesday and then Fister in the second inning Thursday.
"It's scary," Haren said of the Tigers' lineup. "That lineup is ridiculous. I was able to kind of handle the top end, but [Omar] Infante has always been a really tough out for me. I made one kind of bad mistake to Tuiasosopo."
Fister's second career RBI, and his first with the Tigers, started to get him back in the game after the Nationals' three-run first inning, the first opening-inning runs against Fister this season. By the time the Tigers came back to bat, two more RBI singles in the bottom of the second from Zimmerman and Adam LaRoche expanded Washington's lead to 5-1.
In the AL, Fister might have had a chance to pitch through that. In the National League with that deficit, he was only going to last until his spot in the lineup came around.
The result was the second-shortest start of Fister's Tigers tenure, three innings with five runs on eight hits. He struck out four, almost exclusively on fastballs, but he paid dearly for control with two batters he put in 0-2 holes in the second, hitting Denard Span with an 0-2 pitch with one out before losing Roger Bernadina.
"Today, I didn't execute," he said. "No reasons, no excuses, it's just lack of execution."
From there on, every time the pitcher's spot came around, the Tigers took their shot at a game-changing hit. Victor Martinez hit for Fister with two on and two out in the fourth inning and went down swinging. Tuiasosopo was next up after Infante's two-out bunt single extended the sixth.
Tuiasosopo's drive to left, the first Tigers pinch-hit homer since Avila hit one on Sept. 14, 2011, brought the surprisingly large and vocal contingent of Tigers fans to life and powered Detroit back into the game.
"We were looking for a quick strike and we got it," Leyland said, "so we were pretty fortunate. That's to [Tuiasosopo's] credit. That's why we took the shot with him. Normally, that's the way you get back in those games, is if somebody hits a two- or three-run homer, and that's what happened."
Ryan Mattheus and Drew Storen took care of keeping the Tigers in check after that, pitching scoreless innings in the seventh and eighth. The Tigers had a chance in the latter after Avila's one-out single put the tying run on. Up came Don Kelly, whose fly ball off Storen took Bryce Harper into the right-field corner before he corralled the catch.
Eight of the Tigers' 12 hits on the day came from the bottom half of the order. Still, Detroit's two big bats had one more shot in the ninth. Cabrera hit a two-out single off closer Rafael Soriano to bring up the potential go-ahead run in Prince Fielder. His drive to left-center took Span to the shadow of the wall before catching it.
It was that kind of series, which might have felt familiar to that other series last October.
"We got back in it," Leyland said. "We just couldn't get all the way back."
Jason Beck is a reporter for MLB.com. Read Beck's Blog and follow him on Twitter @beckjason. This story was not subject to the approval of Major League Baseball or its clubs.