For Yankees, all's Wells that ends Wells
Outfielder homers early, then forced to play third for first time in life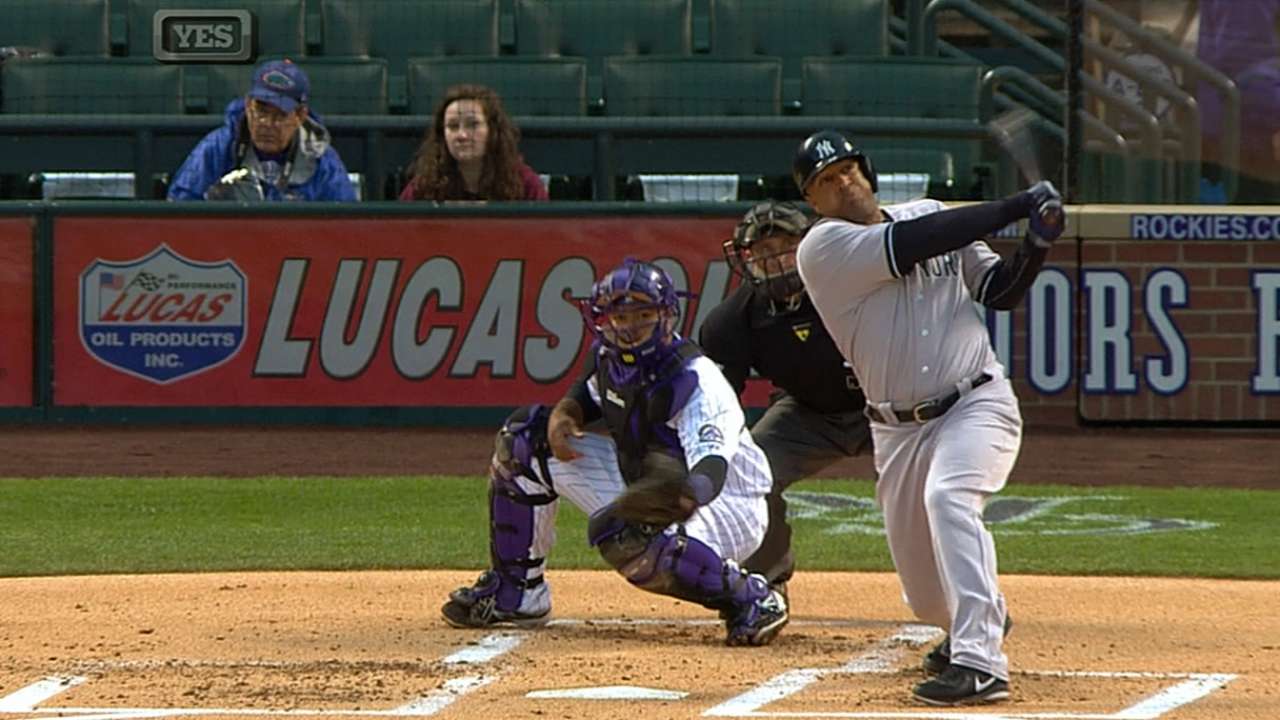 DENVER -- During a rally in the ninth that led to a 3-2 victory over the Rockies on Wednesday night, Yankees manager Joe Girardi pinch-hit for his third baseman and his pitcher. And because shortstop Eduardo Nunez is unavailable due to a rib-cage strain, Girardi had to make an unusual move.
"I don't have an extra infielder, really, because of the situation with Nuney," Girardi said. "My extra infielders are outfielders and catchers."
So left fielder Vernon Wells ended up playing third base in the bottom of the ninth and not just for the first time in his Major League career but for the first time in his life. Wells said once Travis Hafner, the first pinch-hitter Girardi used, batted for third baseman Chris Nelson, "I knew I was going to end up playing third."
Wells fielded a grounder for the second out of the ninth as closer Mariano Rivera made his Coors Field debut and earned his 12th save in as many chances this season.
Girardi said he had seen Wells take ground balls earlier this season before a game when he wasn't in the lineup and liked what he saw.
"He was going there last night if a spot came up," Girardi said. "And I told him today that you were going to go to third last night so be prepared, because it could happen with the way our roster's constructed right now."
Wells was unable to take ground balls before Wednesday's game, because a heavy rain kept both teams from taking batting practice.
Having deployed Wells at third base successfully doesn't mean Girardi is contemplating doing it again.
"It's not something I want to do on a regular basis," Girardi said. "You do it when you have a chance to win a game. And that's what I thought tonight."
Wells hit a two-run homer in the first off Juan Nicasio, but the Rockies got those runs back quickly when Todd Helton hit a two-run homer in the second off David Phelps, who gave up three hits in six innings.
Wells led off the ninth with an infield single. He grounded a ball deep in the hole that shortstop Jonathan Herrera caught; he made a jump-throw that was off the mark and that Wells easily beat.
With Lyle Overbay up, Wells broke for second on a hit-and-run with the count 2-1. He appeared to be out, but Herrera was unable to hold catcher Wilin Rosario's throw as he tried to tag the sliding Wells. After Ichiro Suzuki's sacrifice, the Rockies drew their infield in. Rafael Betancourt pitched out with a 2-0 count on Jayson Nix, but there was no squeeze play on. Betancourt then intentionally threw ball four to load the bases for Hafner and struck him out.
Brennan Boesch pinch-hit for pitcher David Robertson and hit a grounder that third baseman Nolan Arenado grabbed with a sprawling stop to his left. Boesch made a leap for the base and reached it just ahead of Arenado's throw.
"I probably surprise some third basemen in my career by hitting some balls over there as a left-handed hitter," Boesch said. "That doesn't happen too often. You can kind of get out of the box quicker as a lefty. I'm kind of a taller, bigger guy, but sometimes you can sneak up on some infielders. As soon as I hit it and saw he had to kind of dive for it, I knew it was going to be close.
"I thought I was safe but kind of lost my balance trying to run as hard as I could. Had that really pretty crash landing, so I just wasn't quite sure. Sometimes my speed is kind of underestimated as a bigger guy. I don't think [Arenado] has been in the league very long, so maybe who knows, I think he thought he had more time."
Rockies manager Walt Weiss argued the call with first-base umpire Phil Cuzzi. "He said it was really close, but he thought [Boesch] beat it."
Arenado, who had yet to see the replay, said, "I didn't get the ball out in time. From what everyone says, he was out. But if I get the ball out quicker, obviously he's out."
Wells scored on Boesch's hit, and on the play, Nix rounded second too far and was thrown out to end the inning.
Rivera gave up a two-out single to Michael Cuddyer but got Rosario to fly out and earn his 620th career save, extending his all-time record. Preston Claiborne, who Girardi said is "growing up right in front of us," pitched the seventh and Robertson the eighth to set up Rivera.
"We pitched extremely well, and that's why we won this game tonight," Girardi said. "And we know we're going to have to do that."
Jack Etkin is a contributor to MLB.com. This story was not subject to the approval of Major League Baseball or its clubs.