Bang-bang play in ninth goes the other way
Rockies believe Arenado's throw on time, but Yanks eke out victory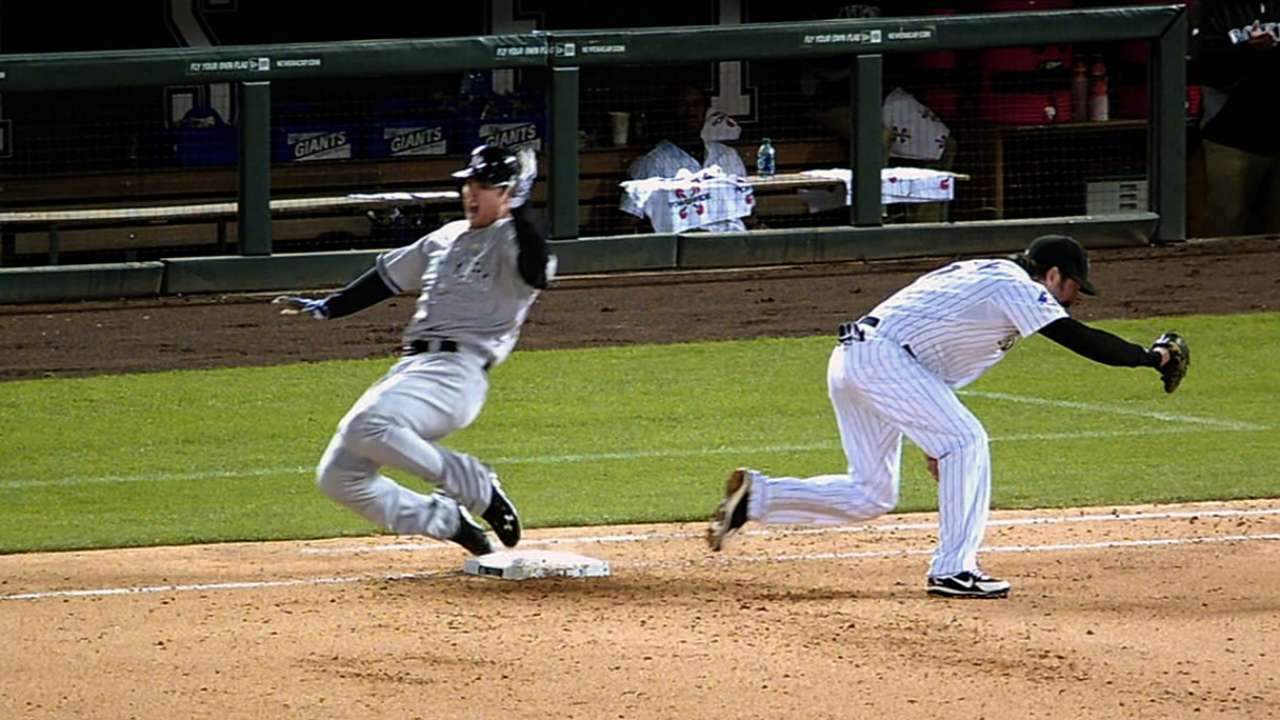 DENVER -- Rockies teammates told rookie third baseman Nolan Arenado he should have received proper credit for a dazzling play Wednesday night. They disagreed with an umpire's call that gave the Yankees the go-ahead run in the top of the ninth in their 3-2 victory at Coors Field in front of 40,140.
But even though Arenado has been in the Majors just a couple of weeks, he knows had he handled the play better, it wouldn't have depended on an umpire's judgment.
The Yankees loaded the bases with two out when pitcher Rafael Betancourt (1-1) forced Brennan Boesch into a grounder that a diving Arenado fielded. Arenado looked to second base before throwing to first.
TV replays indicated the throw barely beat Boesch. Rockies first baseman Todd Helton was certain, and Rockies manager Walt Weiss debated the call with first-base umpire Phil Cuzzi. But before seeing a replay, Arenado said he should have left no doubt.
"From what everyone says, he was out," said Arenado, hitting .270 with three homers and his share of nice defensive plays since being called up from Triple-A Colorado Springs on April 28. "But if I get the ball out quicker, obviously he's out."
The loss, in the second straight pitcher's duel with the Yankees, dropped the Rockies to a half-game below the Giants for first place in the National League West. The three-game series will be settled Thursday afternoon, weather permitting.
It was the second straight game that the Rockies didn't start shortstop Troy Tulowizki because of left groin inflammation. He pinch-hit in the eighth and was hit in the upper back/neck area by a breaking ball from winning pitcher David Robertson (2-0), on Robertson's first game-action pitch since May 1. Robertson had been out with left hamstring tightness. Tulowitzki was replaced by a pinch-runner, and Weiss said he was fine.
On Tuesday, the Rockies received stellar pitching from left-hander Jorge De La Rosa and the bullpen, and earned their first shutout of the season with a 2-0 victory over the Yankees. On Wednesday, the starters -- the Rockies' Juan Nicasio and the Yankees' David Phelps -- were stingy.
Each coughed up a two-run homer. The Yankees' Vernon Wells hit his seventh homer of the season in the first inning. Helton went deep for the second time this season -- and first time in nearly a year at Coors -- in the second. But Nicasio, after an inefficient beginning, held the Yankees to two hits and struck out five in five innings. Phelps held the Rockies to three hits and fanned four in six frames.
"We're pitching great," said Helton, who has 217 career homers at Coors, but whose last previous homer was a grand slam against the Athletics last June 13. "We need to score some more runs, but you've got to tip your cap sometimes to their pitchers, too. We've still got a chance to win a series."
Nicasio had 60 pitches through three innings, but retired his last six -- the final two via strikeouts -- to not only keep the Rockies tied but to present an argument to hold onto his rotation spot. Nicasio has eclipsed five innings just once in seven starts, but he is 3-0 and on Wednesday represented progress.
Nicasio needed the positive finish. Tyler Chatwood, who was 1-0 with a 3.00 ERA in two fill-in starts when Jhoulys Chacin was out with a back strain, threw a shutout Tuesday in his first start back at Colorado Springs, and left-handed prospect Drew Pomeranz is believed to be close to ready for a promotion.
"I saw 60 pitches in the third and said, 'OK, I need 10 pitches per innings,'" Nicasio said. "I tried to throw seven innings, six innings. I tried to go deep in the game.
"I need to work hard and keep the team in the game. I know they have a lot of pitchers in Colorado Springs who are working hard and pitching good."
Weiss said Nicasio "threw well enough to win the game."
Rockies reliever Josh Outman struck out three in two innings and had to pitch around two errors by center fielder Dexter Fowler. Wells took second after Fowler booted a single with two out in the sixth before Outman fanned Lyle Overbay. Fowler then misplayed former Rockie Chris Nelson's first hit in 12 at-bats as a Yankee. Nelson wound up at third, but Outman forced Ben Francisco into a grounder to third.
Rockies lefty Rex Brothers ran his streak to 15 scoreless innings with a clean eighth. Brothers had dropped his ERA to 0.55.
Betancourt's ninth-inning started when Wells reached on an infield single. The Rockies nearly caught Wells on a steal attempt but shortstop Jonathan Herrera dropped the throw from catcher Rosario before applying the tag. Betancourt walked two, one intentionally, but struck out pinch-hitter Travis Hafner before Boesch reached on the contested play.
"It was close, no doubt about it, but I felt he was out," Helton said. "He [Boesch] did a good job getting down the line to make it close."
Boesch said, "I'm kind of a taller, bigger guy but sometimes you can sneak up on some infielders. But I was just trying to hustle and make something happen."
The run set up Mariano Rivera for his 12th save this season in as many chances and the all-time best 620th of his career. He had to pitch around a single and stolen base from Michael Cuddyer with two out, before Rosario flied to center.
Thomas Harding is a reporter for MLB.com. Read his blog, Hardball in the Rockies, and follow him on Twitter @harding_at_mlb. This story was not subject to the approval of Major League Baseball or its clubs.