Brewers' bats come up short in support of Lohse
Righty battles with changeup control; Gomez racks up four hits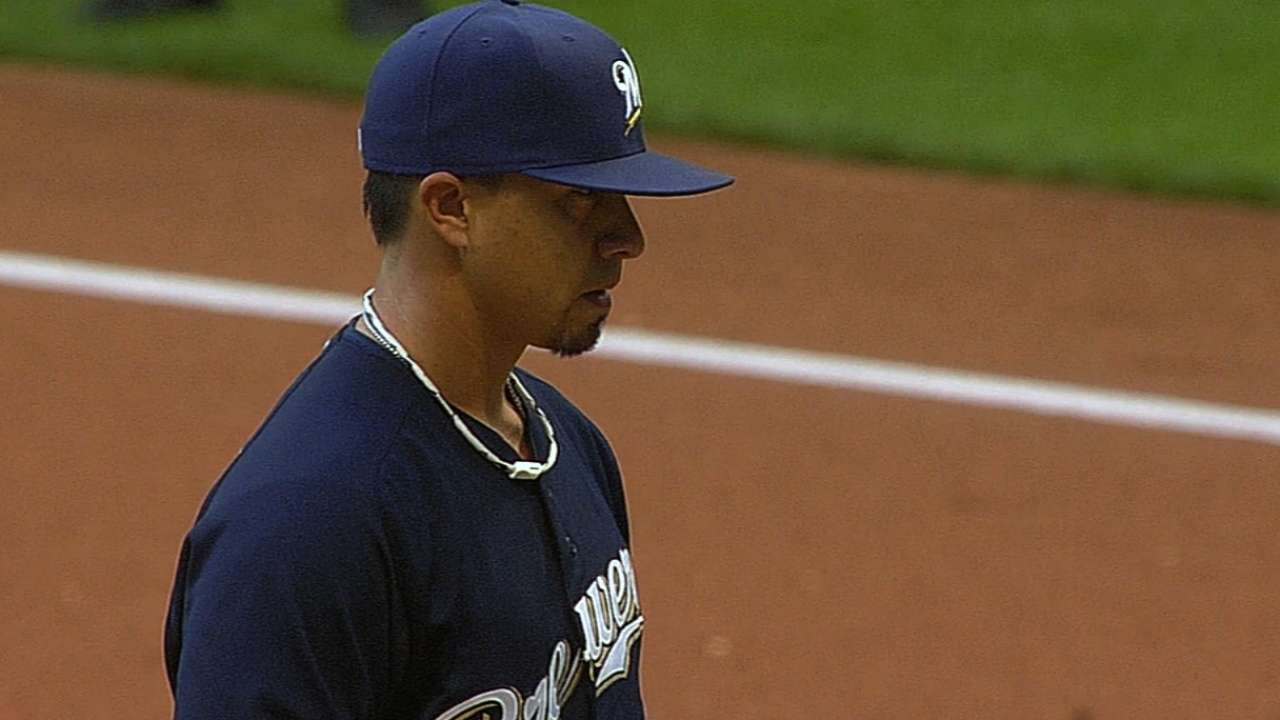 MILWAUKEE -- Rickie Weeks can't buy a hit, but the Brewers' bigger problem is that Kyle Lohse can't buy a run.
That maddening trend continued Wednesday, when the Rangers scored a run in each of the first three innings and held on behind starter Derek Holland for a 4-1 win over the Brewers at Miller Park. It was another tough-luck loss for Lohse, who may want to consider supplementing his $33 million contract by suing the Brewers for lack of support.
"You're going to notice it at this point," Lohse said. "But it's not something that I'm going around hanging my head about or saying anything. These guys are trying hard. The pitcher on the other side is trying to do his job, too, and they've been doing a good job. It just so happens that it keeps happening on the days I'm pitching.
"It will even out, I'm sure. I'll keep grinding away -- that's what I do."
He left the game with the Brewers trailing, 3-1, in the seventh inning and eventually saw his record fall to 1-4 after being charged with four earned runs on nine hits in 6 1/3 innings. Lohse has a respectable 3.53 ERA through seven starts but the team is 2-5 in those games, mostly because the hitters have scored three total runs in the losses.
"If I do a better job of executing pitches, we could be winning, 1-0," Lohse said.
That's about right. He entered the day getting 1.86 runs of support per start, worst in the National League. It would be easy to blame the Brewers' up-and-down offense, but Lohse's opponents deserve some credit. He has lost twice to sensational Cardinals rookie Shelby Miller, once to the Dodgers' Clayton Kershaw and now to Holland, who limited the Brewers to a single run on 10 hits in seven innings.
The Brewers collected 12 hits in all but scored just once.
"We haven't really hit for [Lohse], and it's a shame," catcher Jonathan Lucroy said. "It seems like every time he throws, you run into a good arm."
For the Rangers, Adrian Belte hit an RBI single in the first inning before Ian Kinsler and Mitch Moreland homered to extend the lead to 3-0 by the end of the third.
All three of those run-scoring hits came on elevated changeups.
"Early, that was the pitch that hurt me," Lohse said. "'Luc' called a great game, I just have to do a better job of executing there."
Some of the Brewers' batters and baserunners were feeling the same way.
On the bases, second-year shortstop Jean Segura was thrown out in a close play at the plate to end the third inning after it appeared Rangers catcher Geovany Soto convinced Segura there wouldn't be a play. In the sixth, Aramis Ramirez followed Ryan Braun's triple with an RBI double, but made the first out of the inning at third base when he tried to advance from second on a ball in the dirt. Ramirez is only four games removed from a stint on the disabled list for a left knee injury.
"Segura slowed up a little bit because they 'deked' him. He should have ran hard," Brewers manager Ron Roenicke said. "Aramis, that's just a judgment call. He thought he could make it easy, and sometimes you see things a little different."
Said Rangers manager Ron Washington of the Ramirez play: "He's still getting his legs under him. He's probably not as quick as he would like to be."
At the plate, Carlos Gomez padded his National League-best .386 average with four hits but much of the focus again fell on Weeks, the slumping second baseman who was dropped to seventh in Roenicke's batting order. Weeks had two big chances to break through but came up empty.
In the second inning, he struck out after Lucroy and Gomez hit consecutive singles off Holland to put the Brewers in business. Holland then retired Yuniesky Betancourt on a lineout to right field to end the threat.
In the sixth, a Brewers rally was extended when Rangers right fielder Nelson Cruz lost a Gomez fly ball in the lights for a gift-wrapped triple. Weeks represented the tying run, but he grounded out to second base, heard some boos as he returned to the dugout and then was removed from the game during the top of the seventh as part of a double switch. The 0-for-3 dropped Weeks' average to .188.
Gomez extended his career-best hitting streak to 14 games. Braun had two hits, including a single in the third inning that extended his hitting streak to 10 games and his Interleague hitting streak to 30 games. Only Matt Lawton (37 games) and Ichiro Suzuki (31 games) have had longer hitting streaks in Interleague Play.
The Brewers finished 3-6 on their homestand and will depart Thursday afternoon for an important road trip. They will play 10 games in as many days at the three National League Central rivals they trail in the standings: Cincinnati, Pittsburgh and St. Louis.
"It's going to be a tough road trip, no doubt about it," Roenicke said. "All three of those teams are playing extremely well."
Adam McCalvy is a reporter for MLB.com. Read his blog, Brew Beat, and follow him on Twitter at @AdamMcCalvy. This story was not subject to the approval of Major League Baseball or its clubs.