Holland's sharp outing helps Rangers limit slide
Lefty works seven innings as Texas again cuts skid at two games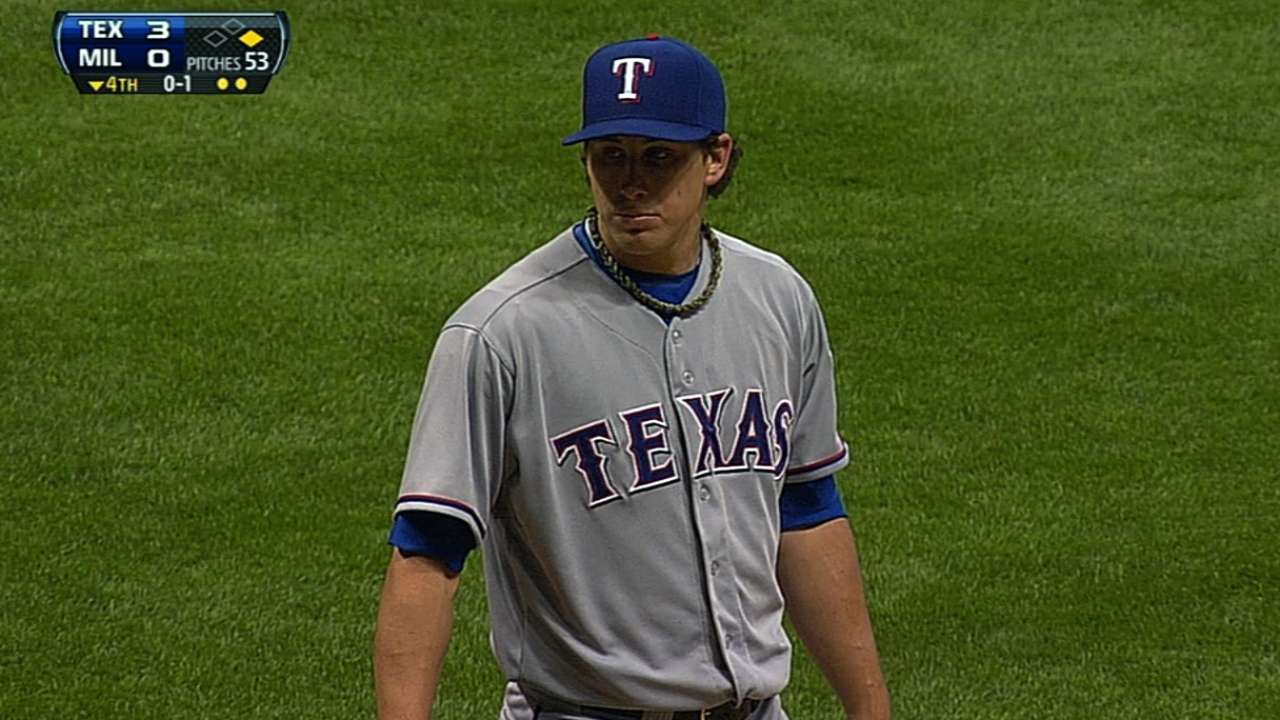 MILWAUKEE -- Derek Holland has taken on the role of streak buster early in the season. He is one reason why the Rangers haven't had to endure an extended losing streak.
Holland held the Brewers to one run in seven innings and the Rangers snapped a two-game losing streak with a 4-1 victory on Wednesday night at Miller Park. Ian Kinsler and Elvis Andrus had three hits and Mitch Moreland drove in a pair of runs with a home run and a single.
The Rangers have had three two-game losing streaks this season and each time they were able to stop the skid right there. Holland was the winning pitcher in two of those streak busters. The Rangers and the Yankees are the only two American League teams that have not lost more than two in a row.
"I wasn't thinking about that, I've just got to go out there and pitch well," Holland said. "I did everything I could to keep the momentum on our side. The offense did their part and my defense made all the plays behind me."
Holland allowed a season-high 10 hits but did not walk a batter. He struck out six while throwing 93 pitches and is now 3-2 with a 2.54 ERA after seven starts.
"He attacked the zone and made them swing the bat," manager Ron Washington said. "They like to swing the bat over there and he made them swing the bat. He moved the ball around, used his changeup, spotted his fastball around the zone and threw his slider. He did a good job."
The Rangers also were able to strike early against Kyle Lohse. The Rangers went into the night having been outscored 22-8 in the first inning but they started this game with three straight singles by Kinsler, Andrus and Adrian Beltre to take the lead. Kinsler added his seventh home run of the year in the second inning and Moreland went deep for the sixth time this year in the third to make it 3-0.
The Rangers defense made two big plays on the night and the first one came in the third inning after Norichika Aoki singled with one out. Jean Segura forced him at second with a grounder to third baseman Beltre and Ryan Braun singled to left. That put runners on first and second and Aramis Ramirez followed with a single to center. Segura tried to score but was gunned down by Leonys Martin and the inning was over.
"I saw I had a shot," Martin said. "When I picked the ball up, I saw where the runner was at and I thought I had a shot."
Said Kinsler, "He's got an arm, maybe one of the best in the game."
"It was a huge play," Washington said. "There's no telling what would have happened in the inning if it wasn't for that throw."
Brewers manager Ron Roenicke gave credit to catcher Geovany Soto, who waited casually for the throw as if the Rangers had no chance to get Segura. At the last second, he caught the ball and made the tag.
"Segura slowed up a little bit because they 'deked' him," Roenicke said. "He should have ran hard and slid."
Holland took a shutout into the sixth before Braun led off with a triple and scored on a double by Ramirez. The Rangers then got a break when Ramirez, who had been activated off the disabled list last Friday after missing time with a strained left knee, was thrown out by Soto trying to advance on a pitch in the dirt that rolled about 15 feet away from the plate.
"That's just a judgment call," Roenicke said. "He thought he could make it easy, and sometimes you see things a little different. Any time a ball hits a catcher and rolls off, your instincts take over as to whether to go. Aramis is trying to be careful on the bases, and he read that he could make it."
After Holland got Jonathan Lucroy on fly to left, Carlos Gomez hit a routine fly to right that Nelson Cruz lost in the lights. He missed the catch and Gomez ended up at third with a triple. But Rickie Weeks grounded out to end the inning.
"I just kept making pitches," Holland said. "They put some balls in some holes but they just didn't get the big hits. I felt I was in complete control."
Lohse's night came to an end after Andrus singled and Beltre walked with one out in the seventh. After Burke Badenhop struck out Cruz, left-hander Michael Gonzalez came in to face Moreland. The Brewers were looking for a lefty vs. lefty advantage but Moreland lined a single to center to bring home the run.
"We had multiple guys in the lineup that put together quality at-bats tonight," Kinsler said. "[Lohse] knows what he is doing. He knows how to use all his pitches and stay away from the middle of the plate. I felt like we had him on the ropes a lot. He's a tough guy to face so we're happy to get a win."
T.R. Sullivan is a reporter for MLB.com. Read his blog, Postcards from Elysian Fields, and follow him on Twitter @Sullivan_Ranger. This story was not subject to the approval of Major League Baseball or its clubs.