Behind 19-hit outburst, Twins rout Red Sox
Every starter scores at least once, Pressly notches first career win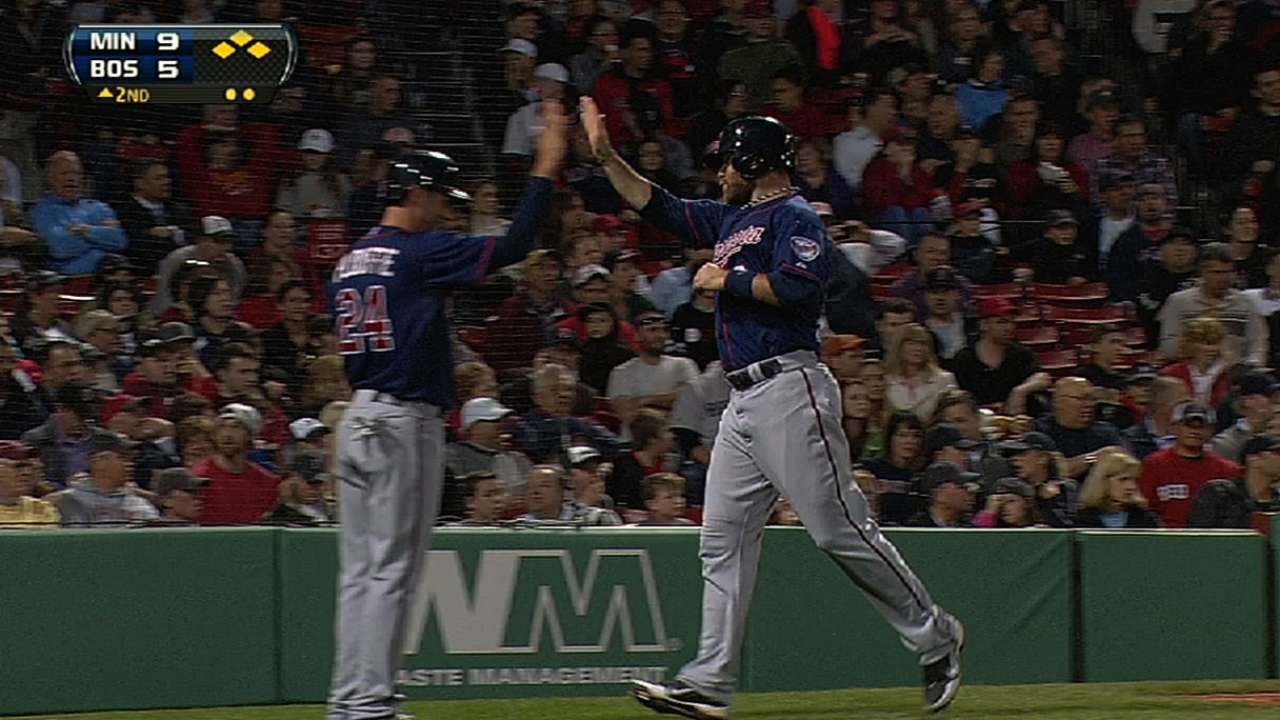 BOSTON -- It was just one of those nights where the Twins just couldn't stop scoring.
The Twins broke out offensively and set a season high in both runs scored and hits en route to a 15-8 blowout victory over the Red Sox on Wednesday night at Fenway Park.
Minnesota jumped all over Boston early, scoring 11 runs over the first two innings to tie a franchise record. The last time the Twins scored 11 runs in the first two innings of a game was on Aug. 15, 1987, against the Mariners, and it's happened just four times in club history.
"It was a wild night," said catcher Joe Mauer, who had three hits, including two doubles. "Guys were having good at-bats and taking advantage of mistakes on both sides. It was a kind of a wild start to the game, but at Fenway, you can put up runs in a hurry."
The Twins also scored 15 runs at Fenway Park for the first time since Aug. 21, 1991, falling two runs short of the club record of 17 scored in Boston on May 25, 1965.
Every Minnesota player in the starting lineup scored at least one run, with Josh Willingham the lone starter without a hit. The Twins had 19 hits on the night, which is tied for the second most in club history at Fenway Park. The team had 20 hits on May 25, 1985, and had 24 hits at Fenway on May 25, 1977.
Rookie Oswaldo Arcia also set a career best with four hits while Ryan Doumit and Pedro Florimon both homered. Trevor Plouffe and Florimon also had three RBIs to lead the Twins.
"So many guys up and down the lineup hit the ball," manager Ron Gardenhire said. "Florimon had a really good night, and Mauer and a whole of bunch of other guys obviously with that many runs. So it was a good win for us."
The Twins roughed up rookie right-hander Allen Webster, who gave up eight runs on six hits and three walks over just 1 2/3 innings. Keyed by a two-run blast from Doumit -- his second homer in as many nights -- Minnesota scored four runs in the first.
However, the Red Sox came back with five runs in the bottom of the first, as left-hander Pedro Hernandez gave up a grand slam to Jonny Gomes and an RBI single to Stephen Drew. Hernandez said he had trouble staying focused, as his cousin passed away in Venezuela and the funeral was on Wednesday.
"I was trying to do the best I can, but my head wasn't in the game today," Hernandez said through translator and outfielder Wilkin Ramirez. "I wasn't my best, because somebody I really love passed away two days ago."
The Twins were able to break it open with seven runs in the second, as Florimon led off the frame with a solo homer and later hit a two-run double with two outs. The Red Sox tacked on a run in the bottom of the second on a solo blast from Shane Victorino off Hernandez, who lasted just two innings.
"Jonny gives us a huge lift after we give up four in the first," Red Sox manager John Farrell said. "We take the lead and unfortunately the ability to maintain it, and that seven-run second inning, things got away from us. At that point, they continued to tack on. I think in short, again, tough night from the mound."
Right-hander Ryan Pressly, who was selected from the Red Sox in December's Rule 5 Draft, replaced Hernandez and fared well against his former organization. The rookie tossed four scoreless innings in long relief and struck out three en route to picking up his first career victory.
"It's kind of surreal right now," said Pressly, who received the ball from the final out as a memento. "I don't even know what to think. It's kind of a good feeling to do it against your old organization, but a win is a win. So I'm happy to get the first one out of the way."
The Twins scored again in the fourth when Florimon grounded into a double play with the bases loaded and added two more runs in the fifth on an RBI single from Plouffe and an RBI double from Arcia.
Minnesota added its final run in the ninth on a sacrifice fly from Justin Morneau to cap the scoring. It was the Twins' most runs against the Red Sox since scoring 16 on July 25, 1996, at the Metrodome. The Twins now have a chance to win the four-game series with a victory on Thursday in the final game of a 10-game road trip.
"It would be huge to pick up a series win against a quality ballclub like the Red Sox," Mauer said. "We have a chance to do that tomorrow on the last day, and that would be a good thing. It's been a long road trip, so if we can finish off with a win, it'll make that plane ride a lot better."
Rhett Bollinger is a reporter for MLB.com. Read his blog, Bollinger Beat, and follow him on Twitter @RhettBollinger. This story was not subject to the approval of Major League Baseball or its clubs.