Slide hits seven as LA can't slow Goldschmidt
Dodgers yield two more homers to slugger, who delivers four in series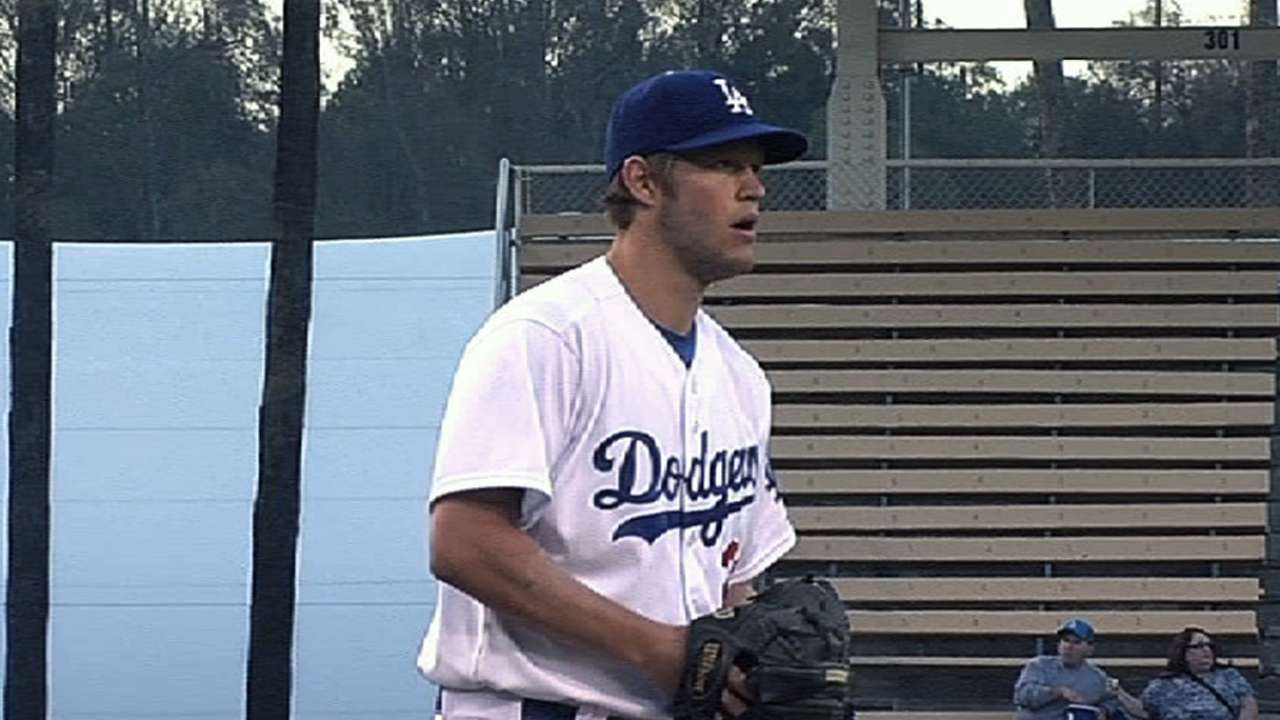 LOS ANGELES -- The Dodgers had hopes of ending their losing streak Wednesday with Clayton Kershaw on the mound, but they weren't assigning blame after being swept by the D-backs.
Kershaw allowed a two-run homer to Paul Goldschmidt to tie the game in the sixth inning, and the D-backs first baseman took Kenley Jansen deep for a solo shot in the eighth as the Dodgers fell, 3-2, at Dodger Stadium in the finale of a three-game series.
The Dodgers have lost seven straight games, their longest stretch without a victory this season.
"We're just not getting it done right now," catcher A.J. Ellis said. "This is all about the players. It's up to us to step up. It doesn't matter who is on the lineup card, who is pitching on the mound that day. It's time for us to step up."
This loss was particularly frustrating for the Dodgers with their ace on the mound.
"Every day at this point is deflating," manager Don Mattingly said. "When it keeps kind of creeping on you day in and day out and you get Kershaw up there and you feel like it's a day [to win], and he keeps them to two runs and we're not able to put enough on the board."
Kershaw scattered five hits in seven innings, striking out four against one walk. He made 104 pitches, but his one mistake against Goldschmidt limited him to a no-decision.
"I'm frustrated," Kershaw said. "I think the rest of the team is, too. It's no fun to come to the park and lose every single day -- a lot of expectations with this team and the talent's there, we're just not winning games."
It was the third consecutive quality start for Kershaw, but the Dodgers are just 4-4 in his starts this season.
"Every time he steps on the mound it should be a win," Ellis said. "This is the premier pitcher in all of baseball and we're letting those games get away that should be wins. It's frustrating."
The Dodgers are last in the National League West, due in part to a 5-16 mark against division opponents. With a $230 million payroll and high expectations, this is not where the club expected to be 33 games into the season.
"You go through ups and downs throughout the course of a year, but I didn't expect us to be 13-20," Kershaw said. "It's not a good feeling to have this type of losing streak, regardless of the talent we have."
Still, a lot of that talent has been on the disabled list. Hanley Ramirez has played just four games and Zack Greinke has made only two starts. The Dodgers have nine players on the disabled list, but aren't using that as an excuse.
"I can't let my club think that we can't win because we've got some guys banged up," Mattingly said. "It's been a little bit of a rough patch. I think you deal with it and you have to keep going. We really can't feel sorry for ourselves."
The only runs the Dodgers managed came in the fourth. Nick Punto doubled to score Dee Gordon from first. Adrian Gonzalez followed with a double down the right-field line to score Punto for his team-leading 23rd RBI. But Gonzalez did not take the field in the top of the fifth after aggravating a neck strain that has bothered him for more than a week.
The Dodgers' lead did not hold up.
Goldschmidt's two-run blast was his third of the series. The damage could have been reduced, though, as Didi Gregorius reached on an error by Gordon to set the stage for Goldschmidt.
Goldschmidt entered the at-bat just 1-for-16 in his career against Kershaw. But it was just another thing that didn't go as planned for the Dodgers.
"I knew my numbers weren't good," Goldschmidt said. "But just like if you have good numbers against someone it can change in a hurry, it can go the other way. So just try to have good at-bats and get a good pitch to hit and luckily I was able to get a mistake and hit it hard."
Goldschmidt also took closer Brandon League deep for a two-run shot to break a tie in the ninth inning on Tuesday night. On Monday, he homered against left-hander Chris Capuano.
"It seems like Goldschmidt's been a one-man wrecking crew on us," Mattingly said. "It doesn't really matter who is out there. He gets Kersh, he gets Brandon and he gets Kenley. He's hit three of our best guys."
The Dodgers didn't do much against D-backs starter Wade Miley aside from their two-run fourth inning. The left-hander retired the first nine batters he faced. The Dodgers didn't get another runner in scoring position after the fourth until Skip Schumaker's double to lead off the ninth.
"We got to get a few more runs," said Mattingly, whose club is 3-15 in its last 18 games against Arizona. "We can't play it that tight every day. We've got to be able to put some runs up."
Matt Kemp said the Dodgers must use Thursday's off-day to figure out how to put an end to the losing streak.
"I think every body knows what we need to do -- score runs, get those big hits," said Kemp, who extended his hitting streak to eight games with a single in the sixth. "We all need to get on the same page. When we pitch good, we don't hit. When we hit, we don't pitch good. We have to all get on the same page and get this going."
Austin Laymance is an associate reporter for MLB.com. This story was not subject to the approval of Major League Baseball or its clubs.