Goldy tags two more homers for D-backs sweep
Slugger torments Dodgers with four dingers in three-game series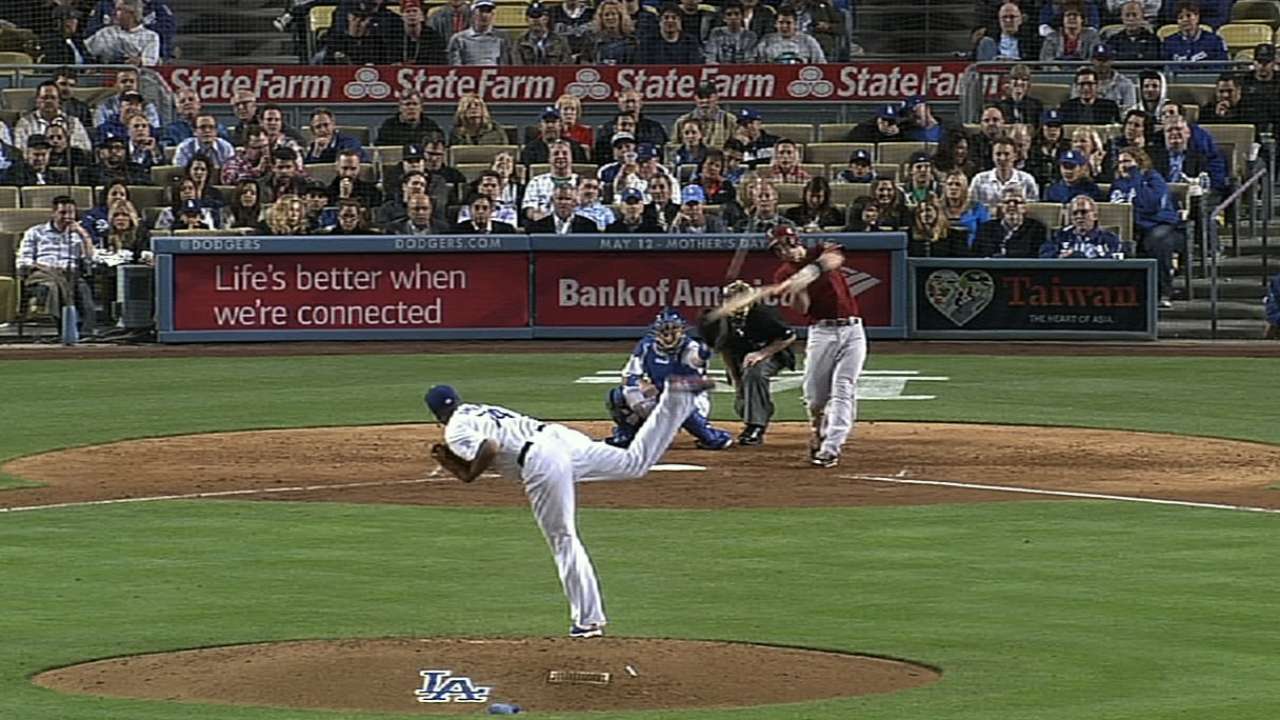 LOS ANGELES -- It appears not even Clayton Kershaw can stop Paul Goldschmidt these days.
Goldschmidt continued his assault on Dodgers pitching as he homered twice and drove in all three of the D-backs runs as they beat the Dodgers, 3-2, on Wednesday night at Dodger Stadium.
With the win, the D-backs swept the three-game series and finished their road trip with a 4-2 mark.
After the game, though, the talk was about Goldschmidt, who homered in all three games of the series, the first time he's homered in three straight games in his career.
"I'd walk him," D-backs reliever Heath Bell said when asked how he'd pitch to Goldschmidt right now. "He's an unbelievable player. If he was on the East Coast he'd be one of the best in the game. I think he's one of the best in the game as it is, but he doesn't get a whole lot of limelight here in Arizona."
That may change if Goldschmidt keeps this up. He now leads the National League with 30 RBIs and he's hitting .336 with seven homers and 22 RBIs in his career against the Dodgers. He's even better at Dodger Stadium, with a .389 average with six homers and 15 RBIs.
"It seems like Goldschmidt's been a one-man wrecking crew on us," Dodgers manager Don Mattingly said. "It doesn't really matter who is out there. He's hit our three best arms."
Goldschmidt has been hard on the Dodgers throughout his young career, but Kershaw had been the one pitcher that seemed to possess the secret to getting him out. After going hitless in his first two at-bats on the night, Goldschmidt was 1-for-16 with seven strikeouts.
"He doesn't really make many mistakes," Goldschmidt said of Kershaw. "He uses both sides of the plate, he uses all his pitches and I just try to stay patient and get a pitch to hit. It's not a guy you're going to get a lot of hits off. I knew my numbers weren't good. I didn't know exactly, I knew they were one for something with a bunch of punchouts. But just like if you have good numbers against someone it can change in a hurry, it can go the other way."
The change happened in the sixth with the D-backs trailing, 2-0.
Didi Gregorius reached on an error by shortstop Dee Gordon to start the inning and Goldschmidt followed with a two-run homer to left.
"You can't let Goldschmidt beat you," Kershaw said. "He's their guy over there now. You've got to tip your cap. He's swinging the bat really well. It's my fault. I've had some success against him, but he's their three-hole hitter. He's swinging the bat really well right now and today's a new day. There's no numbers today. So he won today."
In the eighth, Goldschmidt hit a two-out solo homer off Kenley Jansen that proved to be the game-winner.
"I hit it and I knew it was going to be close and I kind of lost sight of it and couldn't tell, so I looked at the umpire and he obviously said home run," Goldschmidt said.
Goldschmidt's offensive heroics made a winner of Wade Miley, who rebounded after struggling mightily with his command in his previous two starts to allow just two runs over 7 2/3 innings.
"It felt a whole lot better," said Miley, who improved to 3-1. "I went after guys, challenged guys a little bit more and had some success."
Even more important was the improved command he showed. Of his 102 pitches, he threw 75 strikes and did not allow a walk.
"No," Miley said when asked if he made any mechanical adjustments after the last two starts. "Just quit thinking. I just kind of got caught up in trying to do too much, trying to be too perfect."
The D-backs placed closer J.J. Putz on the 15-day disabled list Wednesday with a strained elbow, so manager Kirk Gibson turned to Bell to preserve the 3-2 lead in the ninth.
After allowing a leadoff double to pinch-hitter Skip Schumaker, Bell retired the next three Dodgers in order to pick up his third save of the year.
"Get a guy on second, you just have to make your pitches to get out of it, and I did that tonight," Bell said.
Steve Gilbert is a reporter for MLB.com. Read his blog, Inside the D-backs, and follow him on Twitter @SteveGilbertMLB. This story was not subject to the approval of Major League Baseball or its clubs.